Everything You Need to Know About Eid ul-Adha
Eid 2019

Celebrating Eid is a wonderful time for families everywhere! The festivities bring everyone in the ummah together and allow us to praise Allah (swt) and thank Him for all He has given us. From the story behind Eid ul-Adha to the ins and outs of the celebrations, here are the answers to some important Eid questions to prepare you for the coming festive period!
What is Eid ul-Adha?

Eid ul-Adha, or the Festival of the Sacrifice, is an Islamic holiday that celebrates the Prophet Ibrahim's (as) steadfast devotion to Allah (swt), by willingly sacrificing his only son Ismail (as) at His command. Ibrahim's (as) obedience was swiftly rewarded; Ismail (as) stood safely beside him and by the divine will of Allah (swt), a ram lay in place of his son.
Ibrahim (as) was willing to make the ultimate sacrifice for Allah (swt) even though it would have caused him great grief. This kind of unwavering devotion is something each of us should strive to cultivate. It was never Allah's (swt) desire for Ibrahim (as) to truly sacrifice his son, but instead to slaughter his earthly attachments. Ibrahim's (as) act of devotion and love for Allah (swt) is celebrated on Eid ul-Adha.
On Eid, we reflect on the Prophet Ibrahim's piety and obedience to Allah (swt), honouring this great devotion by slaughtering sheep, cattle or goats, and sharing out the meat with friends, family and the poor. Don't forget, the time is now to donate your Qurbani. Click below to fulfill your Qurbani with ease.
Who Celebrates Eid ul-Adha?

1.6 billion people celebrate Eid, marking it down on their calendars and making sure they get their Qurbani donations done on time! Eid ul-Adha is celebrated by Muslims in all corners of the globe.
Eid is a significant holiday to Muslims everywhere; it is in fact the second most important festival in the Islamic calendar! It reminds us of the Prophet Ibrahim's (as) obedience to Allah (swt), and is obligatory for all eligible Muslims to donate Qurbani to the less fortunate during this time so they can celebrate this festive season as well.
This Eid 2019, Muslims will be celebrating the Festival of the Sacrifice with family, friends and the whole ummah!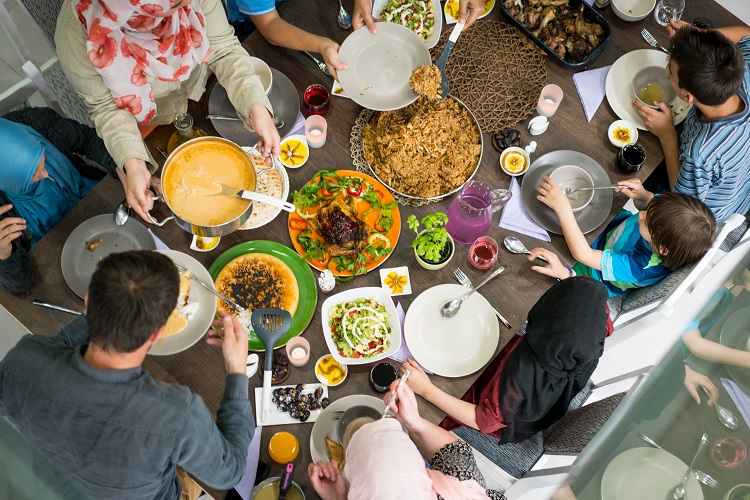 When is Eid ul-Adha 2019?

Eid ul-Adha comes to us on the 10th day of Dhul Hijjah and celebrations continue for three days following its start. Eid is celebrated in the 12th month of the Islamic calendar each year, but the actual date of Eid varies from year to year since it relies on the sighting of the moon.
Last year in 2018 Eid ul-Adha took place on the 21st of August, and Eid 2019 is estimated to take place on the 11th of August!
Eid ul-Adha 2019: Why It's Important

Eid ul-Adha is a celebration of devotion and sacrifice, and reminds us that our love and submission for Allah (swt) should be unyielding and unconditional. On Eid we remember the Prophet Ibrahim (as) and the great sacrifice he was willing to make at Allah's (swt) request. Ibrahim (as) was ready to give up his son, the person whom he loved most in all the earthly world, in order to follow the orders of Allah (swt); this is the kind of devotion and virtue that Allah (swt) wishes for all of us.
Another reason that Eid is so important is because it marks the end of the Hajj season. The Hajj to Makkah is the 5th pillar of Islam, and something that each and every Muslim, who fit certain criteria, is obligated to complete at least once in their lifetime. Each year nearly 3 million people make the journey to Makkah and do their pilgrimage alongside their brothers and sisters before rounding off this momentous hajj by celebrating Eid ul-Adha!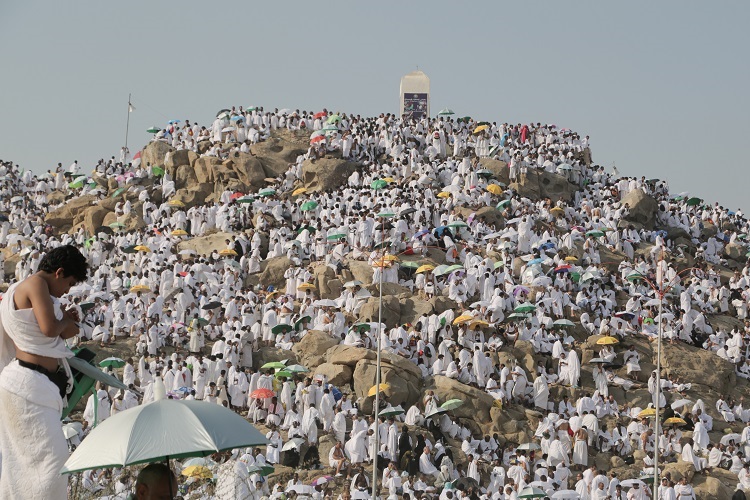 Muslims performing Hajj at Mount Arafat.
Where is Eid ul-Adha Celebrated?

Eid ul-Adha is celebrated all over the world in Muslim communities!
In places such as Egypt, Indonesia, Jordan, Malaysia, Turkey, Saudi Arabia, the United Arab Emirates and many other Islamic countries, Eid ul-Adha is a public holiday. While Eid is not a public holiday in countries like the United Kingdom, Australia, Canada or the USA, it is still celebrated widely nationwide.
Eid ul-Adha: How It's Celebrated

Eid celebrations begin at Mosque, where Muslims partake in prayer together and listen to the Imam deliver a Khutbah. Celebrations continue with family and friends, enjoying the company of our loved ones, exchanging gifts and sharing a meal. Greetings of Eid Mubarak are exchanged between friends and relatives at this merry time.
Cattle, sheep and goats are slaughtered for Qurbani on Eid ul-Adha in honour of the Prophet Ibrahim's (as) act of devotion towards Allah (swt), and the meat is divided into three equal parts – one part for your family, another part for your friends and relatives and the third part for the poor and destitute. Donate your Qurbani to the poor ideveloping countries for just £29 today.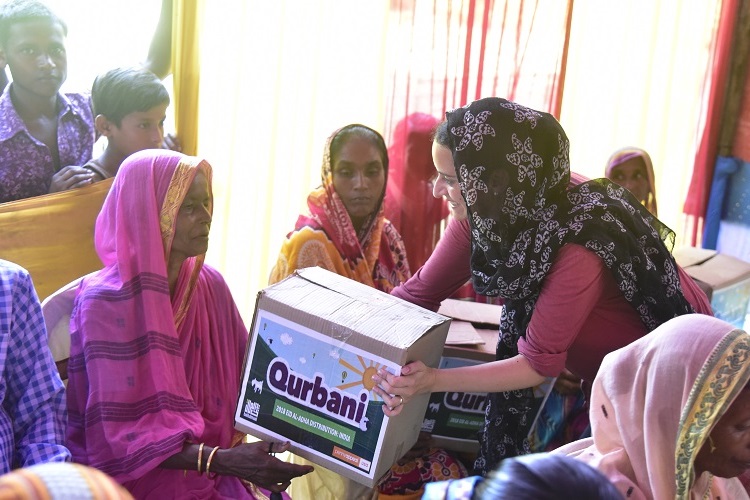 You can donate your Qurbani with Penny Appeal right on time for Eid to poor families in Asia and Africa for just £29 or care for your brothers and sisters in the UK by providing them Qurbani meals for £159!
Wherever you are holding your Eid 2019 celebrations this year, all of us here at Penny Appeal wish you and your family a blessed holiday and hope you have a wonderful Eid ul-Adha!