Celebrating Blessings and Unity at Downing Street's Inaugural Iftar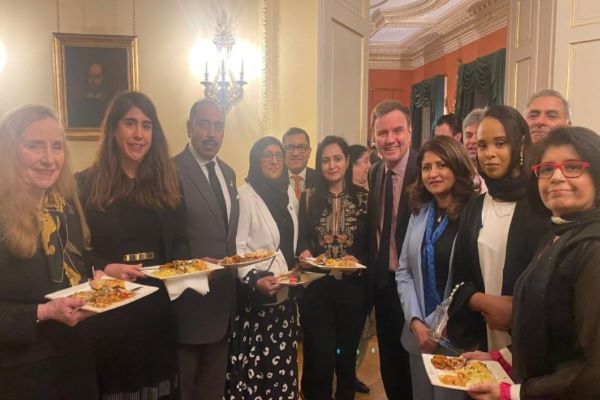 Ridwana Wallace-Laher
Chief Executive Officer
Today, I had the pleasure of attending the very first Iftar event at 10 Downing Street, graciously hosted by Cabinet Minister, the Rt HoGreg HandMP. Being invited to such a historic occasion was humbling, and as the CEO oPenny Appeal, I was honoured to represent our Board and our Donors in this iconic setting, particularly during the blessed month of Ramadan.
The exciting news oHumza Yousabeing elected as the First Minister of Scotland and the beautiful Ramadan Lights (Aisha Desai) of London, the first of its kind, are just a few examples of the remarkable progress and contributions that British Muslims are making every day. There is so much to be grateful for and excited about as we witness these milestones unfold.
I know we have deep challenges and real concerns that surround the public engagement of Muslims in the UK. There are a lot of issues we have to bring to the table, and while I choose to focus on the positive steps today, it does not mean for a moment that we stop fighting tooth and nail for justice.
Our beloved Prophet ﷺ set a strong example of engaging with leaders and working towards unity, even in the face of adversity. This is a spirit I carry with me, knowing that our presence at these events helps create a platform for dialogue, understanding, and progress.
Participating in events like the Iftar at Downing Street provides us with the opportunity to directly voice our concerns, share our achievements, and engage those in power to effect positive change. It is through collaboration and understanding that we can create a more inclusive and respectful society.
During the event, I had the privilege of engaging with leaders from various backgrounds, highlighting the fantastic work being done within Muslim communities across the UK. It was heartening to see our host acknowledge and praise the contributions of Muslim charities, particularly during the holy month of Ramadan.
As we navigate the different paths to making a difference, both from within and outside of these power structures, it's essential to remember that we all share the same goal: to stand up for justice and work towards the betterment of our communities. Unity in spirit, diversity in our approach, but ultimately we must support one another in our diverse strategies for change.
As I journey back to Yorkshire, a verse from the Qu'ran resonates with me:
"You who believe, uphold justice and bear witness to God, even if it is against yourselves, your parents, or your close relatives. Whether the person is rich or poor, God can best take care of both…" (4:135)
Our presence at events like this should be seen as an opportunity to advocate for justice and further the incredible work we do within our communities.
I am incredibly grateful for the dedicated team behind me, who keep us grounded and focused on the essential work we do every day. My visits to Downing Street have only reinforced my determination to propel Penny Appeal's mission and engage with those in power to bring about meaningful change.
Together, we will continue to transform small change into a significant difference in the lives of those who need us most, fostering a spirit of unity and blessings throughout this holy month of Ramadan and beyond.