The Consul General of Pakistan helps Penny Appeal raise over £1 million for victims of Pakistan Floods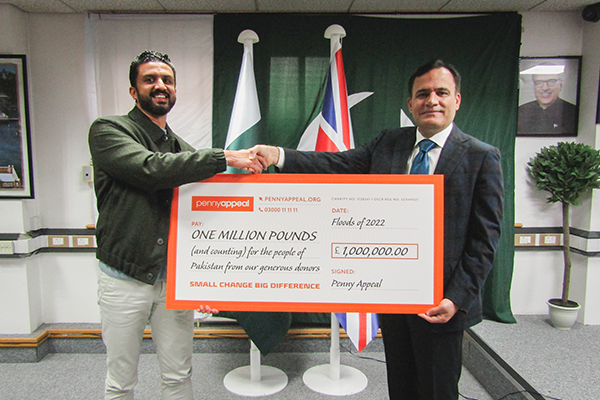 A £1m cheque has been presented by Penny Appeal's Founder, Adeem Younis, to the Consul General of Pakistan at the Consulate in Bradford!
His Excellency Mr Ibrar Hussain Khan has helped Penny Appeal to raise life changing funds for communities affected by the devastating floods across Pakistan. He has played a crucial role in driving the compassion and generosity of the public to secure more funds and extend our provisions across the affected areas. In recognition of this, Adeem visited the Consulate to meet with the Consul and present him with the cheque for £1 million.
Mr Khan also recently honoured Penny Appeal's work for floods survivors by attending our fundraising dinners as the Chief Guest of Honour and making a special guest appearance on our live appeals which were aired on British Muslim TV.
With the support of the Pakistani authorities on the ground, Penny Appeal have been working tirelessly across 16 flood affected districts to deliver life changing aid, in the form of hot food, safe drinking water, medical aid, shelter, and cash grants to those most in need.
So far, we have delivered over half a million litres of clean and safe drinking water, distributed over 200,000 cooked meals, and are continuing to provide food, medical aid, and hygiene kits daily. We are now in phase of two of our response and are working with the government to provide those most in need with newly built homes through our Rebuilding Pakistan appeal - 100 homes are already in the process of being built, which will collectively accommodate up to 1,000 people.
Penny Appeal founder, Adeem Younis, said: "Mr Khan has been an incredible asset to the appeal and his passion for helping those in need knows no bounds. Thanks to people like him, we are making a real and lasting difference to some of the most vulnerable people in the world and I am particularly proud of the way we have united in our efforts both here in the UK and across Pakistan to help our brothers and sisters get through this calamity.''
Click here to support Penny Appeal's Rebuilding Pakistan appeal.