UK charity's appeal to build homes for Pakistan flood victims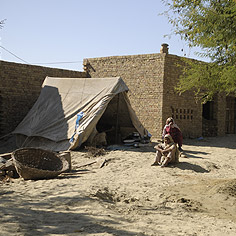 UK charity PennyAppeal.org has launched a new appeal to provide long-term help for victims of last year's devastating floods in Pakistan, the worst that the country has experienced in over 80 years.

The Rebuilding Pakistan Appeal, launched today (27th January 2011) aims to build permanent homes in the village of Kamar Mashani, within the Punjab region, Pakistan. The houses will be of solid construction, built from bricks and cement, and will be considerably more secure than the properties destroyed by the floods. Each house will have two bedrooms, a kitchen, bathroom, living area and a veranda - and will only cost £1,000 each to build.

Hundreds of thousands of homes and the livelihoods of their inhabitants were swept away by the flooding that followed the heavy monsoon rains in July 2010. At least 1,700 people were killed, over 6 million people were displaced, and in some areas over 80% of all buildings were destroyed. Even throughout this winter, thousands of people are still living in tents, doing their best to survive amongst the terrible devastation.

Penny Appeal Chairman, Adeem Younis, commented: "We are really excited about the launch of this appeal, and to be able to provide such beneficial long-term aid. These houses will enable villagers, who literally lost everything, to start rebuilding their lives. Each house will take about a week to build so we are hoping to make a difference to life in this village pretty quickly."

Initially, Penny Appeal plans to build ten £1,000 houses under the Rebuilding Pakistan Appeal. Future plans for the village include the provision of infrastructure, family-, education-, health-, and business support as well as other amenities to truly support and re-build this community.

The charity is no stranger to the Kamar Mashani village, having recently distributed over 32 tonnes of emergency food supplies during October 2010.

Adeem said: "Penny Appeal has proved itself to be very effective at targeting aid where it is most needed. Each house that we build in Kamar Mashani will enable another family to begin to rebuild their lives and to find hope for the future.

"I am truly grateful for the support we have received from our donors to-date, and I am confident that the Rebuilding Pakistan Appeal will make a huge difference to the lives of a great many needy people."

Supporters of this appeal can follow its progress on Facebook, Twitter and at pennyappeal.org/appeal/rebuilding-pakistan-appeal.
Downloads: