Escaping Darkness - Iraq
This project is dedicated to addressing the gap in support services for women who regularly face the threat of gender-based violence.
We support women by providing psychosocial support, legal awareness-raising workshops, an identification of job opportunities and entrepreneurial training to women interested in starting their own small businesses.
More than 130 women and girls have received psychological care from general practitioners and over 226 have had counselling sessions with community-based workers, providing a safe place for them to find a voice.
The programme has also reached more than 900 people in the community through awareness events.
Mothers Empowerment - Palestine
This project safeguards the educational, economic, social and legal rights of widowed women in desperate need. Helping them to support their children and families and encourage them to have a positive impact on their communities.
Through this programme, Palestinian women were given psychosocial and legal support, as well as employment skills training.
Many participants have indicated that these sessions marked their turning point in life, with around 70% indicating increased levels of self-esteem. In our legal awareness sessions, we were able to inform women about challenging issues as deferred dowry, share of inheritance, and guardian accountability.
These sessions were met with great interest and enthusiasm with over 30% of participants being referred to the local Women's Affair Centre for a follow-up.


More than Half – Lebanon
We expanded our work in 2016 to go beyond direct interventions, by funding research into the effect of statelessness on Syrian refugee women.
The outcome of this effort was a highly commended report that analysed the impact of statelessness in several crucial areas on women's lives, including water, sanitation and hygiene, menstrual health, mental health and psychosocial support, and religious and cultural beliefs.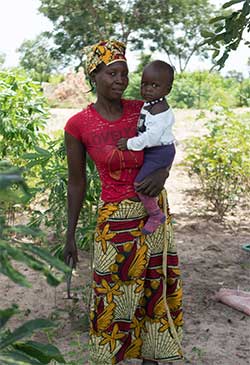 Horticulture and Livestock Intensification – The Gambia
This programme supports over 400 of the most vulnerable women in the West Coast region of The Gambia, West Africa. This initiative has empowered women through training and income generation by providing gardening plots and facilities, overseen by a trained agricultural expert.
The women are able to sell their produce at local markets, which generates income and contributes to increased levels of confidence, pride, independence and feelings of empowerment.


Domestic and Sexual Abuse Counselling Service – UK
At Penny Appeal we consider domestic abuse as 'any incident or pattern of incidents of controlling, coercive or threatening behaviour, violence or abuse between those aged 16 or over who are or have been intimate partners or family members, regardless of gender or sexuality'. This includes psychological, physical, sexual, financial, and emotional abuse.
Domestic abuse is a matter of great prevalence in Muslim communities and carries much stigma.
Penny Appeal is working to reduce domestic abuse in the UK by preventing and improving early intervention, protecting victims, developing a strong workforce, and increasing service capacity for those in need.