Home is Not a Home for the Vulnerable in Kashmir
Winter is brutal in Pakistan-administered Kashmir.
The Kashmiri people suffer during the long winters, living in harsh conditions with little to eat. But this year, Kashmir has already been hit by disaster before the start of winter, leaving thousands in need of aid. This season, Penny Appeal are providing affected families with warm clothing, blankets, and shelter assistance.
Home is not a safe place for those struggling to survive in Kashmir.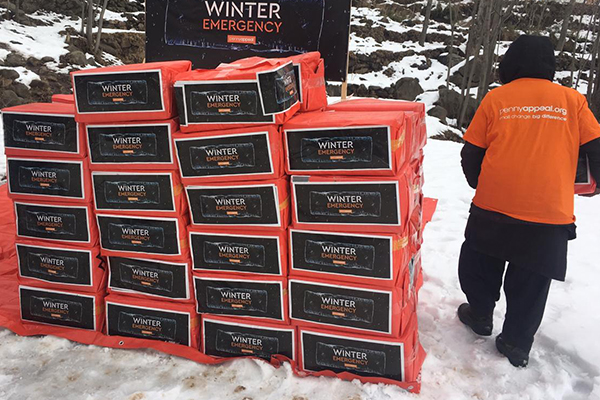 People in Pakistan-administered Kashmir who live in the Neelum district are amongst the most vulnerable, because of a devastating avalanche that struck their community earlier this year. This winter, Penny Appeal are providing affected families with warm clothing, blankets and shelter assistance.
Earlier this year a catastrophic avalanche fell upon the people of Pakistan-administered Kashmir, after heavy snowfall in Neelum. The avalanche killed 77 innocent people, damaged hundreds of homes and affected over 4,000 Kashmiri people.
Help the people of Kashmir feel more at home this winter, donate to our Kashmir Winter Emergency appeal today.
Winter in Kashmir
Penny Appeal has been helping the people of Kashmir recover from this disaster but with more severe snowfall predicted in the coming months, families living in this area are once again vulnerable.
A home is not home when you live in fear, and thousands of Kashmiri people living in Neelum are afraid for the coming winter.
Heavy snow and below freezing temperatures are forecasted this season, putting those without proper supplies and people living in damaged homes in real danger. Without support these winter months could be life-threatening for Kashmiri families in Neelum.
Penny Appeal are in Kashmir now, helping hundreds of families survive the cold months ahead by supplying households with winter kits, warm clothing, blankets and tarpaulin sheets to protect their homes from chilling winds, snow and rain.
You can protect our vulnerable brothers and sisters from the cold this winter, you can make their homes a safer place. If you would like to help bring warmth and security to the homes of poor Kashmiri families please make a donation today.
Save them from the brutal winter ahead, give them a place to call home. Donate to our Kashmir Winter Emergency appeal today.