The people of Syria have endured over 8 years of war.
That means 7 million Syrians have been forced to flee their country, 13.5 million people need humanitarian aid within Syria, 60% of Syrian hospitals are now closed and 2.8 million Syrian children don't go to school.
Penny Appeal's emergency teams have been delivering aid in Syria since the war began, helping an amazing 144,668 Syrian people in the last 8 years.
Donate to Syria now, and continue to help people to survive this terrible war.
Provide a Mobile Health Unit
Thanks to you, we've managed to support a total of 3,000 people with our Mobile Maternal and Baby Health Unit as of April 2019!
With 60% of Syrian hospitals closed, millions of people are living without vital healthcare. Syrian children, mothers and their babies are hit the hardest – but we are reaching those in need with life-saving medicine and care through our Maternal and Baby Mobile Health Unit!
Please continue to donate so we can help more Syrian children and mothers.
60% of Syrian hospitals are now closed due to conflict, lack of staff and medicine.
This has left millions of people vulnerable; especially the 6.5 million internally displaced persons (IDP) in Syria, many of whom are living in informal camps in tents and makeshift shelters.
The living conditions in the IDP camps arover-crowdeand unsanitary. In many IDP camps, there is little medical support; any support which is available is often too expensive for people to actually use.
Syrian children and mothers are hit the hardest; pregnant women face giving birth in squalid conditions without medical assistance. Babies and children are the most vulnerable to disease.
We are running a mobile Maternal and Baby Health Unit to help provide essential pre and post-natal care to mothers and babies, as well as gynaecological support fowomen, so that Syrian women can keep themselves and their children healthy. You can read more about the amazing work of our mobile clinic – or 'hospital on wheels' - here!
We plan to help 11,000 internally displaced women and children.
Please donate to our Syria appeal now and help us keep this life-saving mobile Maternal and Baby Health Unit running!
Support after the Storm
On 25th and 26th December 2018, northern Idlib in Syria was hit by aggressive flash floods caused by Storm Norma, devastating over 27,000 people.
A total of 107 internally displaced camps in Idlib were affected by the floods, including 4,600 families, with an estimated 35% of the families resorting to abandoning the areas – once again, they had to leave their lives behind and try to rebuild a new one, often with just the clothes on their backs.
Syrian refugees were also hit hard by Storm Norma and the subsequent snowstorm in Lebanon, with the UNHCR confirming that at least 361 sites and 250,000 Syrian refugees were seriously affected.
According to the United Nations Refugee Agency, 70.5% of the Syrian refugees in Lebanon live below the poverty line and 41% live in precarious and unsafe housing, including tents and improvised camps within slums – making them extremely vulnerable to the harsh weather.
Penny Appeal's teams have been on the ground since December, supporting people with emergency food, water and accommodation. Months later, thousands of Syrians still need our help to re-build homes and lives.
You can help refugees and Syrian people by donating to our Syria appeal today.
Help Syrian Children
Millions of Syrian children have never known peace.
More than 8 percent of Syria's children have been injured and 2.8 million Syrian children aren't getting the education which every child deserves.
Penny Appeal has been supporting theducation of Syrian refugees in Turkey and Lebanon, providing hundreds of refugee children - who have been excluded from mainstream schools for years – with an informal education, life skills, hygiene awareness and psychosocial support.
An 11-year-old Syrian girl we helped in Lebanon told us, "I have always been really envious of my neighbours because I see them carrying backpacks every morning and going to school. But now I can show them that I go to school too!"
Donate to Syria now, and help refugees to have the same opportunities as our own loved children.
The people of Syria have been facing a devastating war for the last eight years; a war which has robbed children of their education, stolen healthcare and futures, killed hundreds of thousands and forced millions to leave the country they loved.
Official figures reveal that over 13 million people across Syria – which is above 70% of the population - are in urgent need of humanitarian aid, over 5 million of those being children.
Penny Appeal has been working with partners on the ground since the conflict began, and thanks to your generosity we have been delivering life-saving food, water, shelter, education and healthcare,
Together, we've supported 144,668 Syrian people in the last 8 years during their most difficult times… but the sad reality is that 13 million more people need our help.
Syria charity is more important now than ever. As the media and the world turns its back on Syria, we must do everything we can to help refugees, children and innocent people.
Donate to our Syria Appeal
Your Donations are Saving Lives
Your donations to our Syria appeal are saving lives, from Idlib to Iraq – thank you for your support!
In Idlib we're restoring flats to provide homes for 850 refugees from Eastern Ghouta, and converting another building into facilities where 50 families can live safely.
We've been distributing vital baby kits to new and expectant mothers and water purification tablets to help hundreds of refugees to drink, cook and wash with clean water.
When attacks on Eastern Ghouta intensified in March 2018, our team was able to distribute
life-saving, pre-cooked meals to 3,500 people sheltering from the bombing.
So far we have shipped more than 50,000 food parcels to Syrian refugees in Iraq and provided over 300,000 meals to Syrians during Ramadan 2018. We are planning to deliver even more Syria charity this Ramadan 2019.
Your support makes all this possible, so please donate to Syria today.
Syrian Refugee Children
The children of Syria are growing up surrounded by destruction, disease and death. More than 80 percent of Syria's children have been injured, and around 3.7 milliochildren have been born in the past five years amidst the ongoing conflict, meaning they have never known peace.
Penny Appeal has been supporting the education of Syrian refugees in Turkey. Hundreds of Syrian refugee children living in remote areas of Istanbul have been provided with informal education activities, life skills games and psychosocial support. This has included games, cartoons and documentaries to help them understand their new cultural context. They are also provided with hygiene awareness support and given basic hygiene kits. We are also working in Beqaa Valley, Lebanon where hundreds of Syrian refugee children are being provided with psychosocial support, through sessions revolving around art, music, technology, sports, and nature.
Return that hope and give them a reason to live another day by donating now
Living amongst the ruins, facing endless poverty and with no chance oenjoying a happy childhood, they are losing hope for the future.
Penny Appeal teams are on thground providing vital aid to the people of Syria: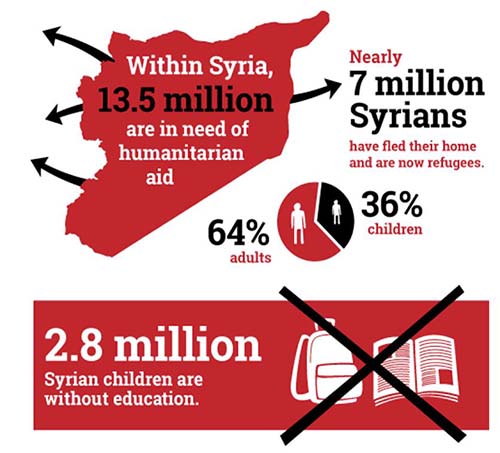 Delivering nutritious food tbesieged towns such as Madaya, where essential supplies have beecut offor months, leaving people tstarve to death.

Working in neighbouring countriesuch as Lebanon and Turkey, to help refugees to build new lives for their families, through emergency food, shelter and education.

Travelling to remote areas of Syria with vital healthcare through our Mobile Maternal and Baby Health Unit, which will reach 11,000 Syrian people.

Feeding thousands of internally displaced Syrians, as well as Syrian refugees, and providing them with clean water and emergency shelter.

Supporting refugees arriving iGreece who have made thdangerous journey to Europe in thhope of finding a brighter future and peace.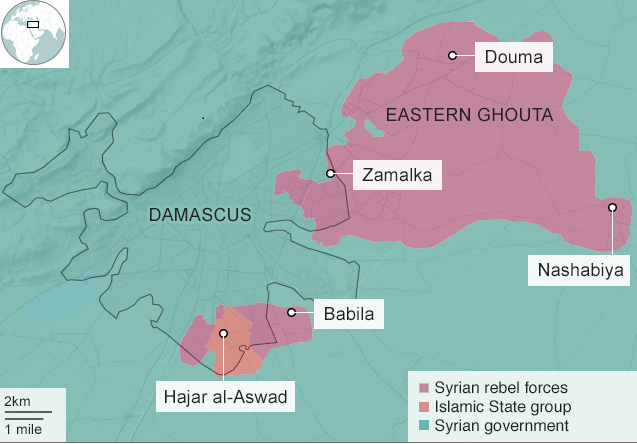 The desperate situation facing the people of Syria has no end in sight, and every day thousands more are forced to flee their homes.
You can help the people of Syria by donating now to provide life-saving aid. Our teams distribute essential items such as nutritious food packs, clotheand blankets, hygiene essentials and medical provisions, and other vital Syria charity to those in desperate need.
Your support is urgently needed, so please donate to Syria now.