Celebrating Success in Pakistan
For ten amazing years, Penny Appeal has been working across Pakistan, developing life-changing projects thanks to the ongoing, generous support of our donors.
We have been able to change almost 18,000 lives for the better in Pakistan with life-saving winter distributions, sustainable rooftop gardens and so much more with your help, Alhamdulillah!
On Pakistan's 71st independence day, Penny Appeal look back on the great work we have been able to do across the country thanks to the ongoing, generous support of our donors. Penny Appeal has been working far-flung areas of Pakistan, developing life-changing projects for ten years. We have been able to change hundreds of thousands of lives for the better.
Penny Appeal works to provide hundreds of orphans in Pakistan with a bright future. Losing a parent is devastating, and often leaves children feeling isolated, lost and alone. At Penny Appeal, we work to create safe, warm, loving homes where children can develop and flourish in life. Our Orphan homes provide children with a safe space to live with modern furnishings, good food every single day, new clothes, access to top quality healthcare, a dedicated place for study, and a bright and open space for play. Children on our Orphan care programme attend the best schools in the region and are supported to fulfil their dreams. Orphans have a dedicated, loving foster mother who provides them with the love and care that every child needs.
Penny Appeal's founder and chairman, Adeem Younis recently visited one of our Orphan Homes – Mera Apna Ghar, literally meaning my own home.
Hifz Orphans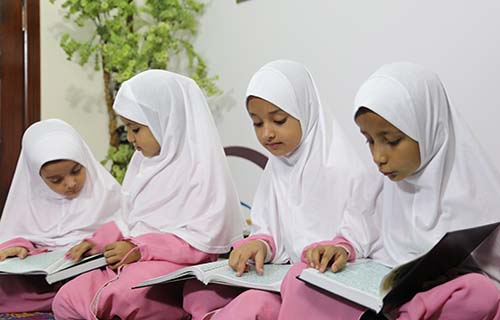 In Pakistan, we are supporting orphans to become Hafiz of Hafizah of the Qur'an through our life-changing Hifz Orphans programme. Orphans are provided with a safe and loving environment away from the challenges of losing a parents. Our programme is designed to provide the perfect conditions for memorising Allah's holy book, but also care for the child in all aspects of their lives and help them break the cycles of poverty they may be trapped in, and build brighter futures.
Hifz classes are small and led by experienced teachers using modern techniques with a child centric approach that focusses on the individual child's progress and unique rate of learning because every child is different and every child matters. Beyond the programme, children are given additional support to continue in Islamic or mainstream education, or to start a suitable apprenticeship.
With our Thirst Relief Programmes, we have been able to provide fresh, clean and safe water to almost 200,000 people across Pakistan. The installation of wells have had an indirect positive impact on even more people!
We have worked across all regions in Pakistan, reaching some very remote areas. Providing clean water through wells mean people, mainly women and children, no longer have to walk dangerous routes for miles each day just to collect water for the family. Thanks to these wells, not only do people have access to clean water and reducing the spread of water-borne diseases, but children are able to go to school and have a happy and fulfilled childhood!
Through our Feed Our World programme, we have helped combat food insecurity and hunger for tens of thousands of people in Pakistan. Our food distributions have provided meals and food hampers for over 20,000 people. We have developed more long-term food insecurity solutions for thousands of people. This includes providing families with goats, agricultural support and chickens for rearing, to allow them to create their own food as well as develop a household income. These long-term solutions help families become independent and no longer worry about where their next meal is coming from.
The Mosque Project in Pakistan
By building mosques in Pakistan, we are ensuring people have a place of hope, a place where they can meet and talk and enjoy a normal lifestyle that we all take for granted.
In Pakistan, before we built mosques, in the area villagers were forced to painstakingly walk several kilometres every day to the nearest place of worship.
With ongoing support of our generous donors, we have installed 3 new mosque that now serves as the centre of this bustling community. Over 500 people are benefiting from these mosques. Not only do they have a place to pray, but there is a place dedicated for other religious services such as weddings, funerals and Qurbani. Hundreds of children are also benefiting from Islamic education at the mosque.
Penny Appeal's Projects in Pakistan