This Muharram Build a Well in Pakistan
Build a well in the name of the Prophet's (saw) Family for £25 per month or £300 one-off
Pakistan Needs Your Help
In Pakistan, shockingly 22 million people don't have access to basic, clean water, and have no choice but to drink dirty, contaminated water every single day. As a result, over 250,000 children under the age of 5 die every single year from water-borne diseases.
Join hands with Penny Appeal this Muharram to help provide life-saving water to hundreds of families living in desperate poverty in Pakistan. Building a well in Pakistan offers family the opportunity to live safer, happier and more complete lives. By having a water source close to their home, women do not need to walk for miles each day on dangerous terrains to collect water. Children are not exposed to harmful bacteria, and are more likely to be able to go to school and spend the days of their childhood in happiness and joy.
This Muharram, as we commemorate the selfless sacrifices of Imam Hussain (as), his six month old baby and many more of his loved ones who were martyred while being denied water, let us pledge to do more to help provide communities across the world with their fundamental right to clean water.
Start building your Thirst Relief well now for as little as 82p a day.
Your Water Well in Pakistan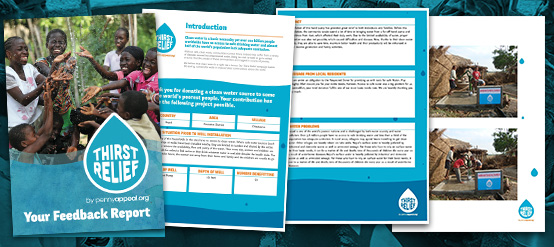 When your well has been built and functional, we'll send you an individual feedback report so you can see it in action and find out about the people whose lives you've changed.
Your feedback report contains:
Information on where the well is exactly located
Information about the community who have benefited
A message from the grateful community
Pictures of the construction and the finished well in use
A framed picture to share with friends and family
This Muharram Build a Well in Pakistan
Build a well in the name of the Prophet's (saw) Family for £25 per month or £300 one-off