Gaza Emergency Appeal
Thousands of Palestinians are suffering right now in violence at the Gaza border. They urgently need your help
Gaza Emergency
Renewed attacks along the Gaza Strip struck on Wednesday 17th October, killing one person and injuring at least 8 others, including 6 children who were on their way to school.

Thousands more innocent Palestinians are at risk, and people desperately need our help for urgent medical supplies, food and water.
DONATE TO GAZA NOW
Penny Appeal needs your donations to provide urgent medical aid, food, and water supplies to those who have been wounded.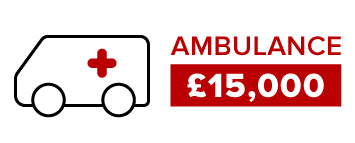 Without access to the medical aid they so desperately require, the victims have little hope for survival.
Countless others have been rendered homeless and innocent children, caught up in the clashes, urgently need protection.
Some 17 hospitals, 56 primary health facilities and 45 ambulances were destroyed or damaged, leaving people without access to medical care and support.
You can provide a new medical room for £10,000. It will be fully equipped with high quality equipment including a bed, units, IV stand and monitor.

The ongoing struggle for survival has become a continuous nightmare
Over 100,000 people have been left homeless from the ongoing conflict that's overtaken their lives.

Food and medicine supplies are blocked from entering due to strict militant border control and daily invasions are common.

Scores of schools have been wiped out.

Over 1,500 innocent children have been orphaned.

Life-saving hospitals, primary health facilitieand untold amounts of valuable ambulancehave been destroyed, leaving people without necessary medical aid.
Infrastructure has been severely damaged, cutting off vital water supplies.
Penny Appeal is helping people and hospitals in Gaza
Penny Appeal teams are on the ground providing the life-saving aid that's desperately needed for survival
With your support, we can help to rebuild Gaza and countless shattered lives