Donate Food to Bosnia Herzegovina
Decades of war and economic instability have left the troubled republic of Bosnia and Herzegovina and its people in an unending food crisis.
Hunger in Bosnia and Herzegovina
Rampant unemployment has hit the south-east European country hard, with a massive 28% of the population without a means of income. This has left many in the population relying on humanitarian aid, as they don't have the funds to purchase basic food goods themselves.
Though rates of hunger and infant mortality are decreasing, these people still need our help to get them back on their feet.
The Gift of Food for just £1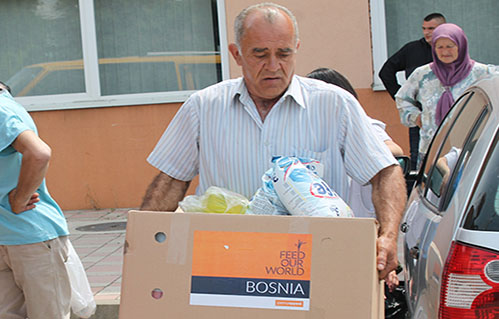 For just £1, you can help relieve the people of Bosnia-Herzegovina from their near-daily struggle against hunger. We will take your small change and make a huge difference to these people's lives, who without our help would not know how they would afford to pay for basic food goods.
By donating £30, you can give someone the security of a meal for every single day of a month, giving them the strength they need to get back on their feet.
With your donations, we can provide vital food parcels to the desperate people in Bosnia and Herzegovina. Without our help, they have no one to rely on, and would spend the night hungry and afraid of the bleak future ahead.


Donate today, and help save the lives of the people of Bosnia-Herzegovina!


Penny Appeal's
Feed Our World
We are active in over 30 crisis-hit countries
*Donating to Feed Our World will help us support countless communities across the world by providing life-saving food. Your generous donation will be used to provide food for a family in one of the thirty countries we are working in, including Bosnia-Herzegovina.