The World Premiere of One Night in Al-Aqsa
A night of cinematic magic
It was a night of Red Carpet glamour, a night of inspiring discovery…it was One Night in Al-Aqsa! The world premiere of this one-of-a-kind documentary took place in London at the VUE Leicester Square, with a huge turnout. People from across the country came south for this monumental screening and did not leave disappointed. Eyes were glued to the big screen, as people excitedly soaked in the film, nervously munched on their popcorn and gave wild applause in praise of this cinematic masterpiece.
This powerful film truly moved audience members, as it told the awe-inspiring story of Masjid al-Aqsa. The power of this holy site resonated with each and every person, filling them with a sense of wonder that simply took their breath away. Even those who have been to this noble sanctuary before were blown away, as they experienced an untold side of al-Aqsa.
Abrar Hussain's detailed account of the al-Aqsa compound and the struggles faced by those who live, work and pray there was eye opening and profound.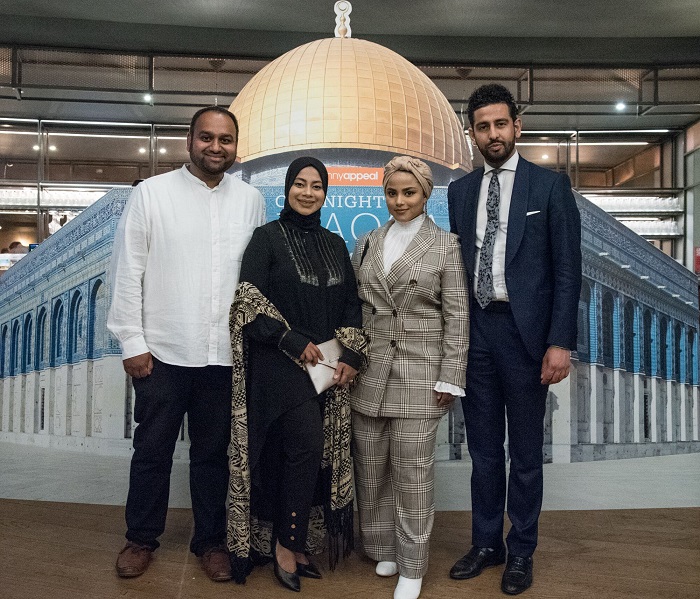 Attendees enjoyed an exclusive preview showing and Q&A with the movie's esteemed director.
Collecting rave reviews from its first audience, One Night in Al-Aqsa is not a film to be missed! From its beautiful scenic shots to its heartfelt narrative, this documentary brings us all a little closer to Islam's third holiest site.
Popular beauty influencer Asha Chocan and successful entrepreneur Armaan Chohan were deeply enthused by Abrar's work on screen and a call to action for their Palestinian brothers and sister resonated soundly with them. Blogger Nusaiba Mohammaed was whisked away, getting lost in the beatuty of the architecture and artwork, while popular influencer Zahra Rose found the film to be an inspiring work, that brought the difficult issues Palestinians face in Jerusalem to the forefront of our minds.
The nation-wide tour for thiphenomenal piece of cinema starts on the 16th of August and runs on through the 2nd of September. You have the chance to see the magic of Masjid al-Aqsa for your very own eyes in London, Birmingham, Walsall, Peterborough, Leicester, Luton, Manchester, Bradford, Oldham, Bolton, Sheffield, Middlesbrough, Blackburn, Glasgow, and Aberdeen, but make sure to get your tickets before it's too late!
The premiere was an amazing night for all who witnessed it, but now it's your turn to discover the secrets of al-Aqsa.