Sufi Festival 2022: A Weekend of Inspiration and Entertainment!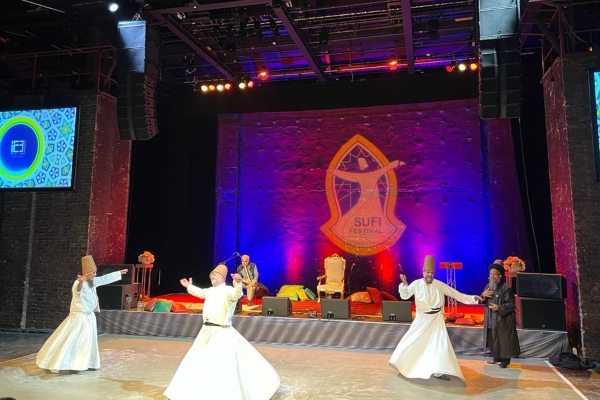 Glasgow's Sufi Festival returned at the weekend after a hiatus of over two years, and it was better than ever! The festival, which is sponsored by Penny Appeal and other community organisations, featured a range of inspirational speeches from renowned scholars, as well as mesmerising performances from musical artists. Our Team Orange volunteers were on hand to support proceedings and talk to guests about our projects around the world, all while enjoying some of the captivating talks and recitals!
On the Saturday, several of the world's leading Islamic scholars gathered to deliver stirring talks on a variety of topics. One of the highlights came from Shaykh Ahmed Mohamed Saad Al-Maliki Al-Azhari Al-Hasani, who spoke about the essence of being a Sufi. In his address, he emphasized that "as human beings, our greed increases with our need," going on to say that Sufism is all about putting others before yourself and being aware of your surroundings. Ultimately, it is about submitting to the will of Allah (SWT). This was a powerful speech that left attendees feeling motivated and inspired.
He also spoke about the event itself – a beautiful sight to behold! People of all faiths and backgrounds came together to unite under a banner of love, peace, and harmony. Shaykh Al-Hasani emphasised how beautiful it was to see so many people from different cultures and creeds uniting for this common cause.
Meanwhile, keynote speaker Sheikh Dr Muhammad bin Yahya Al-Ninowy, one of the most distinguished Islamic scholars in the world (who also has a lineage tracing back to the Prophet Muhammad ﷺ) gave a moving speech to promote his book, the Book of Love. In his talk, Sheikh Al-Ninowy explained how everything is connected to love, and to being in love. If love is taken out of the equation, the whole structure of one's life collapses.
On the Sunday, Penny Appeal held a fundraising event in aid of our Orphan Kind appeal, and we're absolutely thrilled that it raised enough for over 100 orphan sponsorships! This is an incredible achievement, considering that the festival was filled people from so many faiths and backgrounds – many of whom were hearing about us for the first time, and keen to support our work! Each of these new sponsorships will ensure that marginalised orphan children are provided with financial assistance, educational support, and a brighter future. Click here if you'd also like to support this incredible cause!
That same day, a beautiful civic reception took place. It included leadership representatives from all the major faiths, plus Christina McKelvie, the Scottish Minister for Equalities and Older People. The reception's speakers emphasised the importance of unity and togetherness.
Unity and togetherness, bright futures, love, peace, and harmony… it's hard to think of a festival that better encapsulates these values! This event served as a reminder of what is possible when people come together with love in their hearts. We were honoured to take part and would like to thank the organisers for delivering such a joyous, inspiring weekend.
Same time next year?