Salaam Giving
SalaamGiving, the fundraising platform for Muslim communities
We are proud to announce the launch of a ground-breaking new platform for donations and fundraising tailored specifically for Muslim communities, SalaamGiving.
In partnership with JustGiving, the world's leading online donation site, this revolutionary platform streamlines the process of giving, bringing together Muslim communities and charities on a global scale.
The website, created in collaboration with leading experts from the charity and tech sectors, allows people inspired by their faith to give to do so in an easy way and a safe place.
In the spirit of the greeting of 'Salaam', we strive to bring people together, and create an environment where passionate people who want to donate have a place to find causes relevant to their beliefs.
As well, people motivated by their faith to raise funds are given a way to easily connect to the charities they care about, and a space to reach out to a massively growing international community.
It's never been easier to connect your cause to such a large number of caring Muslims to support you.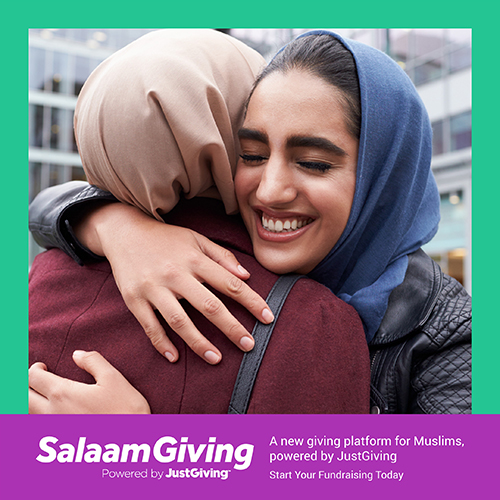 SalaamGiving's Rewards
To celebrate the launch of SalaamGiving, we are offering an incredible £20,000 towards a cause of your choosing for the best campaigners on our site.
We are gifting rewards of £300 every single day from the 1st to the 26th day of Ramadan for those that raise the most on that day, and additional payments of up to £950, awarded to those who raise the most over the weekends throughout.
And finally, the grand prize of £10,000 is awarded to the fundraiser that raises in total the most for their charity by the end of the 27th day of Ramadan.
With so much up for grabs this Ramadan and with plans to run a whole host of similar campaigns throughout the year, you don't want to miss out.
So many charities have called SalaamGiving home already, such as Just4Children, Great Ormond Street Hospital, and the Amir Khan Foundation. With our eco-system of charitable giving ever-expanding, you can be the next to grow with SalaamGiving.
For more information, or to sign up, please visit salaamgiving.com today!