Running in Solidarity: 90 Runners Fundraise Over £300K For Palestine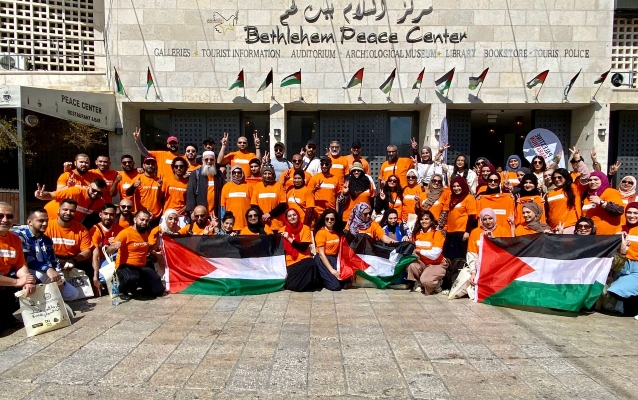 Better late than never! Despite the Covid-19 pandemic hindering their 2020 marathon plans, our 90 incredible Palestine Marathon runners are finally racing through the holy city of Bethlehem today!
Their efforts have resulted in a remarkable total of over £300,000 being raised to improve the lives of our brothers and sisters in the Holy Lands, Alhamdulillah. To make things even more impressive, yesterday saw these dedicated individuals get up close and personal with those they were helping as they personally hand delivered food packs to refugee camps across Bethlehem.
But now race day is finally upon us! today, each participant will be running either 10K or half/full marathons while immersed in ancient sites around Bethlehem. The Palestine Marathon is much more than just a race – it's an opportunity for international exchange, cultural enrichment and understanding. Every year, runners from around the world come to experience Palestinian life first-hand by running along its picturesque routes and enjoying hospitality of Palestinians in every corner. In addition to being a great way to promote physical activity and build relationships among diverse people, this annual event adds tremendous economic value through tourism while also enabling global awareness about the unique culture that exists beyond headlines.
Over the last decade, Penny Appeal donors have made an incredible impact on the lives of hundreds of thousands of Palestinians. From installing water tanks and supplying medicines to schools, hospitals, and shelters across Gaza and the West Bank, to providing emergency ambulances for medical aid as well as hot meals and hygiene supplies – you have truly gone above-and-beyond to give hope in times of need.
Our 90 marathon heroes are continuing this legacy today. Every stride they take is a testament to their commitment and dedication to stand in solidarity with the people of Palestine. We wish everyone competing today an amazing race! May Allah (SWT) grant them all ease and crown their efforts with success, Ameen.
Click here to provide support to our brothers and sisters in Palestine.