Running to Rebuild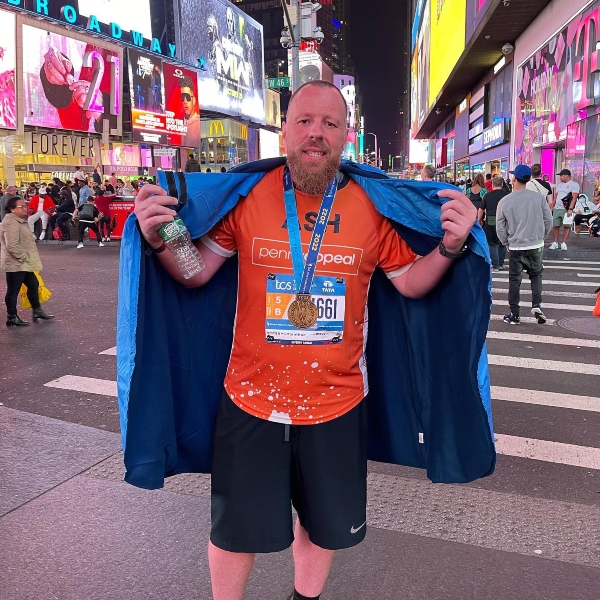 One of Penny Appeal's most dedicated volunteers has raised almost £30,000 for victims of the recent Pakistan floods by running four major marathons (and five other long-distance races) – for a total of 150 miles.
Ashraf Wallace, a Bradford-based business analyst, husband, father, and Bradford City fan, recently took on the Berlin, London, Chicago, and New York marathons (in addition to the Leeds 10K, London 10K, Bradford 10K, the Big Half, and the Great North Run) to raise life-saving funds for our Pakistan Floods Emergency appeal.
To prepare for these nine gruelling challenges, Ash ran 40 miles each week for several months. His total training amounted to around 50 days of running.
Ash is an ordinary person who decided to do something extraordinary and help those in need. His efforts helped to raise nearly £30,000 for the victims of this terrible disaster. The monsoon floods that have hit Pakistan in recent months are some of the worst in history, displacing millions of people and leaving them stranded without food, water, or shelter. The donations that Ash has raised are providing much-needed assistance to these families in their time of need.
Through our Emergency Response appeals, Penny Appeal are committed to helping local people affected by natural disasters. We provide emergency relief items such as tents, food, water, and medical aid to those affected by various catastrophes around the world. We are now also focusing on rebuilding homes and communities that have been destroyed by the floods, through our Rebuilding Pakistan appeal.
The loss of life and damage to property has been immense, and it will take a long time for things to return to normal for the people of Pakistan. In the meantime, it is down to the common good of others to do what they can. Ash is doing just that – by taking on these nine gruelling challenges, he ran 150 miles to save hundreds of lives.
So, having achieved this incredible feat, is it time to hang up the running shoes? Hardly. Never one to rest on his laurels, Ash will be spending the winter training for his next challenge – the Tokyo Marathon in March 2023. We wish him the best of luck for this next challenge!
Ash's story is one of inspiration, hope and kindness. In a world that can often seem dark and difficult, it is stories like this that remind us of the good that is still out there.
You can still support Ash's incredible mission by visiting his Justgiving page.
Read more about Penny Appeal's Rebuilding Pakistan project by clicking here.