A Big Thankyou to Rotary International Club of Dudley!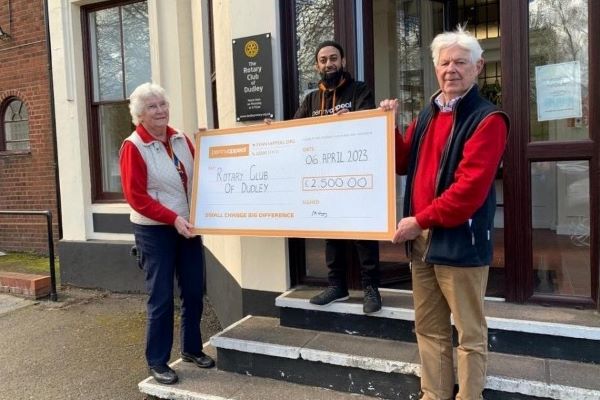 We would like to extend a huge thank you to The Rotary International Club of Dudley for their incredible £2,500 donation to our charity. The funds will go toward our Syria Emergency Appeal, which allows us to provide vital aid and support to communities affected by the ongoing conflict in Syria.
For over a decade, Syria has faced the most devastating violence, displacement, and overall humanitarian emergency of the modern world. It is estimated that over half a million civilians have been killed in the conflict, however, thousands more have died through disease, malnutrition, and thirst as a direct consequence of the civil war. Penny Appeal have been working tirelessly to provide humanitarian aid in Syria for over 10 years and we have helped over 140,000 people. We have distributed food, water, medical supplies, hygiene items, tents, clothing, and fuel to vulnerable communities who are still forced to live through the reality of a country at war.
If 12 years of violence and displacement wasn't enough, Syria was victim to a deadly earthquake which devastated the Turkish border on 6th February 2023. The people of Syria now face an even greater uphill battle as the disaster took even more from them.
We are especially grateful for the Rotary International Club of Dudley's donation, which will go towards providing vital aid and support to communities affected by the ongoing conflict and the lasting effects of the earthquakes. The Rotary Club of Dudley's donation is a testament to their commitment to humanitarian causes and their belief in the important work that we do to help those in need.
Alan Black, Chairman of the International Service Rotary Club of Dudley said, "having supported Penny Appeal in the past, Dudley Rotary Club was confident that Penny Appeal would be at the forefront providing humanitarian aid to this severely damaged community." He also added "Our club members know that Penny Appeal is often in areas where other organisations find it difficult to access." We are delighted to learn that our work resonates with organisations up and down the country.
The club are also involved in other international projects, priding itself on working towards the aim of the whole Rotary movement to help eradicate poverty, hunger, and malnutrition; improve water supplies and sanitation; reduce child mortality; control diseases; achieve education for all and promote world understanding and peace. Clearly, the Rotary International Club of Dudley shares many of the same core values as us here at Penny Appeal.
Donate today and help the people of Syria.