The Road to Recovery
Moving on from Disaster with the People of Palu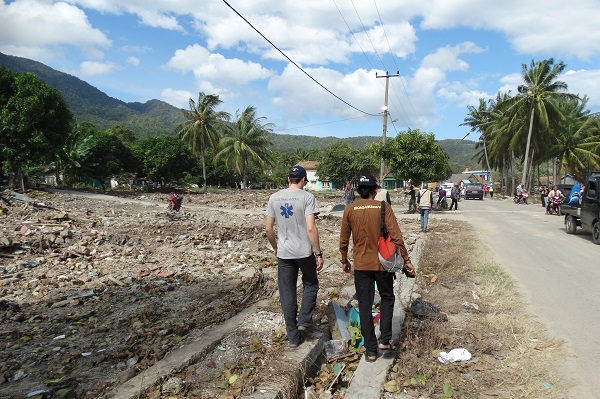 On Friday the 28th of September 2018, an earthquake rocked the Indonesian city of Palu, causing mass devastation as it hit a 7.5 on the Richter scale. The earthquake triggered an enormous tsunami, with waves reportedly measuring as high as 6 meters. The massive wall of water washed away anything and everything in its path.

From hospitals and mosques, to schools and police stations, nothing was safe from the devastating wrath of these twin disasters. Homes were lost and so were lives; over 65,000 homes were destroyed, over 1,400 people lost their lives and countless people were injured or went missing in the flurry of destruction.

Destruction of this magnitude is heart-breaking, but where there is destruction, there is room for healing and revival.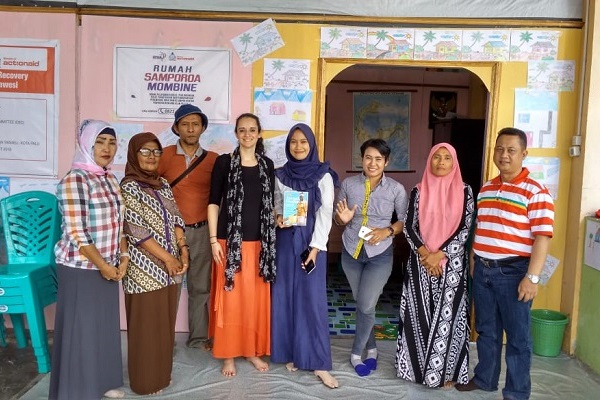 Thanks to Penny Appeal's Emergency Response team and your generous donations, we have helped over 140,000 people, providing them with clean water, food and hygiene items in their time of need.

Just one of the families you helped was Aning Musdalifa, Ajis Man and their teenage son, who used to live in the Petobo neighbourhood in Palu. Their home was turned to rubble and dust in the earthquake. The family, along with so many others, were relocated to a temporary shelter away from everything they once knew - but they didn't let this tragic natural disaster crush their spirit.

The couple brought a light of hope to their community when they opened a mocktail stall right outside the entrance of their temporary home. They wanted to provide refreshments for their neighbours but they brought so much more to the table than just beverages, they began to take the necessary steps to quench the community's anguish.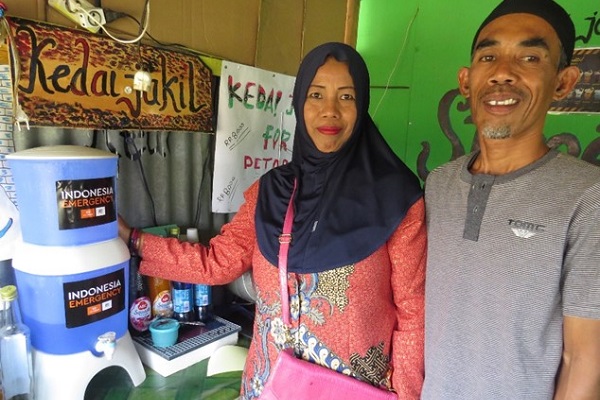 Their business was a smash hit. Who knew a cool, refreshing mocktail could inspire, as well as hydrate! Aning and Ajis received a Penny Appeal water filter that provided them with safe, clean water to use in making their mocktails. They were also supplied with a food basket to get them through these trying times.

It's the little steps taken by each and every one of us that rebuild a community. Whether you're on the ground in rapid response, donating and fundraising in support of people hit by disaster, or you're a survivor, making mocktails for the community, every helping hand works in unison to put the community back together.

Aning is always smiling, despite the misfortune she has experienced. She is a woman proud of her accomplishments, proud of her strength and most certainly proud of her mocktails.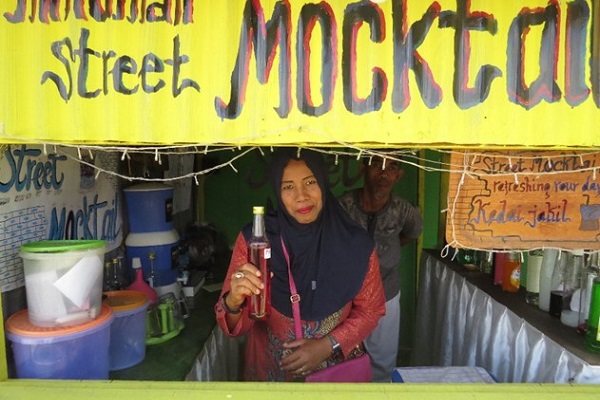 Penny Appeal have completed the emergency response phase in Indonesia, and are now ready to get to work on the recovery phase. Aning, Ajis and all the people of Palu are ready to start out on the road to recovery and rebuild their community.
Penny Appeal is now building shelters, playgrounds, and other facilities, such as kitchens, washrooms and toilets, for those affected by the earthquake and tsunami. We are also distributing dignity kits, that will provide families with essential supplies to help them through their day to day lives during this time of upheaval.

Women Friendly Spaces are being organised to support the women of Palu, supplying psychological support and counselling to women who have lost homes, belongings and even loved ones. The Indonesia Emergency appeal is also helping to implement women's small enterprises - like Aning's Mocktail Stand - throughout the community, as well as a Community Preparedness Plan, to assure progressive community development and a reduction in disaster risk. To accompany the Community Preparedness Plan, we are hosting disaster risk reduction workshops, led by women, to help organise disaster management before, during and after an emergency.

The people of Indonesia need your help to rebuild their lives, they need your help to recover. Help women like Aning move forward from the devastation they've experienced, by donating towards our Indonesia Emergency recovery phase. Donate today and aid them in recovering from this disaster!