Honouring Sacrifice: Remembrance Sunday and Beyond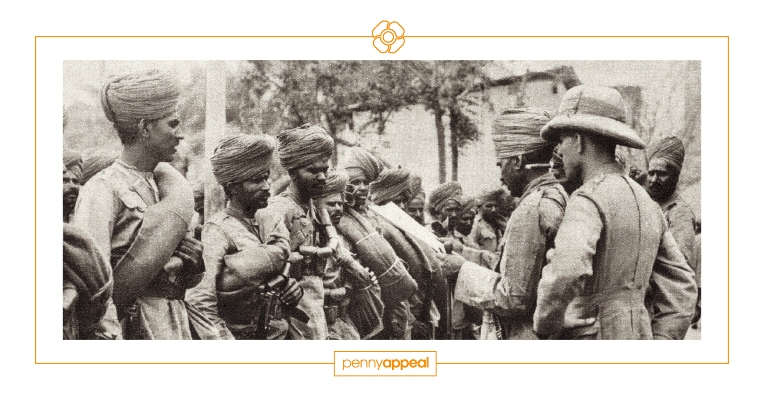 Remembrance Sunday is a poignant occasion in which we honour the memory of those who sacrificed their lives in the line of duty. As we reflect on the immeasurable sacrifices made by brave men and women, it is crucial to recognise the diverse contributions of individuals from all walks of life, including the often-overlooked role of Muslims in the British Armed Forces during the World Wars.
The annals of history reveal a remarkable but underreported fact – during the First World War, approximately 400,000 Muslim soldiers served in the British Armed Forces. These individuals, hailing from various corners of the world, stood shoulder to shoulder with their comrades to defend the values of freedom and justice. However, it is disheartening to note that only 2% of the British public was aware of this significant contribution, according to a poll.
The sacrifices made by Muslim soldiers during the World Wars exemplify the shared commitment to brotherhood and community among diverse individuals serving side by side. Their stories echo the broader narrative of unity and resilience that defines the collective effort against the forces of oppression.
Remembrance Sunday serves as a solemn reminder that the consequences of war transcend borders and affect people from all backgrounds. The sacrifices made by servicemen and women, regardless of their faith, ethnicity, or nationality, deserve our deepest gratitude.
As we honour the memories of those who fought valiantly in the past, we cannot turn a blind eye to the present struggles faced by innocent lives in conflict zones. The ongoing violence in the Middle East, particularly in Palestine, demands our attention and compassion.
In recent weeks, Palestine has once again become a focus of violence, with thousands killed amidst the turmoil. The tragic situation in Palestine underscores the urgent need for humanitarian aid and support. Families are torn apart, children are left without homes, and communities are grappling with the devastating impact of violence.
Do Your Part Today:
In the spirit of honouring sacrifices and fostering unity, Penny Appeal urges you to join us in supporting our Palestine Emergency appeal. By contributing to this initiative, you can provide vital assistance to those affected by the brutal violence in the region. Your support will help deliver much-needed aid, including medical assistance, shelter, and essential supplies to families facing the harsh realities of conflict.
As we observe Remembrance Sunday, let us not only honour the memory of those who gave their lives for a better world but also extend our compassion to those currently enduring the ravages of conflict. By standing together and supporting the victims of war in Palestine, we can make a meaningful impact and bring hope to those who need it the most. In doing so, we reaffirm our commitment to a future where peace prevails over discord, and humanity triumphs over adversity.