Remember the Lives Lost: Give Help to Earthquake Victims in Syria and Turkey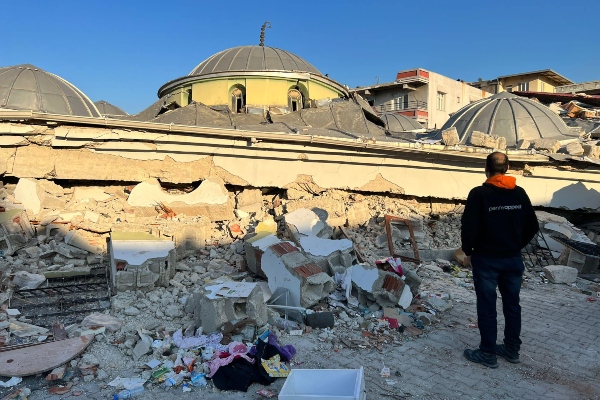 Nearly one month has passed since the devastating earthquakes that hit Turkey and Syria.
However, the screams, images, death and destruction remain clear in the eyes and hearts of the families who witnessed this terror unfold.
As families slept in their beds at 4am on the 6th February, a 7.8 magnitude earthquake obliterated the homes of thousands of Turkish and Syrian people.
Blasting its way through Gaziantep in the south of Turkey and the Syrian border, a second 7.5 magnitude earthquake sent aftershocks through the land, and devastation through the hearts of many. Hundreds of aftershocks and earthquakes of similar magnitude came soon after, leaving death and destruction in their wake.
In the wake of an earthquake, it's not just tremors that can cause tragedy—the destructive force of toppled buildings has proven to be a far greater killer. 850,000 homes and other structures have been devastated across the affected area as crumbling bricks, shattering glass and rubble engulfed panicked victims in the ensuing chaos. Despite being situated in one of the most seismically active regions on Earth, Turkey's recent spate of earthquakes still came as a surprise to many due to their unpredictability. Yet this lack of warning serves only to remind us that nature is far more unpredictable and powerful than we can ever hope understand.
As if 12 years of devastating conflict wasn't enough, Syria now faces an even bigger catastrophe. Prior to the quakes, Northwest Syria already had over four million people in need of aid; this recent crisis has severely worsened the region's humanitarian situation as a widespread cholera outbreak has now appeared—the consequences of which will be fatal for many vulnerable children, women and people with disabilities who are terrified under open skies.
With the current death toll at over 50,000, hope of finding survivors among the rubble is fading fast. Northern Syria was already preparing for subzero temperatures and snowstorms before the earthquakes, and as extreme weather conditions continue, the population becomes increasingly vulnerable.
As we sit in our homes, anxiously awaiting more horrific updates, it is easy to feel helpless. Watching the lives of Turkish and Syrian civilians fragmented through our screens leaves us feeling shocked and hopeless; but we can and must help.
Here are three things you can do from your phone:
Donate to our emergency appeal - Our teams and partners are on the ground in Turkey and Syria within the earthquake zone to support the people affected by this disaster. Donating critical funds urgently can ensure the receipt of food, water, shelter, dignity packs and warm clothing. It can also contribute towards desperately required mobile medical camps for those who need medical treatment in order to survive. Donations will ensure first aid can be administered to those injured by the blast, medicine can be given to those with existing health conditions and immediate support can be provided to children traumatised by this horrific calamity. The psychological effects of a disaster like this may last a lifetime. Your donation will go towards the aftercare of children traumatised by what they experienced.
Think about the bigger picture - No amount of aid can repair the damage done by this series of disasters. Even when the news coverage stops, the effects of this will remain; don't abandon the people of Turkey and Syria. please set up a monthly direct debit with Penny Appeal to provide regular support for our brothers and sisters in Turkey and Syria as we work to help them rebuild their lives.
Finally, raise awareness - If you are unable to donate to an appeal, sharing the infographics, articles and fundraisers on social media could help find someone who can. Sharing your voice across your social network is often just as helpful as a monetary contribution.
As time passes and more bodies are pulled from the rubble, we are reminded that being human is what unites us all. The initial destruction from the earthquakes is shocking enough, but the real damage is yet to be uncovered.
Click here to support Penny Appeal's relief efforts today.