Helping Your Kids Keep Up The Ramadan Spirit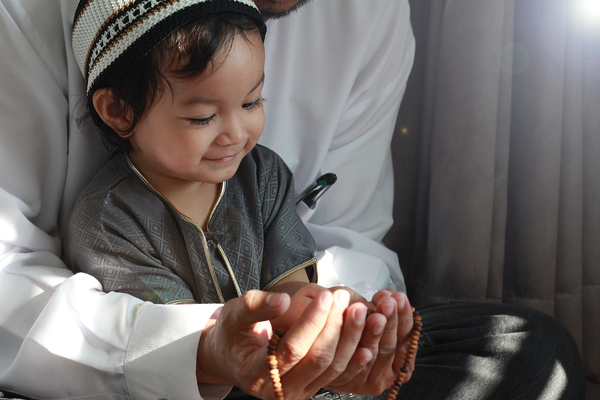 "Allah (SWT), His angels and all those in Heavens and on Earth, even ants in their hills and fish in the water, call down blessings on those who instruct others in beneficial knowledge."
- The Prophet Muhammad (ﷺ)
Ramadan is the perfect time to share with our children the rich beauty and wonder of our faith – helping them understand Islamic teachings and beliefs and surrounding them with a sense of sacredness and blessing.
Even if they are not old enough to fast, with fun and educational activities, we can still encourage in them the spirit of fasting and teach them about why we celebrate Ramadan.
When they reach the age to fast, you can be sure they will leap at the opportunity to join you and your family in this act of devotion to Allah (SWT).
Top tips to help kids learn about Ramadan
Encourage their Interest in Ramadan
Have a look online or at your local bookstore for Ramadan related books.

Sing along to Ramadan songs (this is great if they're having some limited screen time).

Encourage good deeds through example – like baking some treats for neighbours, donating to those in need and volunteering time.
Involve them in Ramadan Crafts!
These might include:
Decorating or making cards for Ramadan and Eid.

Writing out duas or "good deed cards" and being rewarded for completing a card.

Painting Ramadan related pictures to hang up on the wall – The moon, dates, mosques, and the Kaaba are all great places to start.
Help them start a Ramadan journal!
They can use their journals to:
Note down their goals for the month – for example, eating healthy, doing some dhikr, learning new surahs etc.

Write down key lessons they've learned during the Month of Mercy.

Plan for good deeds they hope to continue once Ramadan is over.
Topics to explore with your young ones
The Month of the Qur'an – Ramadan is when our Holy book was first revealed.

The Beloved

(ﷺ)

– Learning about key moments in his life.

Multiplying our Good – How Allah (SWT) rewards us many times over this month

Community – Praying together, eating together, inviting each other to our homes.

Celebration – Thanking Allah (SWT) for Ramadan, exchanging gifts and feasting on Eid.
Teaching by example – The best way to learn
Regardless of what we say to our children, they will learn most from what they see and observe. As we strive to draw closer to Allah (SWT), increase in our worship and good deeds, our children will, Insha'Allah, notice and seek to emulate.
To imitate those who you love is not just human nature, but also an integral part of our faith. We imitate the one most worthy of imitation, that is our perfect guide and saviour, our beloved Prophet Muhammad (ﷺ).
We're taught that the Prophet (ﷺ) was the most generous of people and he was the most generous in Ramadan. During this blessed month, we remind our children about the Prophetic life, how he was born an orphan child, vulnerable in a cruel society, and yet rose to become the leader, bringing peace to his society and billions of hearts worldwide.
Teach your children how the Prophet (ﷺ) spoke so fondly of those who would take care of an orphan. With millions of Orphans across the globe, living lives trapped in poverty and vulnerable to exploitation, we can be the reason that they have the means to attend school and gain a quality education.
This Ramadan, we have the chance to multiply our blessings and give an eternal gift to an orphan in need. Your Sadaqah Jariyah will change young lives forever, providing them with the necessary tools for them to thrive.
Let us teach by example. Sponsor an orphan with Penny Appeal today – may you and your loved ones reap the rewards of this blessed month and beyond, in this life and the next. Ameen. ­­­­