Putting Education First in Pakistan
How we've helped 3,445 Pakistani children get the education they deserve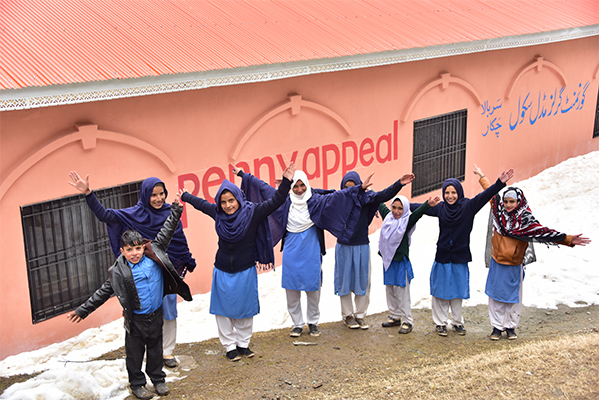 Today in Pakistan, there are more young people than ever before.
With 64% of their 212 million population being under the age of 30, imagine what amazing things could be in store for the future of Pakistan if everyone in the younger generation had access to quality educations. They could build their country up, stimulate their economy, and the quality of life for millions would improve.
Now think about how catastrophic it could be if the majority never get an education.
Education can open the door to some amazing opportunities, but without it many children will grow up to be unemployed or find themselves working hand-to-mouth just to get by. A good education can and will set them up for a bright future, leading them to not simply survive but thrive in their communities.
Education is the key to success for Pakistani children, it is the key to a successful Pakistan, and yet Pakistan has the second largest number of out-of-school children in the world. Across the country around 22.8 million children from the ages of 5-16 are out of school, due to poverty, lack of infrastructure and gender bias.
Children are the future and their education needs to be put first, especially in Pakistan, and in order to do that we have to provide them the tools they need for success – educational materials, strong schools systems and educators that care. Penny Appeal's Education First appeal helps children all over Africa and Asia build their futures and further their educations. As a Pakistan education charity, Education First is assuring that the children of Pakistan have a real chance at success.
Building schools and changing lives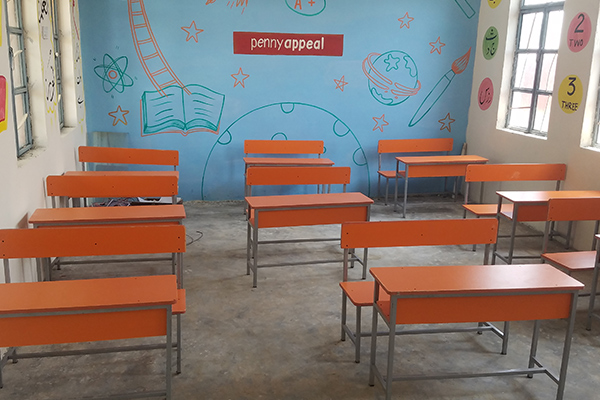 Since we first started our work as a Pakistan education charity, Education First has helped 3,445 children in Pakistan meet their educational needs by building schools and classrooms, providing them with textbooks and educational materials, and supporting their learning with fully trained teachers who care. Our Pakistan education charity is making the most of every donation we receive to make sure these children don't miss out on their educations; we're making sure they're ready to be the leaders of tomorrow.
Recently, Education First finished building 2 new schools in Azad Jammu Kashmir, supporting hundreds of boys and girls with their education, Alhamdulillah. Azad Jammu Kashmir is severely lacking in educational facilities, and children are paying the price for it. With the help of our donors and the Sustainable Development Organization, our Pakistan education charity partners on the ground, we were able to complete construction on a Government Primary School and a Government Middle School.
Before Education First stepped in these schools only had their basic structures completed and with no funds to finish building, the boys and girls attending these schools were studying in temporary shelters nearby. They didn't have desks or chairs, and many of the female students felt unsafe due to a lack of proper bathroom facilities for them. Enrolment was dropping because of these poor conditions and female students in particular were at a very high risk of not continuing their educations.
Our Pakistan education charity was able to change all that and help boost enrolment by completing construction on these two schools, making them fit for students to study comfortably in. We did more than just build simple classrooms, we built an environment that would foster learning and get children excited to go to school.
Each school was built with spacious classrooms to not only accommodate the current students but provide space for new students who were previously out of education. Open verandas, safe drinking water points and fully functional restrooms are fitted throughout the primary and middle school to assure the educational experience for all students is a safe and happy one. In addition to building these 2 beautiful schools, we also ran health and hygiene sessions for the students to promote good health and proper hygiene practices while in school and at home.
Putting Education First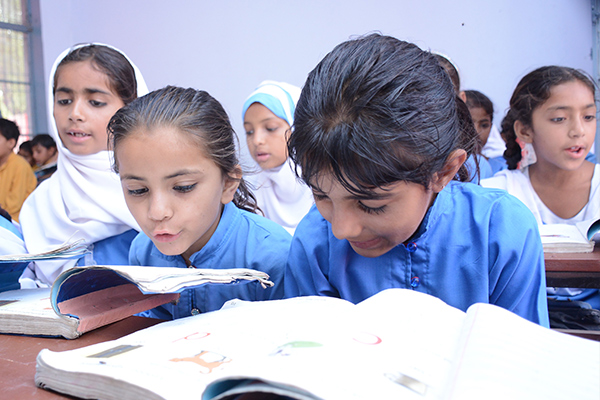 Mishal is one of the many children who have benefitted from these two schools being built in her district. She was often distressed with the way the school was before Penny Appeal's help, having to sit on rough, uncomfortable seats out in the open air to learn, while watching many of her classmates decide not to continue with their classes because of the environment they had to learn in.
Mishal let us know about her journey in school before our Pakistan education charity came to her village, "My father has limited financial opportunities and unlike rich people, my family is not able to provide me an education in a private school, so I have to go to the government school which had no building, classrooms, bathrooms, boundary walls or other essentials needed for standard education.
All of us students used to sit under the open sky during severe winter and summer seasons. Even during rainy seasons, we had to attend classes in the cover of only walls, and we became victims of bad weather and health conditions. We had to fetch water from our homes for drinking, we all felt unpleasant using incomplete washrooms and due to having no security around the school building, we remained insecure even during class time."
When Penny Appeal started construction on these schools Mishal and her classmates were overjoyed at the thought of a new school. In the past people had promised them a new school before, but nothing had been done, so when construction started the whole village was eager to see the end results.
Now settled in the new school, Mishal tells us, "I am very happy to see my new school building where we can read comfortably in all-weather conditions. Now, having a new school building with colourful walls, I can invite others out of school children to come to my school and get their education in a secure and safe environment. I may say God bless Penny Appeal and SDO, who built this school for us. Ameen"
Education First is doing amazing things for the children of Pakistan and with your support, we can continue to build schools, improve classrooms and help children all over Pakistan receive the educations they deserve. Together we can build a successful Pakistan by making sure its future leaders are given the tools to do great things. A simple donation to our Education First appeal is all it takes to change a child's life forever, donate today to help us create bright futures for Pakistani children like Mishal and her classmates.