Celebrating our Orange-Fleshed Sweet Potatoes in Africa on National Potato Day!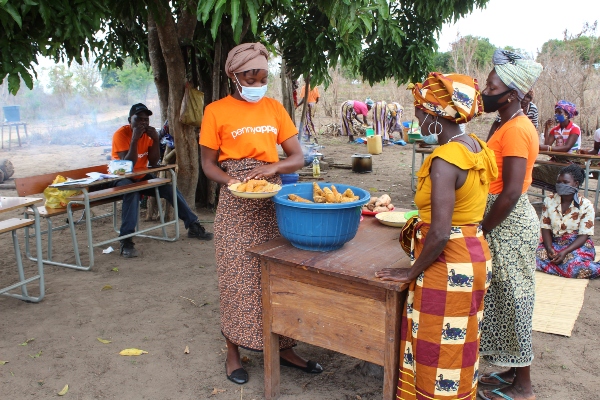 Today is National Potato Day! Here at Penny Appeal, we might be known for our bright orange t-shirts, but today we're celebrating the benefits of Orange-Fleshed Sweet Potatoes in Africa.
This vegetable is not only one of our favourites because of its colour, but because it forms a large part of our nourishing food projects in Malawi, Mozambique, and The Gambia.
We have been providing tools, training, and regular mentoring from trained professionals, to improve future prospects for African farming communities and satisfy the needs of families in sustainable and impactful ways. Through these projects, we have also been channelling the power of Orange Fleshed Sweet Potatoes – doing things the orange way to tackle food insecurity!
The Orange Fleshed Sweet Potato has enormous health benefits, including the ability to help support weight gain and boost immunity. It's a great source of Vitamin A, which is lacking in many developing countries, and which improves resistance to infectious diseases and reduces mortality in pregnant mothers and their children.
The orange potato is also high in fibre and complex starch, improving digestion and leading to increased weight gain. This is particularly important for people who are underweight and malnourished. Because of the high fibre levels, it can also help the body to retain water, keeping cells functioning efficiently and preventing dehydration! The potatoes are rich in beta-carotene which is a major antioxidant. Together with the presence of other vitamins, they are a fantastic immune booster and can prevent the body for a variety of ill conditions.
Penny Appeal has been working in Mozambique and Malawi ever since the traumatic Cyclone Idai in 2019, which left a devastating trail of havoc with over a thousand fatalities and unspeakable structural damage. Since then, we have been helping the damaged communities to rebuild by starting businesses and growing crops in climate-resilient ways. For the past three years, they have been harnessing the power of the Orange Fleshed Sweet Potato to address the effects of repetitive shock from climate change, Covid-19, and escalating violence.
We have also supported these communities through the challenges of the pandemic. In 2020, we trained a group of entrepreneurial women in Mozambique to sew 5,000 face masks (of which 1,500 were distributed to vulnerable households and 3,000 were sold by the women to feed back into their fledgling business). Last year, we supported the vaccine rollout in Malawi, where rural health authorities were struggling to administer vaccines with very few staff. Thanks to our funding and training, thousands of doses were able to be administered to the local populace before their expiry dates.
Orange Fleshed Sweet Potatoes – alongside various other types of produce such as sweet beans, tomatoes, bamboo, and bananas – are continuing to change lives and livelihoods through our farming projects around the world. If you'd like to help, why not contribute to our sustainable food projects, or provide farming supplies via our gifts page? Your small change could make a huge difference to farming communities in the developing world.
Whether you're celebrating by eating a few extra potatoes today, or just enjoying them in your favourite dish, we at Penny Appeal wish you a happy National Potato Day!