Overwhelming support to Feed Our World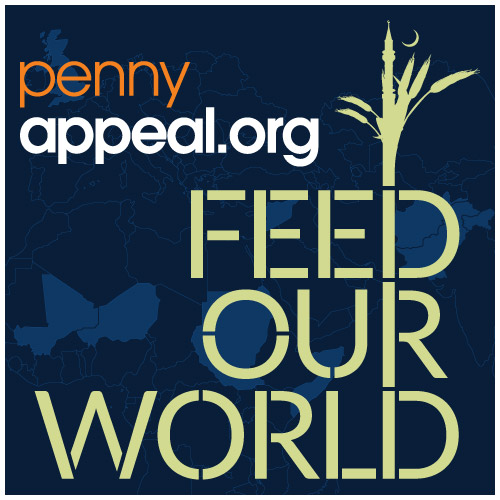 Penny Appeal's Feed Our World campaign has been an overwhelming success, capturing the imagination of donors and exceeding expectations.

A 365-a-day-a-year campaign Feed Our World was launched in July ahead of Ramadan 2012, bringing together ten aid organisations with the aim of feeding 10,000 orphans and displaced families in ten countries, during the last ten days of Ramadan.


Thanks to the generosity of donors, Penny Appeal was able to meet its target comfortably and generate a surplus of funds which will help the charity to continue feeding across Africa, Asia and the Middle East - with a typical food pack containing meat, rice, a selection of fruit and vegetables, water and milk or juice.

The Ramadan feeding programme began in Syria on Saturday 11th August and continued for ten consecutive evenings in Palestine, Somalia, Mali, Niger, Sudan, Bangladesh, Kashmir, Pakistan and finally Afghanistan on Monday 20th August.

The meals were distributed by Penny Appeal's nine charity partners: African Development Trust (ADT), Al-Hijrah Trust UK, Al-Mustafa Trust International (ATI), Human Appeal International, Islamic Help, Muslim Aid, Muslim Hands, Orphans in Need and Read Foundation.


Rizwan Khaliq, Penny Appeal's Chief Executive Officer, commented: "We have raised a substantial amount of money overall across all our campaigns and projects this Ramadan. We are delighted that Feed Our World was a strong contributor in this regard and it's only the first year! We would like to extend our heartfelt appreciation to all our donors for supporting this campaign. Special thanks go to our charity partners who have worked hard in the field to administer nutritious meals to those who need them most. This campaign simply couldn't have worked without them.

"The ten countries we supported face some of the most unimaginable difficulties and hardships, and all our donors can take pride in knowing that their support has made a real difference to some of the world's poorest people.

"We set out to feed a minimum of 10,000 orphans and displaced families but, owing to the success of the project, we will be able to feed many, many more over the coming months, ensuring that food aid reaches as many people as possible."

Feed Our World is now firmly established as one of Penny Appeal's core campaigns, meaning that supporters can help provide food aid all year round.

To donate to the Feed Our World campaign, please visit the Appeal Page or telephone 01924 231 088.