London Marathon 2018
Record temperatures didn't stop Wakefield team raising £40k at London Marathon
A team of 10 have raised more than £40,000 so far by taking part in the hottest ever London Marathon, with thfinal amount expected treac£50k.
The team, that included Penny Appeal Chairman Adeem Younis, Executive Assistant Ami Jackson, and Midlands fundraising manager Haroon Mota, have spent months preparing for the race, but nothing could have prepared them for the unseasonal hot weather, that even managed to see World Champion athlete Mo Farah struggle. We also applaud the many team members who were taking part for the first time.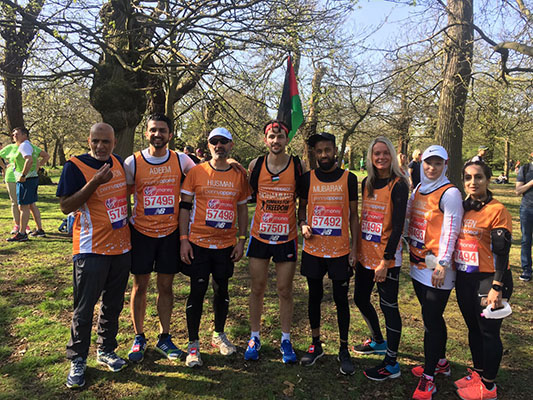 "I ran the London Marathon last year, but this year was exceptionally hard due to the weather which topped 24 degrees," said Adeem. "The heat started to take its toll after just a couple of miles, but when you consider the people we were running for, the extreme conditions and heat they live in every day and without access to clean safe drinking water, this definitely spurs you on."
The team were raising funds for Penny Appeal's Thirst Relief programme, to build deep water wells in Africa. "Many people don't have access to safe clean drinking water and children in particular suffer as they walk miles every day to the nearest water source, which is quite often dirty and unsafe to drink, 3 children die every minute from drinking dirty water" added Adeem. "By raising money, we can build deep water wells, so these children can go to school, and families have access to clean water for drinking, cooking, using on their crops and for their animals. The money we raise changes lives.
Joining the Penny Appeal team was Mohammad Al Qadi a Palestinian activist and marathon runner, who runs to raise awareness of the plight of his people and was raising funds for a water tanker in Gaza, another of Penny Appeal's programmes.
If you would like to donate towards the team efforts or take part in #TeamOrange in the London Marathon 2019, places are available now, visit the website www.pennyappeal.org or call 03000 11 11 11.