Kerala Floods 2018
The Worst Flood in Kerala in a Century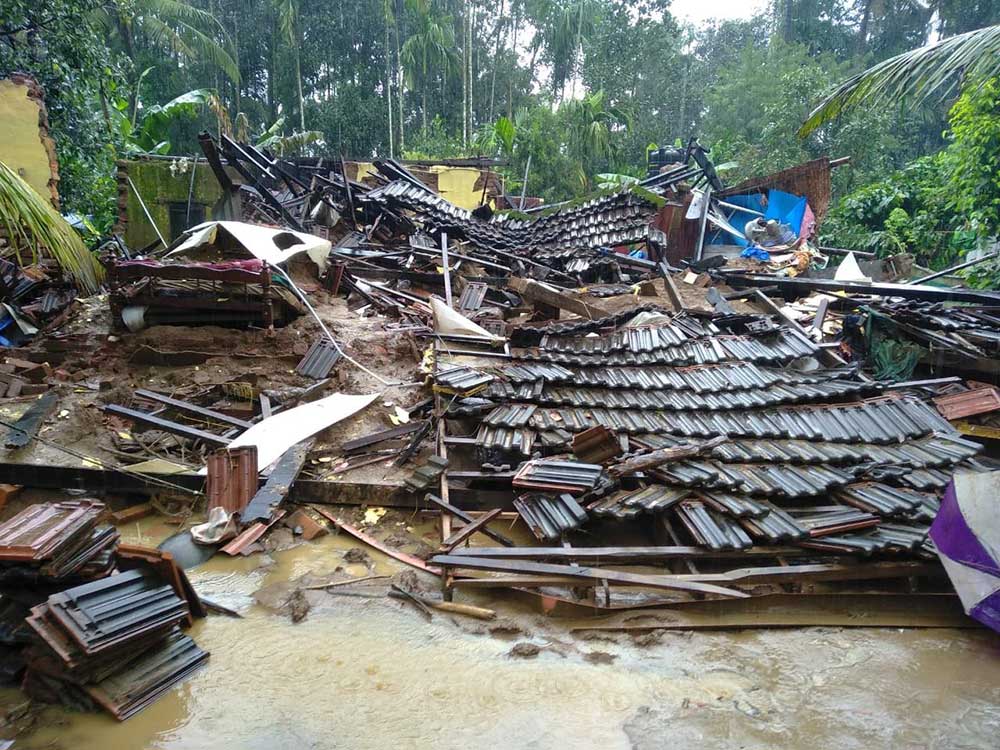 On 14th July 2018, Kerala was subject to huge amounts of rainfall which was getting worse each hour. Heavy downpours caused by the monsoon devastated the central and southern regions of the state. The authorities declared a disaster alert in eight districts, with twelve out of all fourteen districts affected by the catastrophe. As of August, each of the fourteen states have been placed on red alert, with the Indian government declaring a Level 3 Calamity, indicating a calamity of severe nature.
The flood is now known as the worst flood in Kerala in a century, having claimed over 400 lives. Landslides, triggered by the heavy rain, have claimed lives in hilly areas, burying countless homes in mud. Overall, almost one million people have been affected by the disaster, and over 750,000 have been forced from their homes and are now living in temporary accommodation such as camps, evacuation centres and makeshift shelters, with children left severely anxious over their suddenly uncertain future.
Since 9th August, Kerala has received 42% more rain than usual. Although vulnerable to this type of disaster, the severe flooding came as a shock as the heavy rains were far beyond what had ever been expected within the region. Across Kerala, the floodwater has destroyed 20,000 houses and left more than 220,000 people homeless. Thousands of people continue to be stranded on the rooftops of their flooded homes, and so many have lost everything they own. Over 750,000 will never be able to return to their properties and farmers have lost their livelihoods, their crops and livestock having been destroyed, rendering them unable to work for the foreseeable future. On top of this, more than 10,000km of road has been damaged, and very few airstrips, waterways and roads are accessible, making emergency relief difficult and furthering the amount of support that will be required when the waters do finally recede.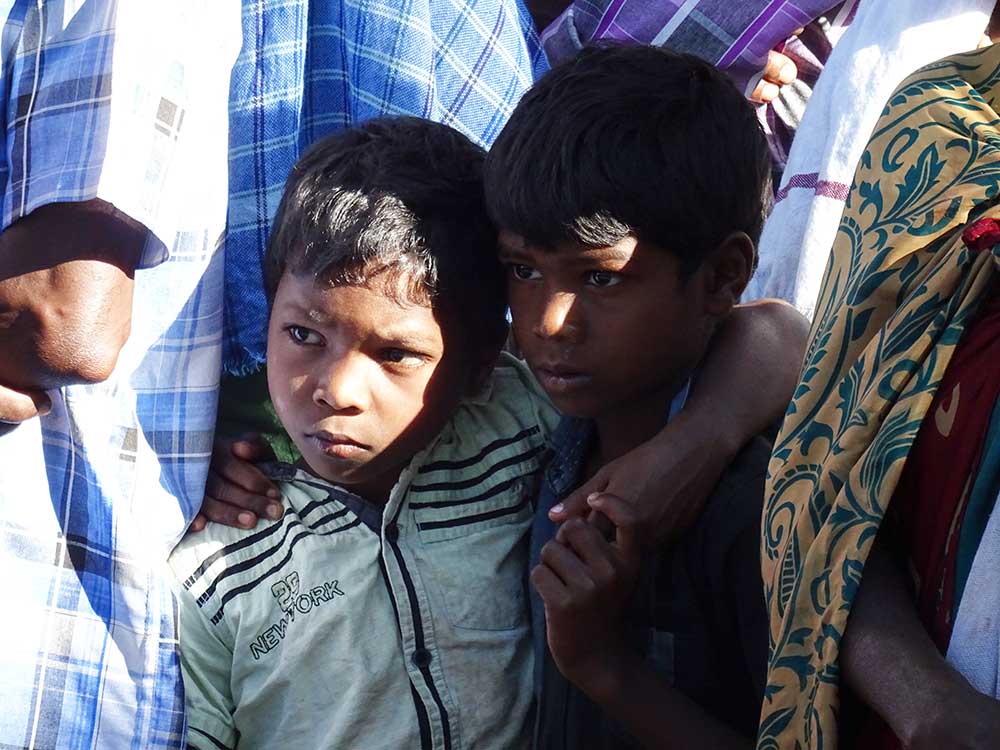 Perhaps one of the most concerning issues at present is the lack of safe water. Most areas of Kerala contain wells from which the population get their water; however, many of these wells have been destroyed or contaminated by dirty floodwater. As such, families are at severe risk of contracting waterborne diseases such as Acute Watery Diarrhea and suffering from intestinal problems, Urinary Tract Infections and dehydration.
The most recent risk is the outbreak of Leptospirosis; a bacterial disease transmitted though water and soil that has been contaminated by the urine of infected animals. As of the 3rd September, the Directorate of Health Services have reported that 54 people have died of suspected Leptospirosis, confirming 19 deaths caused by the disease outbreak. Last month alone, there were 559 suspected cases, 229 of which were confirmed. The need for restoration of clean drinking water, wells and access to adequate WASH facilities is critical and without the aid of humanitarian organisations, untold numbers will die of preventable causes.
Penny Appeal's Response

Penny Appeal stays up to date with all reports coming directly from humanitarian organisations on the ground. We have tailored our responses to address a variety of needs, and are flexible and dynamic in our approach.
We have mobilized an emergency response team to meet in Kerala to address the needs of families affected by the flooding. Our Water and Sanitation Health (WASH) response will be extended to the districts of Wayanad and Idukki, among other flood-affected areas. We have distributed 1,000 Aquaplus household gravity filters and 10 AP700 Ultrafiltration Membrane Water Purification Units to reduce the suffering and protect the health and dignity of those affected by this terrible crisis.
Each of the 10 AP700 Water Purification Units can provide emergency clean and safe drinking water to up to 1,000 people per day and do not require electricity, meaning that they will not be affected by the power cuts that have hit the state.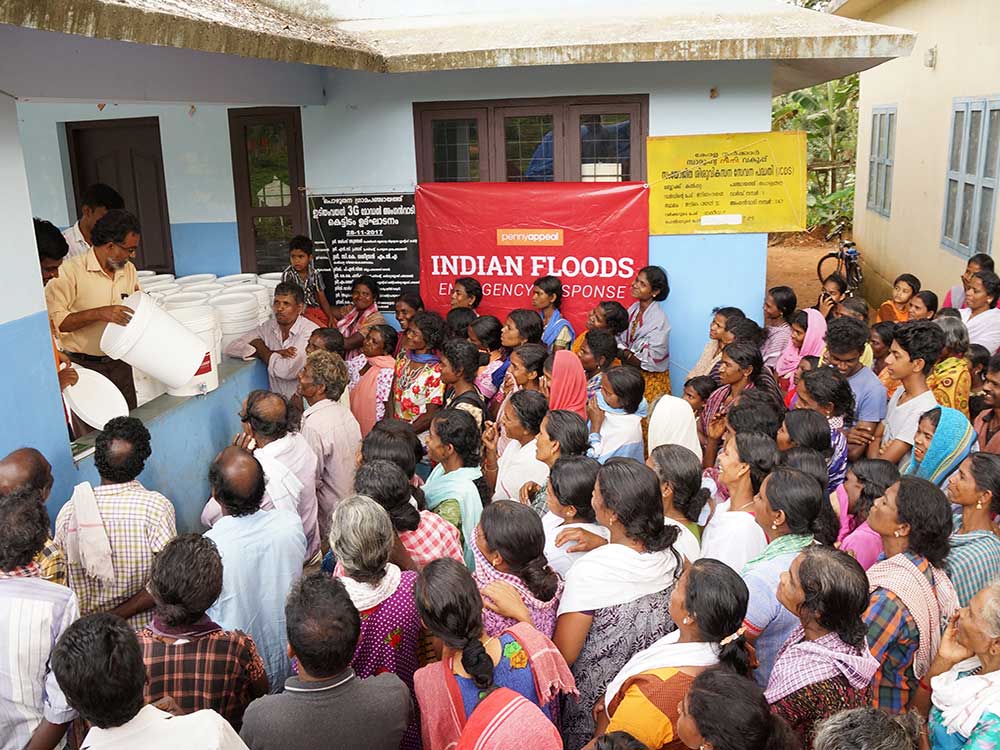 The AP7000 is designed to bring clean water to large communities and is used to purify water from existing water access points such as wells and water towers. It uses a three-step filtration process, designed to remove sediment, bacteria and viruses, before going through a chlorination stage to avoid secondary contamination when the water is collected in already contaminated water cans, bottles, cooking pots, etc. Our teams on the ground will train local officials on their use and maintenance to ensure that they are kept running for as long as possible.
Each Aquaplus Gravity Filter Water Purification Unit has the capacity to provide a family with safe drinking water in their home for a whole year.


The Aquaplus Gravity Filter Water Purification Units use gravity to provide families with microbiologically safe drinking water. When water is poured in through the top, it comes into contact with the chlorine tablet before passing through the microfiltration module. This treats the water for microorganisms and turbidity, making it safe to drink as soon as it reaches the bottom unit. These Purification Units will be distributed to families requiring access to clean drinking water and we will train the family members on the correct use of the units to ensure maximum safety.
These two provisions work together by providing a holistic response to both the disaster and the recovery phases. They will give large communities access to clean drinking water, alleviating the risk of contracting waterborne diseases and relieving dehydration. This has the potential to save so many lives, restoring the people of Kerala's basic human right to clean, safe water.