Farewell Ramadan: The Significance of Jumu'atul Wida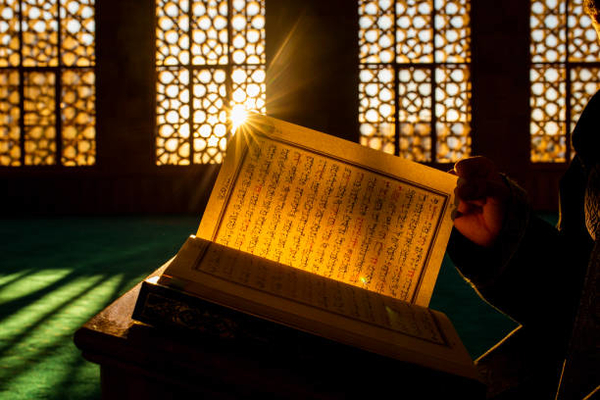 "When Friday comes, the angels sit at the doors of the mosque and record who comes to the Jumu`ah prayer. Then, when the Imam comes out, the angels roll up their scrolls." Prophet Muhammad (ﷺ)
Today is the last Friday of Ramadan and is affectionately known as Jumu'atul Wida. The word 'Jumu'ah' refers to a 'gathering' and the word 'wida' means 'farewell' – so Jumu'atul Wida essentially means The Friday of Farewell.
Fridays hold a special place in the heart of every Muslim, and the final Jumu'ah of Ramadan will always be a bittersweet day for us all. A day of immense blessings and spiritual openings, it is a day we give ourselves a final push to continue striving and strengthening our imaan. Every moment of Ramadan is infused with incredible baraka and we should remind ourselves that no good deed is too small, especially on this special day of Jumu'ah.
There is no time like the present. The renowned Muslim scholar, Ibn Ata Allah, wrote:

"There is no real distance between you and Him in order for you to journey. And the connection between you and Him is not cut in order for you to seek to mend it"

Allah (SWT) is closer to us than our own selves. He is ever Present; all He asks is that we turn to Him sincerely. This is what Ramadan has been about, nurturing our relationship with Him, removing the barriers that we have put between us and Him, connecting with Him and opening ourselves to His Divine Love.
At the beginning of Ramadan we shared with you some of notable Sunnah of Jumu'ah; these include both physical actions, like bathing, wearing perfume and using a miswak, as well as spiritual actions, like engaging in dhikr, salawat and good deeds!
So, on this blessed day of Jumu'atul Wida, let us go that extra mile in striving to please our Creator (SWT). Here are our top tips:
Feed a fasting person – It's not too late to collect those rewards, and what better way to do than to provide iftar to the fasting! Whether it's for your local mosque, a person in need or simply inviting friends and family over – your intention is all that matters.
Sleep less, Qiyam more – It's even better if you're praying in congregation with your local community, taking in the peaceful atmosphere of the final Friday of Ramadan. The best time is the last third of the night, before fajr comes in.
Ask for forgiveness and forgive others – having a clean heart will get us far in this life and the next; sincere repentance is transformational.
Don't bicker, when you can make dhikr – Spend every spare moment you can on this day making dhikr. Repeating Allah (SWT)'s blessed names, praising Him and sending salawat upon our beloved Prophet (

ﷺ

) are sure paths to boundless rewards.
Give charity with an open heart – This final Jumu'ah of Ramadan is the perfect opportunity! Giving generously and sincerely is a well-established path to the pleasure of Allah (SWT) – you can transform lives today.
One of the best things we can do is offer a Sadaqah Jariyah. This is a beautiful form of charity that has an ongoing, perpetual impact. Ongoing impact means ongoing rewards in this life and the next. In these final days of Ramadan, give a gift of hope that keeps on giving, and with your support, together we can provide even more vulnerable people with the tools they need to survive.
Whether you're donating on your behalf or in the name of a loved one who has passed on, we have various projects for you to choose from to show someone you care – there's no better time than right now. Every contribution, little or large, helps those in need.
"Oh Allah, accept all my prayers, my fasts and let them be the light to my soul that carries me through to the Gates of Paradise. Ameen."