"I JUMPED 13,000FT OUT OF A PLANE!"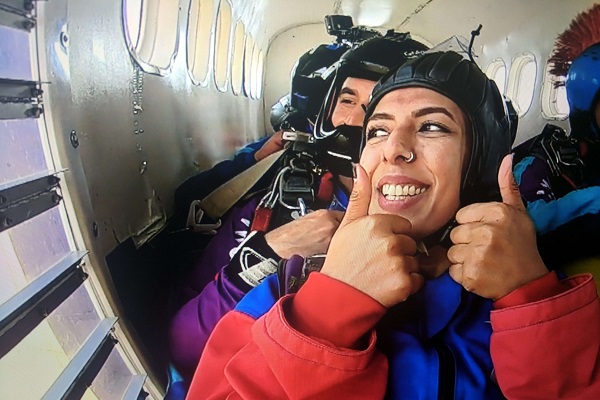 Imagine the momentary shock on my mother's face when I told her that I had signed up to Skydive with Penny Appeal!

Her eyes widened, she took a breath in and then asked me why. I explained. She laughed and said, "Okay, this will be great for you, you must show me pictures though!" Such a mum, that was just so she could pass them around to her friends and tell them the story. She's always encouraged me to do things that take me out of my comfort zone and she's my rock - so you can imagine who I called first when my feet touched the ground on the day of the skydive.

It had been a tough year and a half for me - I was in a job I no longer loved, my marriage had ended & I found myself searching for solace in a place I wasn't even sure existed. My first big challenge was signing up to Kilimanjaro 2017 with Penny Appeal. I put my name down around March 2017 and 2 weeks later, broke my foot. Being the stubborn person I am, decided to defy doctors' orders and go to the first training day on Mount Snowdon. Yes, it hurt! It also rained on us for hours and was a huge reality check - I needed to get fit & ready for Kilimanjaro, especially if I was fundraising almost £5000. I couldn't face all my friends & family who had donated, if I hadn't completed the challenge.

Fast forward several months and there I am, semi-conscious at Uhuru Peak, at the top of Africa, crying because I managed to conquer the world's highest free standing mountain after so many people told me I would fail. After being told, "This isn't for Muslim girls, this is a man's journey" and "Why can't you just live a normal woman's life, why do stupid things like climb a mountain?" It had been one of the most difficult, life changing and humbling experiences of my life and Penny Appeal made it possible. I remember looking across the glaciers, thinking, "I am so much stronger than I thought!", and then turning to Haroon to thank him for organising such an epic adventure. Not to forget the British Muslim TV team waving a camera in my face as they filmed us; snotty, exhausted and happy.

So when the news went out about the Dare 2 Dive challenge, I didn't hesitate to sign up and got 3 others (who are ALL afraid of heights) to sign up with me. For me, it was a chance to help people who were close to me, to take a step towards overcoming their fears and inviting them to be a part of my act of charity. Naturally, we made a Whatsapp group & shared memes & Youtube videos to scare each other a bit more! In all honesty, the gravity of what skydiving involves doesn't quite hit you until a few days before the dive. Up until then, I was so focused on my fundraising and keeping my donors updated with my progress on social media that I hadn't had time to think about the fact that I was REALLY scared to take that leap.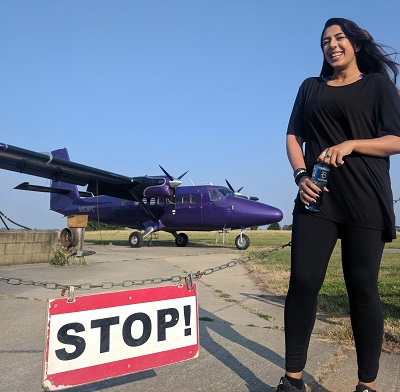 I'm a 90s kid and one of my favourite show growing up was The Fresh Prince of Bel Air, and I've been following Will Smith on Instagram for a while. Honestly, his work ethic, strength in his marriage, his relationship with his children & his humbleness have always been an inspiration to me. Shortly after I signed up for Dare 2 Dive, he shared a video of an interview he did about his recent skydive. He said something that changed my mindset completely - "The best things in life lie on the other side of fear."

Oh my god. My mind went into overdrive, thinking back to all the situations where I had been scared and what had happened when I made it past the fear:

- overcoming my claustrophobia to snorkel in the waters of Phi Phi Islands in Thailand gave me some of the most beautiful views I have ever seen
- pushing myself through the altitude sickness and my ridiculous phobia of throwing up on summit night took me to the top of Africa on Kilimanjaro
- getting up on stage for the first time to perform my poetry left me with a heart filled with support from a room full of strangers
- interviewing for a role I thought I would never get, got me the job I've wanted with the salary & mentors I had been chasing
- coming forward and publicly speaking about my divorce had give courage to so many other men and women to share their stories.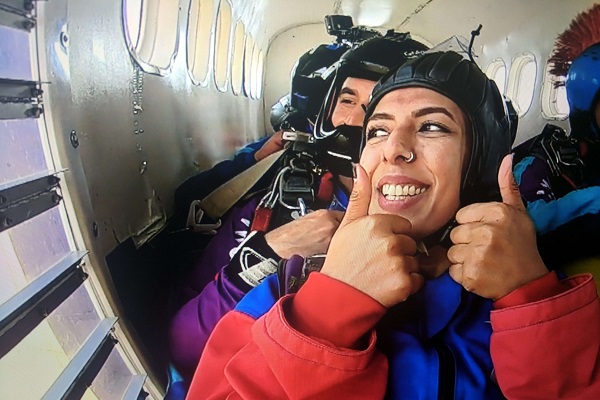 He was right. The best things in life really do lie on the other side of fear! So, when I get into the sky and hang out of a plane, I need to remember that I am focusing on the feeling of accomplishment when I land, instead of overthinking all the risks.

I got to the night before the skydive and was humbled and excited at being able to surpass my target. Penny Appeal initially set £500 as the goal - with persistent posting on Facebook and Instagram and personalised messages on Whatsapp, I managed to raise that in just 3 weeks. I continued to post and challenge my followers, giving them timed deadlines to see if we could reach the next milestone of £750, then £1000, then £1200, then £1500! SubhanAllah!

Remember, fundraising is a team effort, so always treat it as such. Empower your donors to be a part of your journey, they should feel that they've achieved something with you, rather than doing you a favour. The joy comes with seeing how your money changed lives, not in self-glorification. You're never alone with fundraising for Penny Appeal - they will support any events you put on, provide t-shirts, pens, wristbands, collection buckets and anything else you need to help you reach your target.

There I was, the night before my Skydive, struggling to sleep after praying an extra 2 rakahs before bedtime, wondering why I had got myself into this. Why couldn't I just be a normal girl, doing normal things and be at home in my pyjamas on the weekend, instead of trying a death defying stunt from the middle of an airfield?! Also, my dad is going to kill me when he finds out!

I arrived about 30 mins later than I should have, at around 7am - which pushed me back by 3 hours in the overall running order - listen to Haroon when he tells you to get there on time, it's for a reason! The grounds were beautiful and it was a sunny time of year, I was glad I dressed appropriately. I was too nervous to eat but when the staff told me I wouldn't be jumping till 3pm, I decided I needed to have something, otherwise I might pass out. As per the list, no dairy, nothing too heavy. Some oats and fruit was all I could stomach. We were then taken in groups of about 10 to the safety briefings, which took 20 minutes in total. A practical demonstration to show you what to expect and how to position your body when leaving the plane and then a video with all the safety instructions. It was clear, brief and reassuring. I had to sign up for the paid photos (a cameraman accompanies your dive to film/photo you), I mean, how can you not want to capture your face, free-falling at 120mph?!

Watching others dive was exciting but frustrating because I just wanted to get it over with and I had fallen so far behind in the running order that I was getting drowsy from lack of sleep and lack of food.

My name was called out. My heart skipped a beat. This was it! I headed into the briefing area to put on my jumpsuit, buckle up and have my gear safety checked. On went the helmet (no amount of makeup or glamour could make someone look good in those hideous things!) and I was introduced to my diving instructor. At this point, I started to feel really nervous, queasy and ALMOST backed out. How could I let down all the generous people who had donated? How could I return home, only to tell everyone who was waiting that I bottled it? How would I face myself after weeks of prep and hope and excitement? "Nah, this has to be done," I told myself. I think I lost count of how many times I prayed Ayatul Kursi! Over and over, as I took deep breaths and boarded that plane. The propellers fired up & the cameramen asked us to wave – and I gave what was probably the most nervous smile ever. I whispered 'Bismillah' under my breath and boarded with my right foot. I was the last one to board, I was then told it meant I would be the first one to jump - wait WHAT?!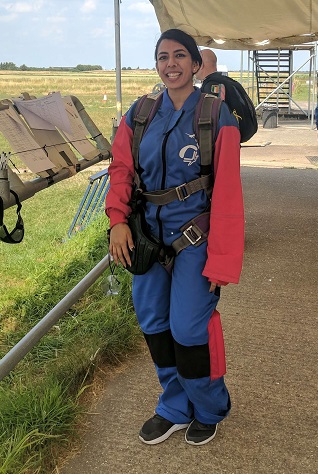 As we ascended, I kept praying and the ground became further and further away. The view was stunning but all I could think about was "What if my parachute doesn't open? What if my claustrophobia kicks in and I can't breathe? What if I panic?" I looked down again and fields turned to little squares, trees turned to dots, everything became hidden beneath the clouds. Before I realised, we had reached our ascent - 13,000ft. My instructor clipped his harness into mine (there were only 4 clips between me and death in my head) and the plane door was rolled open. Why Taz? Why? Why did you get gassed and sign up to this? I closed my eyes and slid myself over to the edge of the plane, placed my hands into my harness as I was instructed and tucked my legs under the body of the plane, like I was told. At this point, your entire body is outside of the aircraft and you're hanging on by just the clips on your instructor's harness. Oh. My. God. Before I knew it, we rocked once, twice, three times and I opened my eyes, only to see blue skies and clouds speeding past my face. The G-forces were so strong that I didn't recognise my face in the videos! At first I held my breath, the sudden shock of falling at a speed I had never felt before numbed me and within seconds, both my arms were up in the air and I realised where I was - in the skies! SubhanAllah! The clouds brushed past my cheeks and the ground was getting closer and closer. At this point I didn't want it to end! My instructor pulled the cord and I was whipped back into the sky, before rebalancing and coming to a slow descent, the wind carrying us. I exhaled and looked beneath - I could see for miles. We were now beneath the clouds and there was greenery across Cambridge. My instructor asked me how I felt and I didn't quite have the words - out of breath, stunned, in shock, excited, happy, relieved, the list went on. He asked me if I wanted to steer the parachute and handed me the grips and I veered to the left, to the right, then for jokes we went round in circles a few times. He took control of the reins again and despite the harness digging into my legs & the breathlessness, I suddenly felt at peace.

There was a calm up there that I've never experienced. A gentle wind that cools your skin and a beautiful silence that allowed me to hear my own heartbeat. I breathed in deeply and exhaled slowly. I did it. This was my skydive, my achievement and me making it to the other side of fear and I was in the sky, I was flying! It felt like it wasn't long enough to take in the magnitude of what I had just done - jumped out of a plane, fall through the sky and glide my way through the clouds and onto the ground. We made it to the airfield & as instructed, I lift my legs for landing and slid along my butt (otherwise you damage your knees) and the parachute collapsed behind me. My ears were ringing. It didn't feel real. I couldn't believe I'd done it!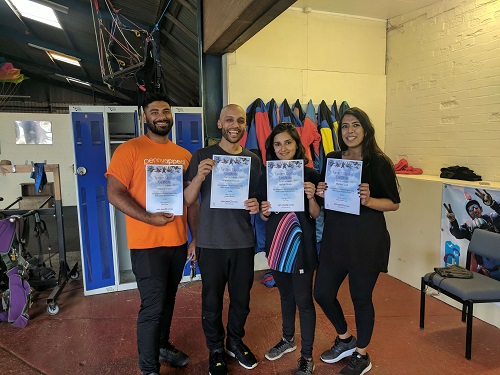 We changed out of our gear, headed to the office to collect our pictures, headed back to the car and began our drive home, feeling so proud of what we had just achieved. In that moment, the nerves, the sleepless night before, the loss of appetite was all worth it. Don't hesitate to sign up to a Penny Appeal challenge. You'll surprise yourself with how far you can push your mind and body but you'll reap the benefits of the charity you've raised and ultimately, you're pleasing Allah.
Taz
Instragram @tazthestargazer