Dare to Dive: Save Lives
Jump from 10,000ft to save lives in Gaza
Saturday 17th August 2019
Saturday 11th July 2020

Saturday 15th August 2020

Put your daring to the test with an exhilarating challenge for an incredible cause! We want you to join our #TeamOrange fundraising family and do a sponsored skydive to provide food for those living in poverty in Gaza.
After decades of suffering, the people of Gaza are still struggling to survive, with over 80% of the population dependent on humanitarian assistance. You can 'Dare to Dive' and raise £500 to give 10 families enough food for an entire month, helping them to get back on their feet and look towards the future.
Download the information pack for more details about the skydive, the cause, and restrictions on participation.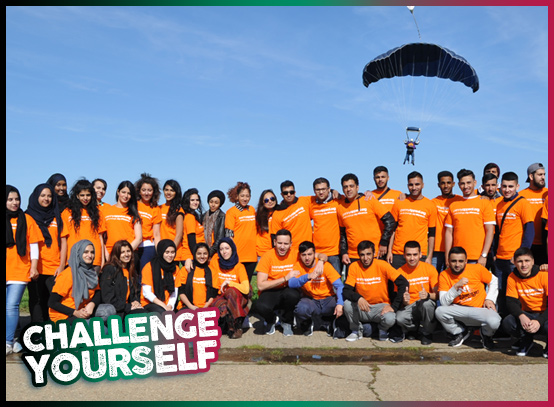 Pay your £50 registration fee using the box at the bottom of the page, then complete the sign up form below to book your place! Each skydiver will then need to raise a minimum of £500 through sponsorship and fundraising. This will be enough to provide 10 food packs, but don't stop there. The more you raise, the more families we can help! Get in touch for ideas and support to help you reach your goal.

The challenge is a tandem skydive, meaning that participants will be strapped to a fully-qualified instructor throughout the jump, who will activate the parachute at around 5,000 feet. This is a very safe way to jump – you don't need any experience and will be given full instructions on the day.
The skydive will take place near the town of March, Cambridgeshire. You are required to make your own transport arrangements but we can help group you with others who may be travelling from your regions.
Get your fundraising off to a flying start by setting up your own JustGiving page to take online donations. CLICK HERE to set up your page. Once you've set up your fundraising page click on the box below to join our team JustgGiving page.
You can also make the most of your fundraising and training efforts by sharing your story on social media. Don't forget to use the hashtag #PennyAppeal #TeamOrange & tag @teamorangepa for shares!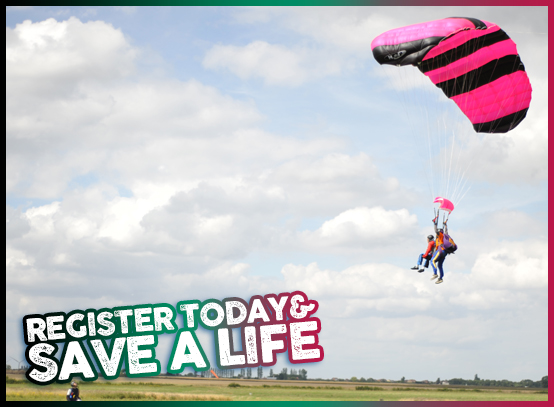 For more information please contact our Head of Challenges, Haroon on 07714 249 215, or haroon.mota@pennyappeal.org