Home is Not Home When You Live in Fear.
Nasrin's Story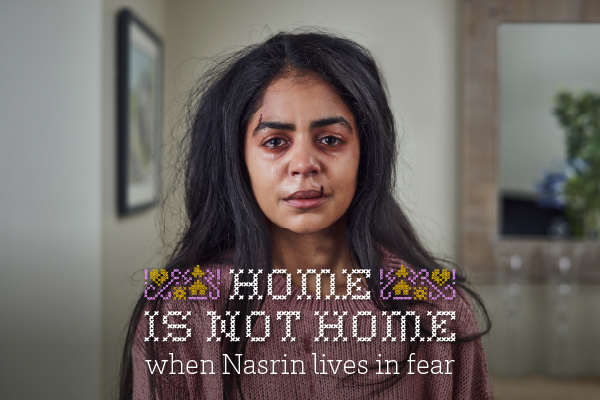 Throughout the UK, 2.4 million adults between the ages of 16 to 74 experienced domestic abuse in the last year. Since then, there has been a surge in domestic violence due to coronavirus lockdown measures and isolation. The UK has seen a 33% rise in reports of domestic abuse since the start of lockdown restrictions in March 2020.
The victims of domestic abuse have been forced into close quarters with their abusers in an effort to "stay home [and] stay safe" but for millions of people throughout the country, home is not a safe place and it hasn't been for quite some time. Nasrin* is one of the many victims of domestic abuse here in the UK that has felt the effects of isolation and heightened tensions in her household.
Nasrin's struggle with domestic abuse
Nasrin is 27 years old and she's been living in isolation long before lockdown restrictions began. To the world, it looks like she has the perfect marriage. Nasrin's mum thinks her husband Iqbal is a loving man and doting partner but behind closed doors, the opposite is true.
She walks on eggshells around Iqbal, constantly feeling on edge and fearing his anger. It's not every day he gets upset but when he does, Iqbal has the tendency to fly off the handle and physically express his anger with Nasrin. Unfortunately, she is no stranger to his bursts of fury or his fists.
Nasrin has tended to her injuries and dried her tears alone in the bathroom more often than she'd like to admit. Black eyes, bloody noses and painful words that cut like knives; Nasrin's home is a living nightmare.
Iqbal will often apologise to Nasrin once he's calmed down, make sweet promises and twist the story so that the blame for all her cuts and bruises falls back to Nasrin. She feels so utterly alone and isolated.
When Iqbal rang her for the 5th time, she knew there was trouble waiting for her at home. She sat in the safety of her car and listened to the phone ring again and again before she finally answered. Iqbal was furious, she took the car that morning and didn't tell him. He needed it this afternoon, and she had it. He called her all kinds of nasty names, and belittled her to the brink of tears.
Nasrin tried to explain that she did tell him that she would be taking the car, and that she was only a few minutes from home so he wouldn't be late but he wasn't hearing it. Her bold abuser even went so far as to assure her that she knew what was waiting for her when she came home.
In desperation, Nasrin tried to phone her mum, but no one answered. She had no choice but to go home to an angry and abusive Iqbal.
Help keep Nasrin safe this season
Nasrin's lives in fear, she is the victim of domestic abuse and sadly, her story is only one of millions. There are people like Nasrin all over the UK right now suffering at the hands of the people who are supposed to love them. Love shouldn't hurt and being at home shouldn't mean being in danger.
This winter, Penny Appeal are supporting the victims of domestic abuse throughout the UK with counselling sessions and open access to our Domestic Abuse Hotline. We're also partnering with Birmingham Women's Aid to provide toiletries, gifts for children and food parcels for women fleeing domestic abuse. Additionally, we will also be working with housing associations to provide the victims of domestic abuse with duvets and luxury festive hampers to make the seasonal period a special time for those going through hardship.
You can help Nasrin and others just like her this season by making a donation to our UK Winter Emergency appeal. With your support, we can be there for those in need.
If you have been touched by Nasrin's story and would like to share your own experiences or need support, please reach out to our Helpline Practitioners through our Domestic Abuse Support Service on 0808 802 3333 or on web-chat here.