7 Tips to Help Ease Your Child into Fasting During Ramadan
Enjoy fasting with the whole family this holy month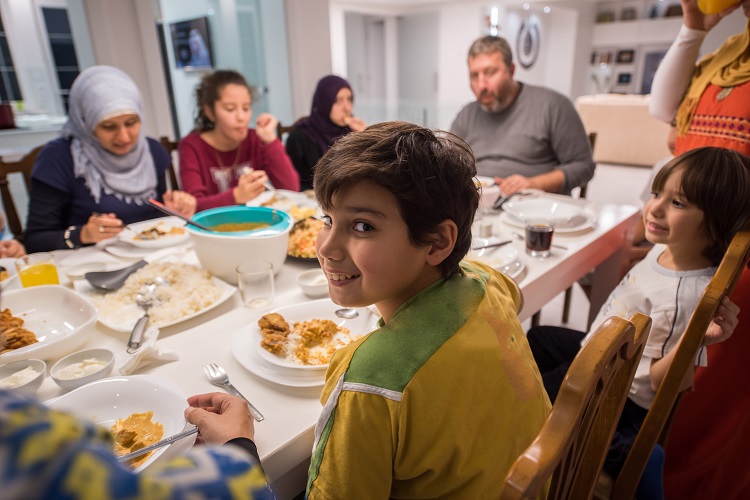 As one of the five pillars of Islam, fasting during the holy month of Ramadan is compulsory for all adult Muslims in good health. Children are not required to partake in fasting until they hit puberty, but can children fast during Ramadan if they choose to? Can children fast in a healthy manner? Can children fast before puberty to start expressing their Islamic values?
Of course they can! If your children are expressing an interest in fasting or are coming up to the age where fasting will soon become mandatory for them, you can help ease them into understanding and enjoying the fourth pillar of Islam as a family. You can encourage your children to practice their faith and get into fasting in a healthy and age-appropriate way at any time once they're ready. Here are a few tips to help you ease your child in fasting during Ramadan, while helping them grow in faith as well.
1. Make sure they are ready

As fasting during the month of Ramadan is only obligatory for adults, you need to make sure that your child is ready and willing to start learning how to fast. Many children begin to experiment with fasting around the age of 6 or 7, but every child is different. Teaching your child about fasting is something that should be an enjoyable experience, so they need to be physically ready and receptive to it before you begin.
Take the time to talk with your child about fasting and explore their feelings on the matter, before moving forward with practicing mini fasts.
2. Help them prepare and practice

Practice makes perfect and the same goes for fasting. The best way for your children to learn about fasting is to try it for themselves. When a child starts practicing fasting, they learn what it's like and begin to know what to expect for when their first full Ramadan fast comes along. The important thing to remember is that your child is just that – a child – so be patient with them and make sure they're supported throughout this process. And be ready for any potential tantrums that might come your way!
Some different ways that you can start practicing with them are:
Start off with a few hours of fasting before gradually raising the length of time when they're comfortable.
Waking them up to have suhoor with the family.
Skip breakfast or have a late breakfast.
Start them off with a food only fast, where they can skill drink water or other liquids.
Have them try abstaining from one of their favourite foods during Ramadan, before working up to an actual fast.
3. Educate them about the virtues of fasting and Ramadan

Knowing why we fast during Ramadan is just as important as the act itself because our intentions need to be aligned with our actions. Teaching your children about the virtues of fasting and why we partake in it during the holy month will give them a good understanding of the act and motivate them to start fasting themselves for Allah (SWT).
The Qur'an explains, "Oh you who believe! Fasting is prescribed to you as it was prescribed to those before you, that you many learn piety and righteousness" (2:183). Read to your child from the Qur'an and share with them what Allah (SWT) commands in the month of Ramadan. We fast to please Allah (SWT) and remind ourselves of our humanity, sharing this with your child will help them understand why this is important as Muslims.
4. Give positive reinforcement

Whether your child tries fasting for an hour or the whole day, you need to use positive reinforcement to show them that they are doing something really wonderful. Celebrate their success and encourage them to keep going by offering them words of praise and little incentives to keep it up.
This could be anything from deciding what meal everyone will have for iftar to giving them a small gift. Making fasting fun and letting your child know that you're proud of them is a fantastic way encourage them!
5. Be a good role model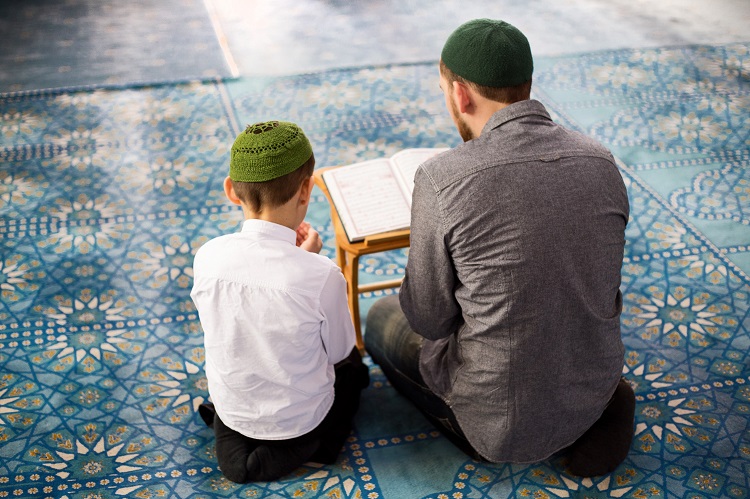 Your children love you and look up to you. When they see how you're getting along with your fast, they'll learn from example. Show your children how to fast and show them why you participate in this practice throughout Ramadan.
Have them get involved in preparing iftar or suhoor, so they can follow what you're doing. You can even break your fast with them by eating dates together after the sun has gone down. Talk to them about how your fast is going throughout the day, and let them know about the rewards that you'll receive from fasting.
6. Eat good food for suhoor

Having a good meal for suhoor is important because it starts you off for the rest of the day, and gives you're the energy you need to make it through your fast. Giving your child a well-balanced suhoor meal will help make it easier for them to keep up with their fasting attempts. Making sure they eat plenty of foods that are filled with proper vitamins and protein will make sure that they have all the energy they need.
7. Make dua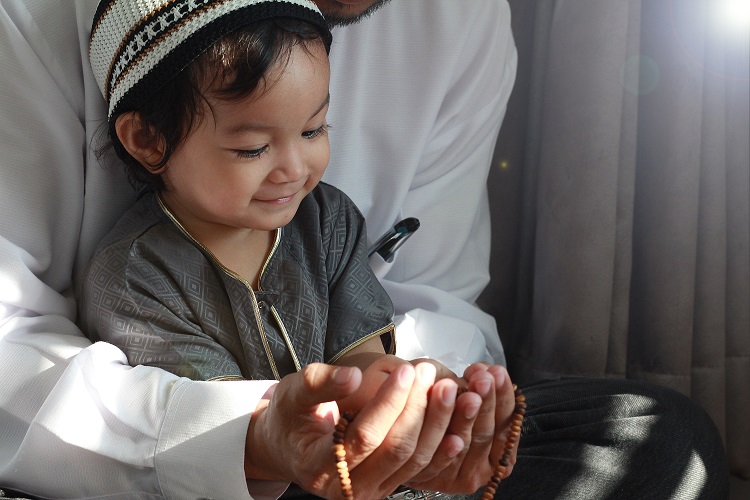 Making dua together is another way to prepare your children for fasting during Ramadan. Prayer is a significant part of our lives, so sharing this aspect of Ramadan with your children will help them get into fasting and into the spirit of Ramadan itself. Teach them duas to recite throughout the month with you like this one,
اللَّهُمَّ إنِّى لَكَ صُمْتُ وَبِكَ آمَنْتُ وَعَلَيْكَ تَوَكَّلْتُ وَعَلَى رِزْقِكَ اَفْطَرْتُ
Allahumma inni laka sumtu wa bika aamantu wa alayka tawakkaltu wa ala rizq-ika-aftartu
O Allah! I fasted for You and I believe in You and I put my trust in You and I break my fast with Your sustenance
This Ramadan you can share the joys of fasting with your little ones and if they are interested in trying they can join you! But sadly, millions of children have no choice but to partake in daily fasts. Worldwide, 690 million people are undernourished, and many of these are innocent children.
While you make dua and share the spirit of Ramadan with your children, please also teach them to be kind to their brothers and sisters around the globe. Help them make a donation to feed the hungry this Ramadan through the Feed Our World appeal.
You can teach your child about how to maintain a healthy fast, while helping put food on the table for impoverished families in Asia and Africa!