A Goal for Inclusivity: Our CEO Attends Event at Bradford City Football Club.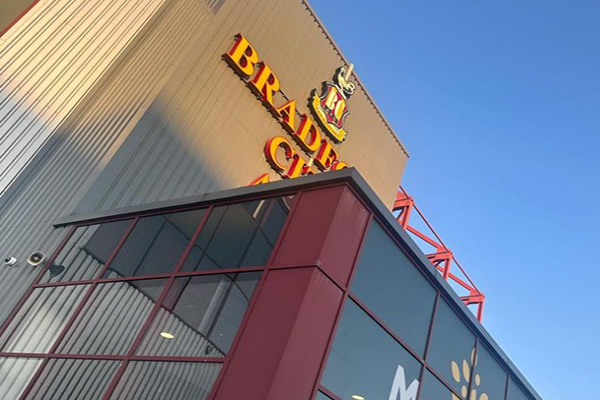 During the last ten blessed days of Ramadan, our CEO, and lifelong Bradford City Football fan, Ridwana Wallace-Laher, attended an Iftar event at the home of Bradford City, the University of Bradford Stadium. The event is held as recognition of many years of support from the Muslim community, something that Ridwana was pleased to see.
The event was a fantastic opportunity for fans, staff, and members of the community to come together and share a meal. The iftar was open to everyone, regardless of their faith or background, and was a way for the club to show its appreciation for the diversity and inclusivity of its fans. Attendees enjoyed a delicious meal and engaged in many conversations about their shared experiences and cultures, but more of all their love for Bradford City.
Business Development Officer for the Bradford City Community Foundation, Qasim Akhtar kicked things off by introducing himself, the foundation's mission, and the reasons behind the event. This was closely followed by a question-and-answer session, prayer, and a meal. Attendees heard a speech from Ryan Sparks – Bradford City's CEO, before the CEO of Regal, Younis Chaudhry spoke about his journey of faith and his partnership with the club. This was followed by more speeches, introduction to two rising City stars and even some live music from composer and songwriter Ismail Hussain.
Ridwana told us of her love for football, especially her home team, Bradford City, often attending matches with her family. She was delighted to meet players, fans and staff who are all passionate about football and their city. Bradford is ranked as the 5th most income deprived local authority in England, the need for charitable support is more crucial than ever. Shockingly, 24% of children live below the poverty line and 13.5% of households are currently struggling with fuel poverty. It is clear that action must be taken and Ridwana is leading Penny Appeal's campaigns to tackle poverty at home in the UK.
Reflecting on such an event is so important even now that Ramadan is over, it demonstrates the power of community, understanding and shared goals. By coming together to celebrate and share each other's cultures, we create strong relationships and a more inclusive society. Our goal was to raise awareness around the disadvantaged communities within Bradford and kickstart the conversation around supporting them. Many of us often overlook the issues that lie right in front of us, but this Iftar has made a lasting impact.
We're helping families here in the UK who are struggling with the cost of living, loneliness, and domestic violence.
To get involved with our UK projects, click the link below.