Feeding Our World this Ramadan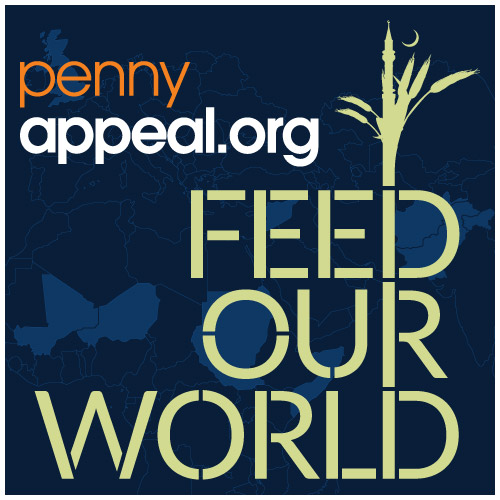 Penny Appeal has launched Feed Our World, a global campaign which unites ten aid organisations with the aim of providing meals for at least 10,000 orphans and displaced families in ten countries during the last ten days of Ramadan 2012.

The programme will kick off on Saturday 11th August in Syria and continues for ten consecutive evenings, ending in Afghanistan on Monday 20th August.

The Feed Our World campaign will provide food to orphans and displaced families in Niger, Mali, Sudan, Somalia, Palestine, Syria, Bangladesh, Afghanistan, Pakistan and Kashmir. All are internationally recognised victims of war, displacement, famine, natural disasters and high infant mortality rates.

The meals will be delivered by Penny Appeal's nine charity partners: African Development Trust (ADT), Al-Hijrah Trust UK, Al-Mustafa Trust International (ATI), Human Appeal International, Islamic Help, Muslim Aid, Muslim Hands, Orphans in Need and Read Foundation.

Penny Appeal has been encouraging the involvement of schools, mosques and community organisations, who have been distributing booklets of meal tickets in aid of Feed Our World. Each ticket costs just £10 and will provide 10 meals to those who need them most. There are 30 tickets in each booklet, representing the 30 days of Ramadan.

Rizwan Khaliq, Penny Appeal's Chief Executive Officer, commented: "This is a unique and exciting campaign which focuses on feeding victims of extreme poverty in countries facing conflict and unimaginable hardships.

"Many individuals, mosques and organisations have come together to promote our Feed Our World meal tickets, and I am delighted that we have also secured the support of ten established and internationally recognised charities who will spread some hope this Ramadan by ensuring that the funds raised by the campaign will provide meals to the needy."

To donate to the Feed Our World campaign, please visit pennyappeal.org or telephone 01924 231 088. Please note that this campaign is Zakat-applicable.