Empowering Orphan Children in Kashmir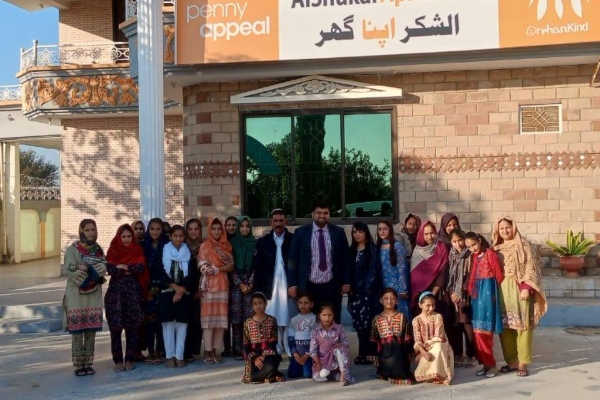 For Ahmad Bostan, Penny Appeal's Director of Communications, life has always been very much about overcoming barriers and staying true to your aspirations. Visually impaired from birth and confronting many of the same racial and socioeconomic barriers faced by many in his community, Ahmad's perseverance has nonetheless led him to successes in the worlds of media, fundraising and local politics.
So this week he was delighted to swap stories with 25 children supported by Penny Appeal's Orphan Kind appeal – children who, though facing their own unique challenges, have already demonstrated an incredible strength of character.
The orphan children are thriving at their homes in Chakswari, Kashmir, Pakistan, where they receive constant support from Penny Appeal staff members including foster mothers, cooks, and security personnel. For many of them, life has not always been this way: having each lost one or both parents, these young people have had to deal with poverty, vulnerability, and isolation throughout their lives.
But Ahmad's visit proved to be an uplifting experience for all involved, as he discussed and shared his own personal stories with them, inspiring them to keep pursuing their dreams. The children, in turn, shared stories of how they are persevering through their own personal difficulties to chase academic, professional, and personal successes. Despite their vulnerability, these orphans have great ambition for their futures – aspirations which Penny Appeal will continue to support through the funding initiatives and educational programmes provided by our Orphan Kind appeal.
Orphan Kind has been one of Penny Appeal's core projects since we began our work over a decade ago. Since then, thousands of orphan children have been helped to secure brighter futures, and we will continue to support them in the years ahead. As Ahmad said himself: "it is only when you confront your own challenges head-on that you can truly understand how these children have overcome theirs. Their resilience is an inspiration to us all."
Orphan Kind sponsorships prioritise education for orphans and vulnerable children to give them the best possible chances for their futures. We are proud to provide free education in schools and madrasas, as well as scholarships for higher education.
We ensure that the orphans in our care are provided with nutrition, healthcare, shelter, clothing, and vocational training to help them become financially independent in the future. We also run art therapy programs which allow children to express their feelings through creative means such as painting and drawing.
We invite you to join us in supporting the lives of orphan children by donating to Orphan Kind and helping them to pursue their dreams. Together, we can give them the kind of future that every child deserves.
Click here to sponsor an orphan child for only £15 a month.