Embracing the Month of Rabi' Al Awwal: Empower a Hifz Orphan with Penny Appeal!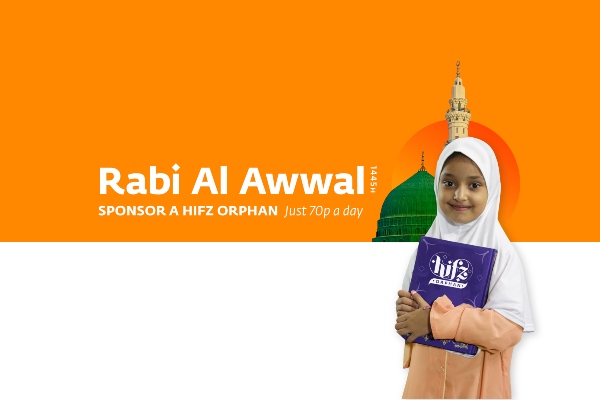 Today marks the beginning of the third month in the Islamic calendar, Rabi' Al Awwal, which is closely associated with the birth anniversary of the Prophet Muhammad (ﷺ), an event that has brought light and guidance to millions around the world. As we enter this special month, let us reflect on its importance and consider how we can make the most of it and make a meaningful impact.
The Significance of Rabi' Al Awwa
Rabi' Al Awwal is a month of reflection, remembrance, and renewal of faith. It is the month in which the Prophet Muhammad (ﷺ) was born, and his birth serves as a reminder of the immense blessings and guidance he brought to humanity. This is a time to celebrate the Prophet's (ﷺ) noble character, his teachings, and his role as the final messenger of Allah (SWT).
Sponsoring a Hifz Orphan: A Transformative Ac
As we contemplate the blessings of Rabi' Al Awwal, we have an opportunity to extend our gratitude and compassion to those in need. Given that the Prophet Muhammad (ﷺ) was himself an orphan, the plight of orphaned children worldwide is a poignant way to direct our attention. By sponsoring a Hifz orphan for only £21 a month, you can play a vital role in shaping the future of a child while upholding the sacredness of the blessed Qur'an.
Empowering Hifz Orphan
At Penny Appeal, we believe in the power of small change to create a big difference. Our Hifz Orphan programme aims to provide orphans with a holistic education, a nurturing environment, and the opportunity to become a Hafiz of the Holy Qur'an. By donating just £21 a month, you can help cover the costs of education, accommodation, and all basic needs for a Hifz orphan. Your contribution goes beyond financial assistance; it is an investment in a child's future and a means of preserving the teachings of the Qur'an.
As we commemorate the first day of Rabi' Al Awwal and celebrate the birth of the Prophet Muhammad (ﷺ), let us reflect on his teachings of compassion, empathy, and charity. In the spirit of this blessed month, we urge you to take action. Sponsor a Hifz orphan through Penny Appeal and be a beacon of light for a child in need. Your monthly contribution of £21 can empower a young life, provide education, and help a child memorize the Qur'an, ensuring that the light of the Qur'an continues to shine in the hearts of future generations.