Day 3 - The Resilient People of Morocco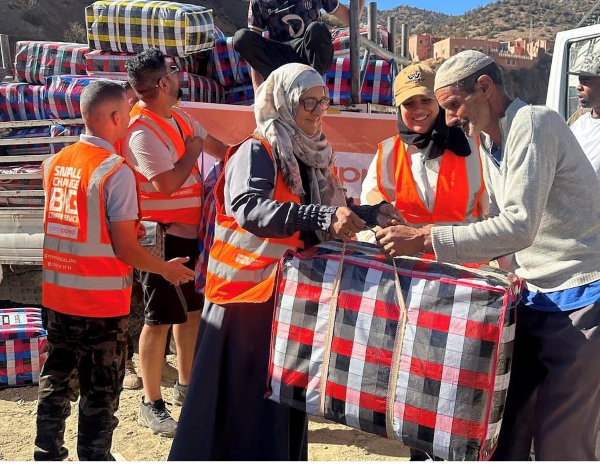 By Ridwana Wallace-Laher
As I finally take the time to write this account of my experience of the 3rd day here in Morocco, I find it challenging to put into words the profound impact this journey has had on me. The journey thus far has been emotional, physical, but above all, a reminder of the indomitable spirit of humanity.
The third day began in the heart of Marrakesh, specifically the Medina area. Commonly known for its Hammam bath houses, spice markets, and textiles souks, however, the maze of cobblestones was different now. The once bustling streets was damaged and full of desperation.
Our team joined other aid workers, volunteers, and locals in a clean-up operation. We swept the streets for hours, taking with us all that remained of people's home. A profound sadness settled in my heart. Despite the very real threat of aftershocks and further damage, the locals seemed keen to clear their once inhabited streets, though all that remained was memories of their homes and businesses. There was somewhat a resilience about the local people which will stay with me forever; they seemed so adamant on moving forward and so grateful for everything.
I spoke with a lady who had watched her business crumble before her eyes, her entire livelihood gone in a matter of minutes. She feared that the earthquake will stop tourists coming to Morocco and was concerned but remained adamant that her people will come back stronger. The determination of the Moroccan people I saw before me was incredible, even though I knew I'd probably never see them again, I felt a connection to each and every person I spoke to. The positive energy I felt from the children however moved me the most – children always seem to have the power to make things bearable, Subhan'Allah.
Following the clean-up operation, we headed to a warehouse where supplies were being stored for distribution. We wasted no time, grabbing box after box we filled each one with supplies that could sustain a family for a few days while they planned their next move. Our mission here was clear: pack non-perishable food items, hygiene products and sanitary supplies to provide relief to those in dire need.
In the midst of getting stuck into packing up the boxes, I was given the opportunity to speak to BBC News about our ongoing work in Morocco, and how the public back home in the UK can help. It was a moment of mixed emotions, I felt gratitude for the outpour of support from people around the world, to wishing there was more I could do personally.
As the sun set, marking a third day of our emergency response, I found myself in discussions with the rescue team and fellow volunteers. Determined to maximise our efforts in the coming days, we spoke about the best way to get as much help to as many people as possible.
As fatigue began to take a toll on my body and mind, I couldn't escape the overwhelming thoughts of all the people we'd met.
In those quite moments, I turned to prayer. I thanked Allah SWT for choosing me, for giving me the opportunity to be here and extend a helping hand to those who need us.
I also had the opportunity to speak on BBC Women's Hour. As I reflected on my journey so far, I couldn't contain my emotions; tears filled my eyes and I found myself breaking down while on air. The stories, resilience, and vulnerability of the people I met touched me to the core.
While I have this platform with the world looking on, I must take this opportunity to emphasise the need for your continued support for our emergency relief efforts in Morocco. The need remains vast, and every contribution, no matter how big or small can make a BIG difference in the lives of those affected by this tragedy.
With gratitude and a heart full of hope,
Ridwana Wallace-Laher
Chief Executive Officer
https://pennyappeal.org/appeal/emergency-response