Crypto Giving Tuesday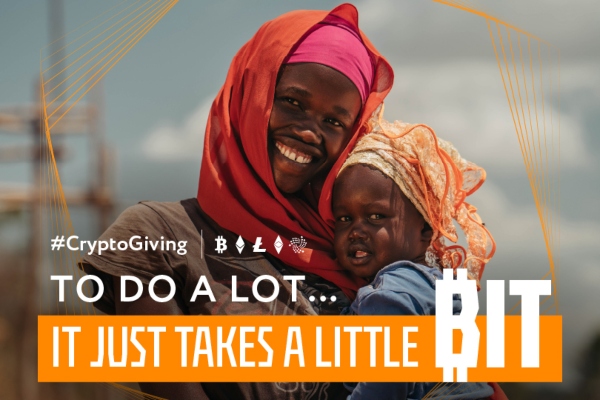 Today is Crypto Giving Tuesday – a day for people to support the causes they care about using cryptocurrency donations!
Bitcoin and other well-known cryptocurrencies have hit the headlines several times over the past few years. But Bitcoin is more than just an investment; it can also be used to make charitable donations. That's why every year, crypto enthusiasts around the world take part in Crypto Giving Tuesday! Just as Black Friday and Cyber Monday kick off the holiday shopping season, Crypto Giving Tuesday is a day for people to show their support for charities and non-profit organisations that accept cryptocurrency donations.
Here at Penny Appeal, we're proud to be at the forefront of the crypto revolution – harnessing the power of crypto to fund life-saving projects around the world! We use crypto giving platforms like The Giving Block to make it easy for cryptocurrency holders to donate using their digital assets. Your digital donations can help fund our many projects from humanitarian response work and solar-powered water wells to climate smart villages and education sponsorships for orphans.
"We're extremely excited to be able to receive cryptocurrency donations," says Adeem Younis, founder of Penny Appeal. "Cryptocurrency is playing an increasingly important role in philanthropy, and we hope that Crypto Giving Tuesday will encourage more people to donate cryptocurrencies to support life-saving projects to help those who need it most."
On last year's Crypto Giving Tuesday, crypto donating increased by an incredible 839%! Over £1.9million in total was raised by crypto givers around the world, according to data provided by The Giving Block. This year let's do even better!
This year, the team behind Crypto Giving Tuesday is hoping to build on that success and raise even more money for charity. So, if you're a crypto holder and have been looking for a way to make a difference, now is the perfect time to get involved!
We believe that cryptocurrencies are revolutionising philanthropy – making it easier than ever before to donate in an easy and secure way. Together with organizations like The Giving Block, we hope to continue promoting the amazing power of crypto donations to fund life-saving projects around the world.
So, on Crypto Giving Tuesday – and every day – please consider donating cryptocurrencies to help those in need. It only takes a little ₿it to make a big difference!