Bringing Health and Happiness to Rohingya Refugees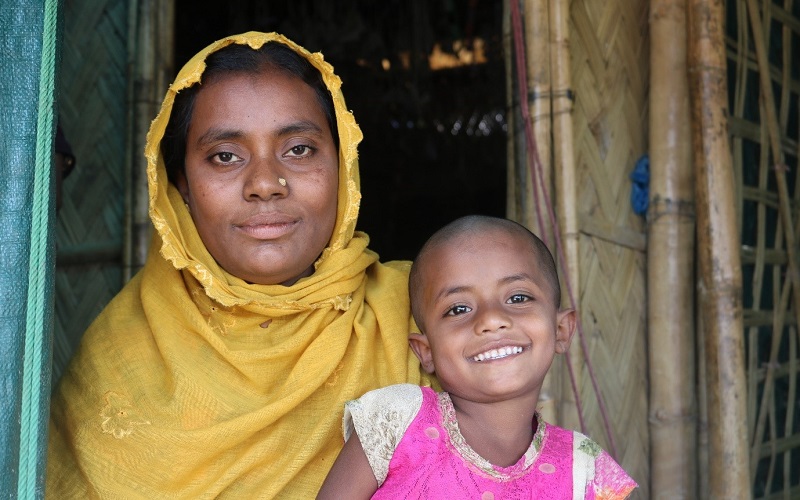 Amena and her daughter Haresa.
Within the squalor of one of the largest refugee camps in the world, there is an oasis of healing and health.
Almost a million Rohingya refugees have fled persecution and danger in Myanmar, only to arrive at a refugee camp which is sprawling and unforgiving; Cox's Bazar. This is the fastest growing refugee crisis in the world, and Bangladesh just does not have the capacity to help so many people. The World Health Organisation estimates that 1.3 million Rohingya people are in need of health services, many of whom live in Cox's Bazar.
That's where you come in. Your kind donations have helped us to provide safe spaces, healthcare and nutrition centres, clean water facilities and food packs to thousands of Rohingya refugees.
We have provided free medical care to over 18,000 Rohingya people, including 10,800 families. We've also provided nutritional support to over 20,000 people, Alhamdulillah!
These are just a few of the amazing people we have met, and helped through our Health and Nutrition Centres, thanks to donations from people like you!
Nursing Beautiful Baby Asiya back to Health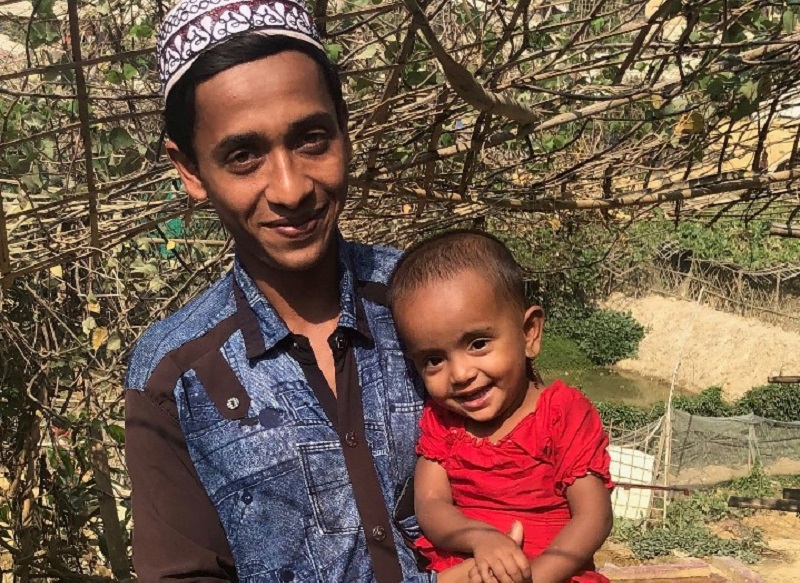 "All she wants to do is play now! We are so grateful for your help." – Mohammed Halek.
Maouda and Mohammed Halek are a young couple in their twenties living in Cox's Bazar.
They escaped from Myanmar with their 3 year old son Asim, and their baby daughter Asiya Bibi, in September 2017. Maouda told us, "We heard about the violence of the Mynmar Army in other areas but when they entered our village and started burning our neighbours' homes, we had no choice but to run to save our lives".
The young couple made it to the Myanmar-Bangladesh border but were detained in no-man's land where they sheltered underneath a tarpaulin for 7 months. The small family crossed the Bangladesh border in the middle of the night to avoid detection by the border authorities and were eventually allocated a shelter in Cox's Bazar in the winter months of 2018. Their crude makeshift shelter offered little protection against the cold, and Asiya soon became ill with fever and a cough.
Mohammed took his daughter to the camp's health post, where Asiya received medical treatment.
However, in the crowded camp conditions with unsanitary toilets and hygiene facilities, Asiya soon became sick again with diarrhea, becoming thin and weak.
It became clear to Penny Appeal and our partner on the ground that Asiya was suffering from Severe Acute Malnutrition. Mohammed diligently took Asiya to our Health and Nutrition Centre for monitoring every week, where Asiya loved to eat the rich and sweet peanut-butter like Ready to Use Therapeutic Food, and soon gained weight.
Mohammed and Maouda received Infant and Young Child Feeding counselling, as well as free feeding and positive hygiene practices, so that they could keep Asiya healthy.
Mohammed Halek looks on happily as Asiya plays with her cousins and neighbours, telling us "All she wants to do is play now! We are so grateful for the help we received from Penny Appeal."
Saving Lives; Humaira and her Child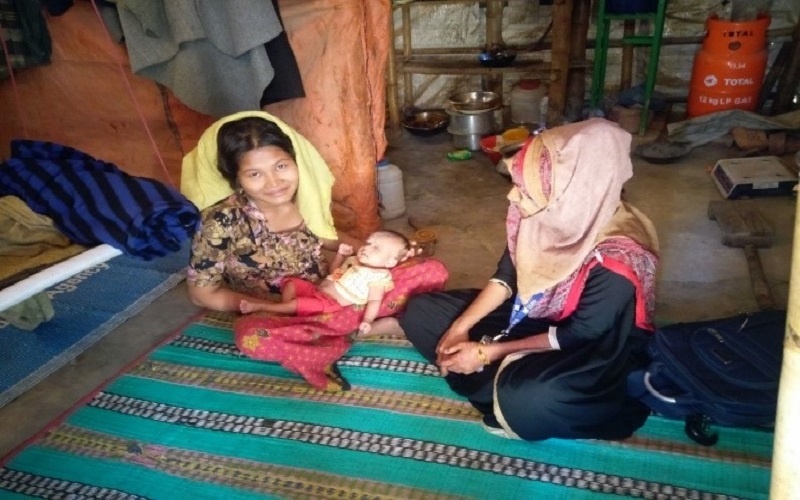 "With the help of Penny Appeal, my child and I are absolutely fine now." - Humaira.
When our Health and Nutrition team met Humaira, 22, she was pregnant and afraid for her life and the life of her baby. Humaira had a whole host of issues; she had a history of preeclampsia in her previous pregnancy, was experiencing a burning sensation, she was anaemic, had high blood pressure and when tested, showed early signs of re-occurring preeclampsia.
Preeclampsia affects the blood flow to the placenta, often leading to smaller or premature babies, which is extremely dangerous for women like Humaira, who are living in Cox's Bazar without access to advanced medical care.
But thanks to our generous donors, our Health and Nutrition team was able to give Humaira the medications that she needed, and kept her under observation. When Humaira went into labour, our team was able to refer her quickly to a nearby maternity centre, where she gave birth to a healthy, beautiful baby boy. Our early intervention may have saved both of their lives!
"I was in severe lower abdominal pain and I was feeling weak. I do not have any family members to take me to a nearby health facility. But Penny Appeal's field worker came and took me to the clinic with her. The doctors and others were so supportive that I felt at home. With the help of Penny Appeal, my child and I are absolutely fine now. I wish the clinic will continue its good work for a long period of time." – Humaira

Helping Haresa to Smile Again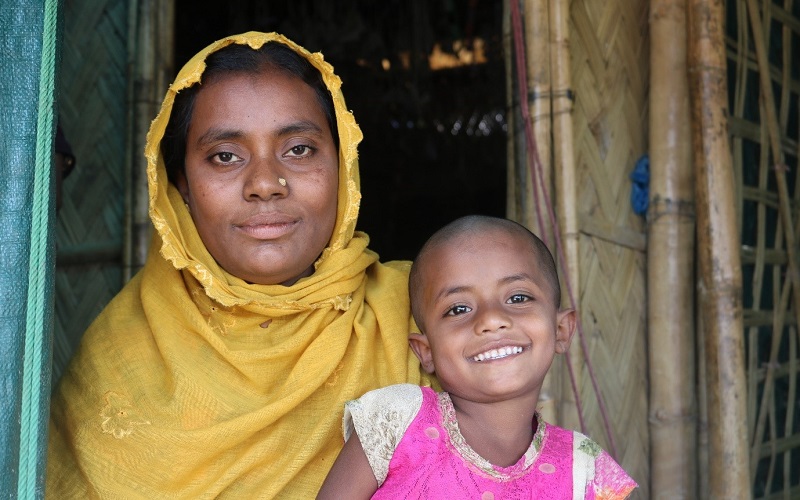 "I feel relieved to see that Haresa likes to eat. She is healthy, happy and active." – Amena Khatun.
Haresa is a bright four year old girl from a Rohingya refugee family living in the hills of Modhurchara, Camp 17 of Cox's Bazar.
Haresa lives with her parents, Amena Khatun and Dil Mohammad, and her younger brothers. Their family escaped to Bangladesh soon after the violent unrest began in their home of the Samila village in Myanmar.
Haresa and her three young brothers understood little of what was happening except that they had left all their friends and delicious food behind, along with their house. The traumatised children were losing their health and Haresa stopped eating altogether and started having asthmatic attacks.
Amena Khatun brought her daughter Haresa to Penny Appeals' Health and Nutrition Centre, where Haresa was diagnosed with severe malnourishment. She was immediately admitted and given antibiotics. At the same time, she was referred to the nearest health service provider for treatment for her asthma.
Amena Khatun started to come to the centre regularly and participated enthusiastically in the Infant and Young Child Feeding sessions. Amena is a devoted mother who immediately started to put our lessons into practice at home. Amena happily shows visitors her covered containers for food, safe drinking water stored in clean containers and the neatly trimmed nails on her children's fingers, reflecting everything she's learned.
Thanks to Amena's attentive care, Haresa recovered from severe malnutrition after only three weeks of treatment and is smiling, eating and playing once again.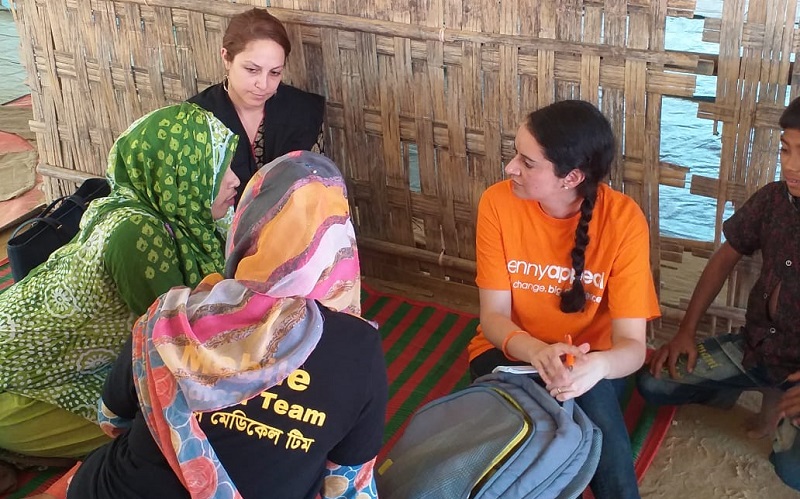 Our team working with the mothers at Cox's Bazaar.

With its sprawling miles of makeshift shelter, Cox's Bazar is home to hundreds of thousands of Rohingya people who bear the scars of persecution in Myanmar and the everyday struggles of life in a refugee camp.
These people are struggling through no fault of their own; people like Humaira, families like Mohammed Halek's and children like Haresa.
You can make all the difference to the Rohingya people, by giving them spaces of health and healing, like our Health and Nutrition Centres.
Donate to our Rohingya Emergency appeal today.