3 Years On: How We're Supporting Rohingya Refugees
3 years after the violence in Myanmar, Penny Appeal are helping to rebuild the lives of the Rohingya people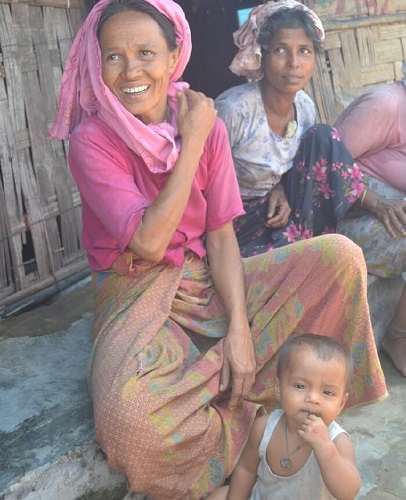 In August 2017, the Rohingya people saw their houses burned to the ground, their families torn apart and victimised by atrocious acts of violence. Men, women and children fled from Myanmar's Rakhine state in fear of their lives, seeking refuge along the southern coast of Bangladesh. This mass exodus brought nearly 1 million refugees into Bangladesh, all in need of dire humanitarian assistance.
3 years later and the Rohingya crisis is still ongoing with no clear end in sight. Many people still carry with them the emotional scars and mental turmoil from the horrors they endured in Myanmar and the agonising and treacherous journey it took to get them to Bangladesh.
Penny Appeal have helped 391,178 refugees with emergency aid over the past three years, providing them with food, water, medical aid, shelter and more. We've established Health and Nutrition centres, Women Friendly Spaces and Child Friendly Spaces, so that everyone has access to the healthcare they deserve and a safe place where they can come together as a community to learn and overcome the trauma they have experienced.
We're doing everything we can to ease the hardships of our Rohingyan brothers and sisters, lending a helping hand wherever possible to ease their plight and alleviate their pain. We couldn't do any of this though, without your compassionate donations and never-ending support. Have a look at some of the wonderful changes your donations have made to the lives of the Rohingya refugees in Cox's Bazar, and remember that every donation, no matter the amount, can help provide light of hope shine through the darkness and despair.
Arifa's Refuge
"At home I can't sleep because when I close my eyes I see all the things that happened to me and my husband at home."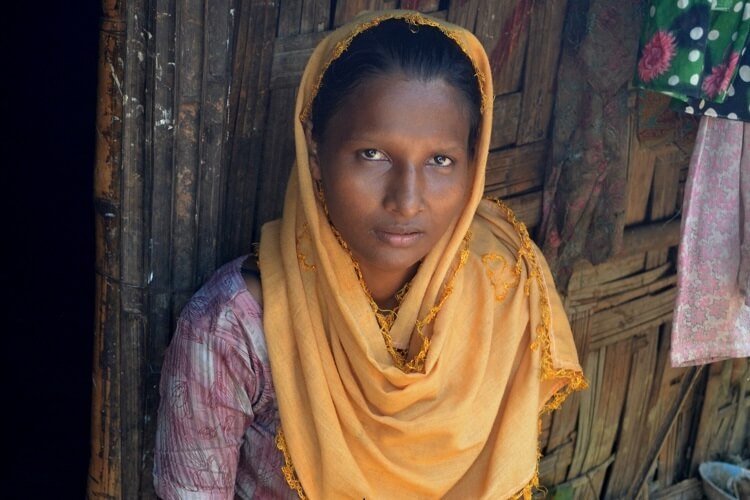 Arifa is a frequent visitor to the Women Friendly Space at her camp in Cox's Bazar; in fact, she goes there every day. A sense of security envelopes her as she crosses the threshold, a peace that she only finds within its walls and alongside the other women who go there. The Women Friendly Space provides her a place to confide in friends, sleep soundly and wash without worry, things she can't do at home.
Arifa and her two daughters made a nine-day boat journey to cross over into Bangladesh, and though she fears for the safety of her children and the uncertainty that lies ahead, she manages to find comfort in her camp's Women Friendly Space and relief when she sees her two young girls playing at the centre.
"There are lots of women here to make conversation with and new friends to make. I feel at peace here in the centre, but at home every second is really very hard because I remember everything that happened in Myanmar."
Mohammed's Health
"May Allah (swt) give them more strength to help mankind who are helpless and destitute like us."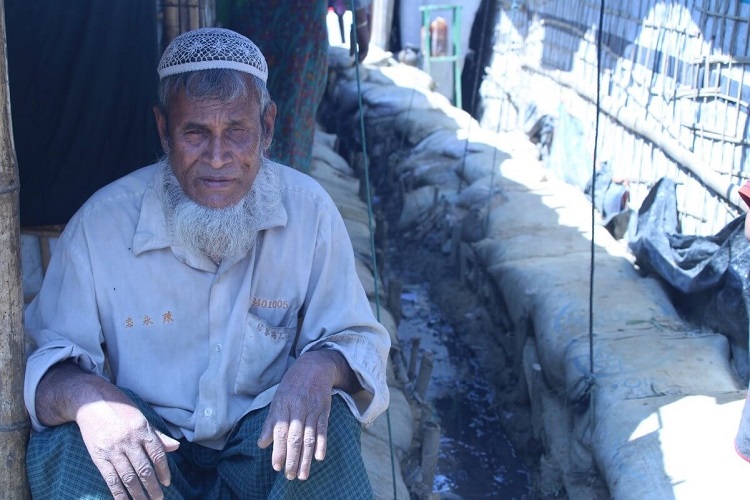 Mohammed Hosen is a 60-year-old man, frail and in declining health. It was a miracle that he made it safely out of Myanmar. His survival was a blessing but with no family to care for him in Cox's Bazar, Mohammed became isolated within his own home.
Plagued by a range of health issues, including skin disease, back pain and a condition that has affected his eyesight, Mohammed could not bring himself to travel to the Health and Nutrition centre to seek care. These conditions left him with a serious risk of developing other complicated health problems if untreated and ignored, but luckily his situation was brought the attention of Penny Appeal's medical officers in time.
Mohammed is no longer left to tend to his conditions himself, shut away in isolation, but rather receives regular visits and check-ups from the medical officers at his camp. He gets his medicine and ointments delivered to him on a regular basis and the doctors take the time to sit with him and to explain their purpose and the dosages.
"I can't see very well and I struggle to move freely so I feared the worst, but the medical officers from the health post have not given up on me. They bring me medicine and speak with me, they care."
Saifullah's Safe Space
"It is magical that Saifullah wants to go to your Child Friendly Space regularly."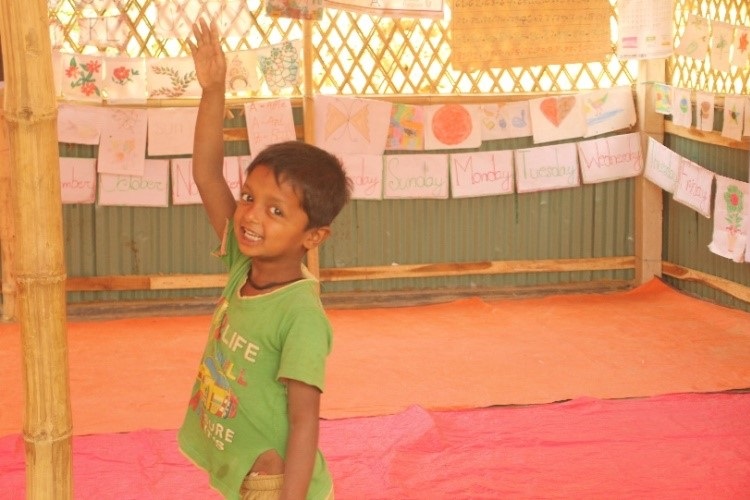 Saifullah is just a 5-year-old boy, but he has had to endure the trauma of Myanmar's violence and has gone through so much more than any child should have to face. Soon after Saifullah's family made their escape to Bangladesh and set up camp in Cox's Bazar, he became a big brother. With more of his parent's attention on the new baby and the stress of fleeing Myanmar weighing him down, Saifullah would often wander away from his home in the dangerous jungle or up onto the hills alone.
His parents feared he would get hurt or lost roaming around the camp on his own, so our child friendly facilitator, Nigar, encouraged them to have Saifullah join in on sessions at our Child Friendly Space. The first time Saifullah came to our Child Friendly Space he was very nervous to be around the other children, but day by day he has bloomed into a confident little boy who loves playing with his friends.
Rozina, Saifullah's mother, told us:
"It is magical that Saifullah wants to go to your Child Friendly Space regularly. Usually he can't get along with most people; he has been very tetchy after this displacement and he is less able to take mental stress. You really played an amazing role."
Rohingya Clubs and Committees Making Positive Change
"We are happy, satisfied. For the first time we are doing something like this, making change."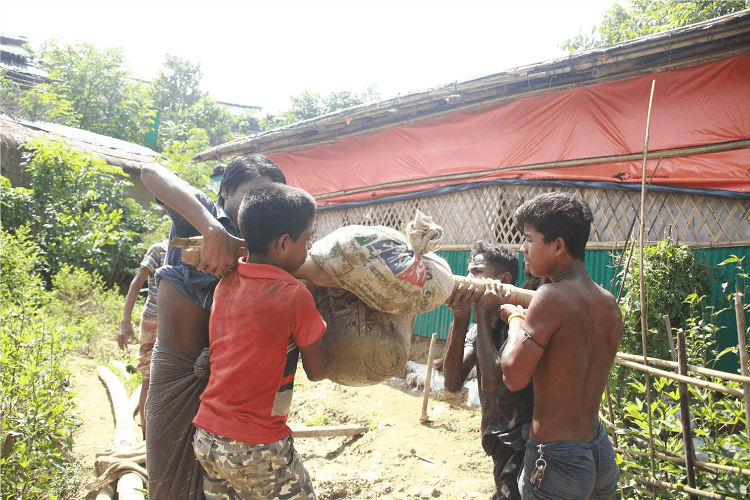 The displaced Rohingya refugees depend on support from the government, NGOs and people like you for their basic necessities, but now years on they are beginning to take the care and maintenance of their community into their own hands.
Penny Appeals' Adolescent Club and the Protection Watch Committee in Cox's Bazar worked together to build better roads and bridges in order to improve transport in their communities, all through their own initiative. Now children can safely use these new bridges to cross over water way to our Child Friendly Spaces without risk, and with new roads in place, there is now safer travel over hilly areas for the whole community.
Rashed, a young man in the Adolescent club, said:
"We're building for our safety. Our brothers and sisters were not able to go to the Child Friendly Spaces; our mothers couldn't safely go to the latrine at night. This is our work, our responsibility. You showed us how, and now we are making change."
Although the coronavirus crisis has put even more strain on the Rohingya people, they are working hard to overcome their struggles and re-build their lives - but this is not possible without our continued support.
The Rohingya people are being empowered and gaining the tools they need to improve their community; support them as they rebuild their communities and enrich their lives.
Counselling for Rohingya Refugees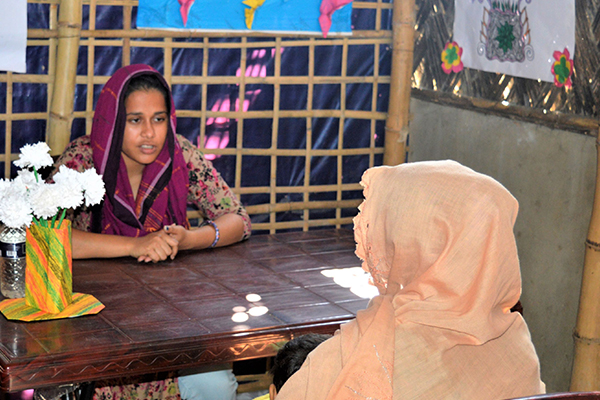 Mental health is just as important as physical health.
Alongside our partner Action Aid, we have given one-to-one and group counselling to 396 Rohingya men and boys.
We have also given 394 Rohingya women and girls free one-to-one psychological counselling and follow-up support, as well as running group therapy for 503 women!
Every single one of these women and teenage girls has lived through sexual assault and violence, many of them being attacked during the violence in Myanmar.
It's heart-breaking that the Rohingya have been struggling to cope with their trauma on their own for years now, but we are happy that we can finally support them in their recovery.
Although the counselling is currently on hold due to Covid-19, we plan to re-start it as soon as we can do so safely, so that we can continue to support traumatised Rohingya refugees.
Thanks to you, through our varied life-changing interventions, we're helping hundreds of Rohingya refugees not just to survive, but also to thrive.