Palestine Marathon 2019
Run for the People of Palestine
Join Penny Appeal from 19-24 March 2019 and you'll enjoy an amazing five-day trip to Bethlehem and Jerusalem.
| | Visit Masjid Al Aqsa |
| --- | --- |
| | Distribute food parcels in refugee camps |
| | 5 nights stay in Palestine |
OUR 2019 TRIP WAS A MASSIVE SUCCESS!!! OVER 80 FUNDRAISERS JOINED US FOR THE FIVE DAY TRIP RAISING OVER £130,000. CLICK HERE TO PRE-REGISTER FOR 2020. VISIT OUR CHALLENGES PAGE TO SEE THE REST OF OUR AMAZING OPPORTUNITIES AVAILABLE TO YOU!

Walk, jog or ruthe Palestine Marathon 2019 through the hills of Bethlehem and support freedom of movement for the people of Palestine with runners from all over the world.
You can walk, jog or run your way along either a 5km, 10km, half (13.1 mile) or full marathon (26.2 mile) route, so fundraisers of all abilities are able and welcome to join in – there's even a family option. The marathon route takes you through the centre of Bethlehem, past refugee camps and alongside the apartheid wall, and then through Bethlehem's beautiful hills and olive groves.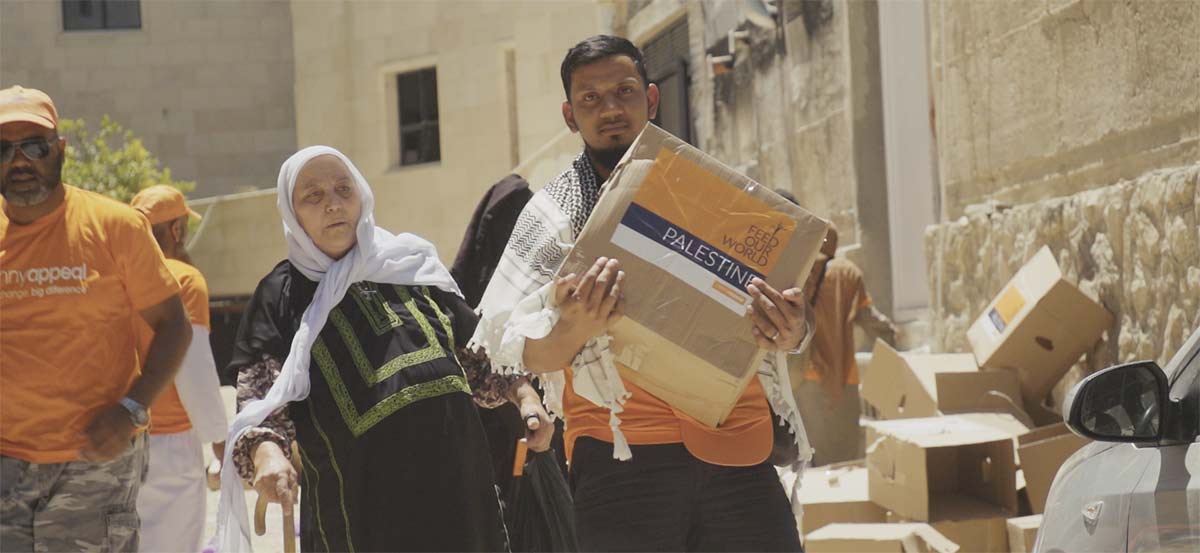 During this incredible trip you'll spend a day joining Penny Appeal teams visiting refugee camps and distributing food parcels in the West Bank and have plenty of free time to explore the sacred lands of Palestine. You'll have three nights' accommodation in Bethlehem where you can visit the Old City and two nights in Jerusalem where you can see the majestic Masjid al Aqsa. Download our information pack for further detailed information about the trip and itinerary.

By signing up to this life-changing challenge you will be asked to raise a minimum of £1,000, enough to fund 20 food packs for the people of Palestine, each supplying one family with enough food for a month. Each food pack costs just £50 and there's no upper limit to how much you want to raise though, so go above and beyond and raise as much as you can.
We'll provide dedicated support from the moment you sign up. Once we receive your booking confirmation you will have access to all the information you need, from fundraising ideas to training regimes. You will also be accompanied by Penny Appeal staff during your five day trip so you'll always have someone on-hand to help you.
To secure your place on the trip you will need to pay a non-refundable deposit of £150. You then have until 31st January 2019 to pay £400 for your flights and accommodation. You could get £50 discount if you choose to pay all of your registration fees with an upfront cost of just £500.
Places are limited so sign up now! Please note, you will need to register by completing the sign up form below and then pay your registraion fees at the bottom of the page to secure your place.

The Palestine Marathon is an international event, welcoming people of all faiths, backgrounds and abilities. Everyone is welcome – you can travel with friends and family, but many will also come alone. However you want to do it, you'll experience an exciting once-in-a-lifetime trip and go home having secured new friends for life.
For more information, please contact our Head of Challenge Events, Haroon Mota on 07714 249 215 or via haroon.mota@pennyappeal.org
LIMITED SPACES! SIGN UP NOW!
Please note we do not offer refunds after our registration deadline (31 January 2019) if you change your mind or cannot attend the event.