Palestine Marathon 2020
Run for the People of Palestine
Join Penny Appeal from 24-29 March 2020 and you'll enjoy an amazing five-day trip to Bethlehem and Jerusalem.
Our 2020 trip had SOLD OUT before being postponed due to Corona Virus. We are are awaiting confirmation for the new date. Please register your interest below to join us for the rescheduled event and we will let you know if any spaces become available. We will also join the 2021 Palestine Marathon so please express your interest below. Get in touch for queries: Call 07714249215 or email at challenges@pennyappeal.org
To secure your place on the trip you will need to pay a non-refundable deposit of £150. You then have until 30th September 2019 to pay £400 for your flights and accommodation. You could get £50 discount if you choose to pay all of your registration fees with an upfront cost of just £500.
| | Visit Masjid Al Aqsa |
| --- | --- |
| | Distribute food parcels in refugee camps |
| | 5 nights stay in Palestine |

Walk, jog or run the Palestine Marathon 2020 through the hills of Bethlehem and support freedom of movement for the people of Palestine with runners from all over the world.
You can walk, jog or run your way along either a 5km, 10km, half (13.1 mile) or full marathon (26.2 mile) route, so fundraisers of all abilities are able and welcome to join in – there's even a family option. The marathon route takes you through the centre of Bethlehem, past refugee camps and alongside the apartheid wall, and then through Bethlehem's beautiful hills and olive groves.
Run Palestine With Penny Appeal
OUR 2019 TRIP WAS A MASSIVE SUCCESS!!! OVER 80 FUNDRAISERS JOINED US FOR THE FIVE DAY TRIP RAISING OVER £130,000
During this incredible trip you'll spend a day joining Penny Appeal teams visiting refugee camps and distributing food parcels in the West Bank and have plenty of free time to explore the sacred lands of Palestine. You'll have three nights' accommodation in Bethlehem where you can visit the Old City and two nights in Jerusalem where you can see the majestic Masjid al Aqsa. Download our information pack for further detailed information about the trip and itinerary.

Check out highlights from our amazing trip earlier this year!!
By signing up to this life-changing challenge you will be asked to raise a minimum of £1,000 for our Love Palestine appeal, which supports the distribution of nutritious food parcels in Palestinian refugee camps, supports Palestinian farmers so they can cultivate and expand their olive farms, helps to create rooftop gardens that become a sustainable source of income for women and provides essential services, like medical care and clean water distribution, for the people affected by the Gaza Emergency.
We'll provide dedicated support from the moment you sign up. Once we receive your booking confirmation you will have access to all the information you need, from fundraising ideas to training regimes. You will also be accompanied by Penny Appeal staff during your five day trip so you'll always have someone on-hand to help you.
To secure your place on the trip you will need to pay a non-refundable deposit of £150. You then have until 30th September 2019 to pay £400 for your flights and accommodation. You could get £50 discount if you choose to pay all of your registration fees with an upfront cost of just £500.
Places are limited so sign up now! Please note, you will need to register by completing the sign up form below and then pay your registraion fees at the bottom of the page to secure your place.

The Palestine Marathon is an international event, welcoming people of all faiths, backgrounds and abilities. Everyone is welcome – you can travel with friends and family, but many will also come alone. However you want to do it, you'll experience an exciting once-in-a-lifetime trip and go home having secured new friends for life.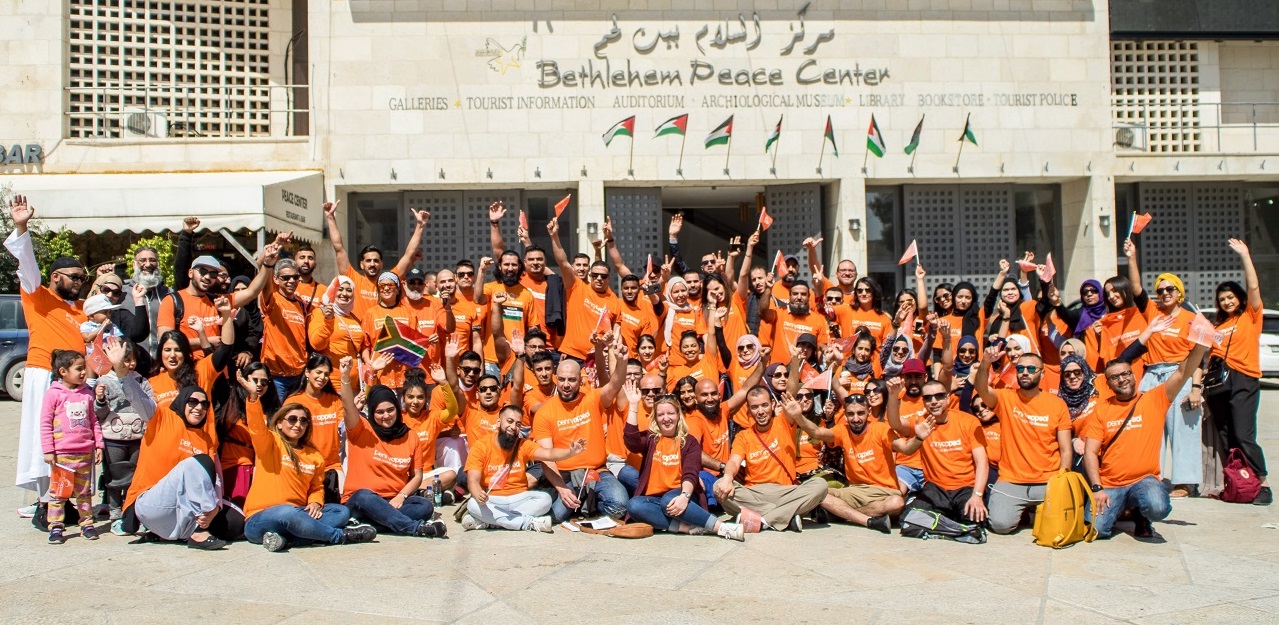 For more information, please email challenges@pennyappeal.org or call us on 07714 249 215
LIMITED SPACES! SIGN UP NOW!
Frequently Asked Questions
When is the sponsorship deadline?
You are required to reach at least 80% of your minimum sponsorship 2 months before the trip.
I can no longer attend. Can I get a refund?
Registration fees are non refundable. Whether you've paid the £150, £400, or the £550 registration fee, we are unable to offer you a refund
I want to bring my children. What is the minimum age?
The minimum age for this trip is 18. We are unable to take children on this trip. If you wish to bring a baby (aged under 2), arrangements could be discussed.
Will I need a VISA?
You don't need a visa to enter Israel as a tourist. On entry, visitors are granted leave to enter for a period of up to 3 months. Your passport should be valid for a minimum period of 6 months from the date of entry into Israel and the Occupied Palestinian Territories.
Will I get questioned or stopped at the airport?
You should expect lengthy personal questioning and baggage searches by security officials on arrival and departure from Israel.It is for the Israeli authorities to determine the right of entry into Israel, so if you have any particular concerns you should contact the Israeli Embassy in London. Last year our entire team were granted entry with no issues.
What happens if I am denied entry?
Penny Appeal can not guarantee your entry in to Palestine and can not be held responsible if you are deported back to the UK. There will be no refunds, unfortunately
Will I need travel insurance?
Yes, it's a mandatory requirement that you book travel insurance to cover your stay (including travel to occupied territories of Palestine and for taking part in your race).
I'm worried about traveling to Palestine on my own. Can I speak to someone to seek some assurance?
Many individuals will join the trip alone but build everlasting friendships on the journey. Before the trip, you'll be required to attend one of our team briefing days where we discuss trip formalities and discuss security issues. You'll get to meet other participants then as well as talk to us in person about any concerns. You can also call the challenges team any time on 07714249215 or email at challenges@pennyappeal.org – we are a supportive team, and we will do everything we can to make sure you feel comfortable and safe with us.