London Marathon 2020
26th April 2020
Join #TeamOrange for the most incredible and iconic running event in the year! Be one of the 40,000 people taking part in one of the most popular marathons in the world.
Crossing the finish lines after 26.2 miles could be one of your greatest achievements, made even better by the fact that you'll be raising funds to give clean, safe water to poor communities. We'll support you every step of the way, right up until you're perched on the starting line ready to undergo the most exhilarating race of your life!
We have a limited number of charity places available. Apply today for the chance of securing guaranteed entry, or use your ballot place to join our team and help make a huge difference to some of the world's most poorest people.
If you have your own place, please click below to complete our form and we will be in touch to help you make a big difference with your fundraising.

Ballot Entry
The London Marathon ballot is now open and closes on Friday 3rd May 2019 anresultare expected in early October. If you're successful in the ballot we'd love for you to join our team. There is no minimum sponsorship requirement if you have your own place, just return to our page in October when results are announced, complete our form and let us know that you'd like to join #TeamOrange. Our fundraising team will be in touch to ensure you have a positive enriching fundraising journey and plenty support with your training too. Enter the ballot.

2019 Charity places
We have a limited number of guaranteed places, which yocan apply for by clicking the button above. Due to high demand and limited places, there is a minimum sponsorship requirement of £2,000 for our charity places.
Why join #TeamOrange?
We'll be with you throughout the whole experience, from the moment you sign up to the moment you cross the finish line. All the support and encouragement we can give will be available for you whenever, and wherever you need it!
Join us and you will receive…
A unique #TeamOrange technical running vest or t-shirt
#TeamOrange fundraising pack & advice from our friendly & experienced fundraising team
Online forum to meet fellow #TeamOrange London Marathon runners
#TeamOrange cheer stations to give you all the encouragement & support on race day
Balloons, t-shirts, wristbands, wigs, cheer sticks, giant glove& much more for your friends & family so they can cheer you on in #Team Orange spirit from our cheers stations
Invitation to #TeamOrange group training sessions
Marathon "Pasta Party" on the eve of race day for runners, and family
Opportunities to volunteer with #TeamOrange and take part in various other campaigns, events, and sponsored challenges; including mountain climbs, sky dives, international challenges etc.
Your fundraising could make all the difference...
Dig Deep With Penny Appea- You can run the Virgin Money London Marathon to fund the construction of an entire water well that will serve a community day in, day out, providing them with fresh, clean water. We all know that water is an essential need – but as well as being integral to stay hydrated, it is also indispensable to feed livestock and other animals so a regular source of income can be maintained, paving the way for the freedom of self-sufficiency we take for granted. Penny Appeal's Dig Deep campaign aims to provide safe, clean drinking water for children, families and the elderly living in Africa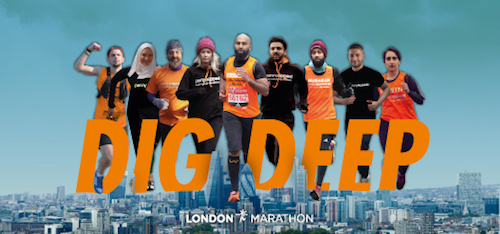 Community Deep Water Well - £4,000
By raising £4,000, you could give a whole community in Africa the water they need to thrive. In dry regions, wells need to be 10 meters deep before clean water is reached. Build a community well in your name or in the name of a loved one and give hundreds of people clean water for generations to come.
There's no limit to how much you can raise. £8000 will fund two wells, and £12,000 could build three wells; transforming the lives of 3 entire communities. How many wells will you build? DIG DEEP with Penny Appeal and start fundraising by joining our CAMPAIGN PAGE today.
Meet some of our runners...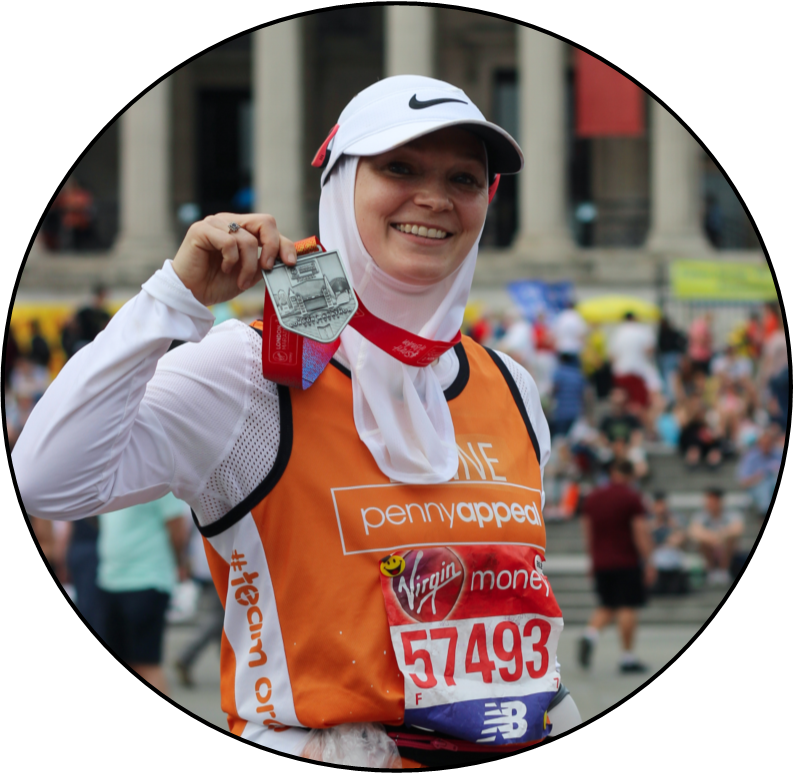 Lynne Northcott - AKA @JogonHijabi
"I applied for a London Marathon charity place with Penny Appeal because it was a personal challenge that I wanted to achieve before turning 40 in July 2019. I had never ran a marathon before, and I thought my first one had to be London! Fundraising for water wells in the Gambia gave me the motivation to keep going when the training got tough. In the last few weeks before tapering I was running for up to 8 hours per week. Keeping in mind the hundreds of lives that would be transformed, kept me striving. The actual day, the hottest London Marathon on record, was amazing. Water stations were running out of water and runners were calling out to spectators if they had any to share with them. True to my nickname "Jogonhijabi" I just kept jogging on. Feeling the thirst only gave me extra zeal to complete the miles, thinking of the people of Gambia who walk miles in the heat to collect and carry water back to their homes. I was a little worried at first about the fundraising target but I had so much support from friends, family and the online community, and managed to raise over £17,000. I really appreciated the support I received from Penny Appeal with my fundraising and the peer support from the rest of the team was great too. I felt like I was part of the Team Orange family. I even went to visit one of my wells that was being built, whilst I was on holiday in Africa. This only spurred me on to fundraise even more. Running with Penny Appeal has been one of the best chapters of my life, it could be your favourite moment too."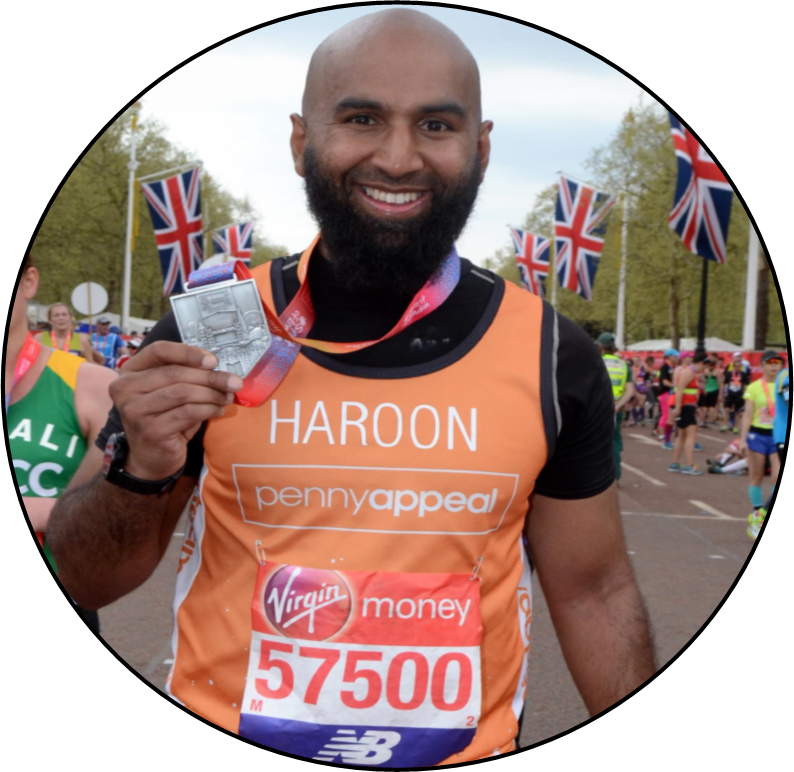 Haroon Mota - Penny Appeal Fundraising Manager
AKA 'Marathon Man'
"I absolutely love running and nothing satisfies me more than bringing people together to get active for good causes and helping motivate others to achieve their goals. I've applied in the London Marathon ballot for 8 consecutive years and have never been successful, but it hasn't stopped me getting here. I've now ran the London Marathon 6 times and have always ran for charity. We've just had an amazing 2019 London Marathon campaign which saw our team raise over £50,000. The majority of our runners were first timers so it's a great achievement for them to complete 26.2 miles for the first time. We're extremely proud of our runners and hope that more people will join us for 2029. Enter the ballot if you fancy your luck, but if you're serious about taking on the challenge then you really should apply for one of our charity places. Hurry, we have limited spaces".
For more information on running the Virgin Money London Marathon for Penny Appeal contact Haroon haroon.mota@pennyappeal.org or call 07714 249215.