Everest Base Camp Trek
Take on one of the toughest challenges of your life with Penny Appeal's Everest Base Camp Trek!
Join us for this 17-day trip to Everest Base Camp from the 11th–27th of November 2022, and reach new heights of exploration – 18,221ft. to be exact!
Answer the call to adventure and do something amazing for charity.

Regsitration fee: £499 Min sponsorship: £4,500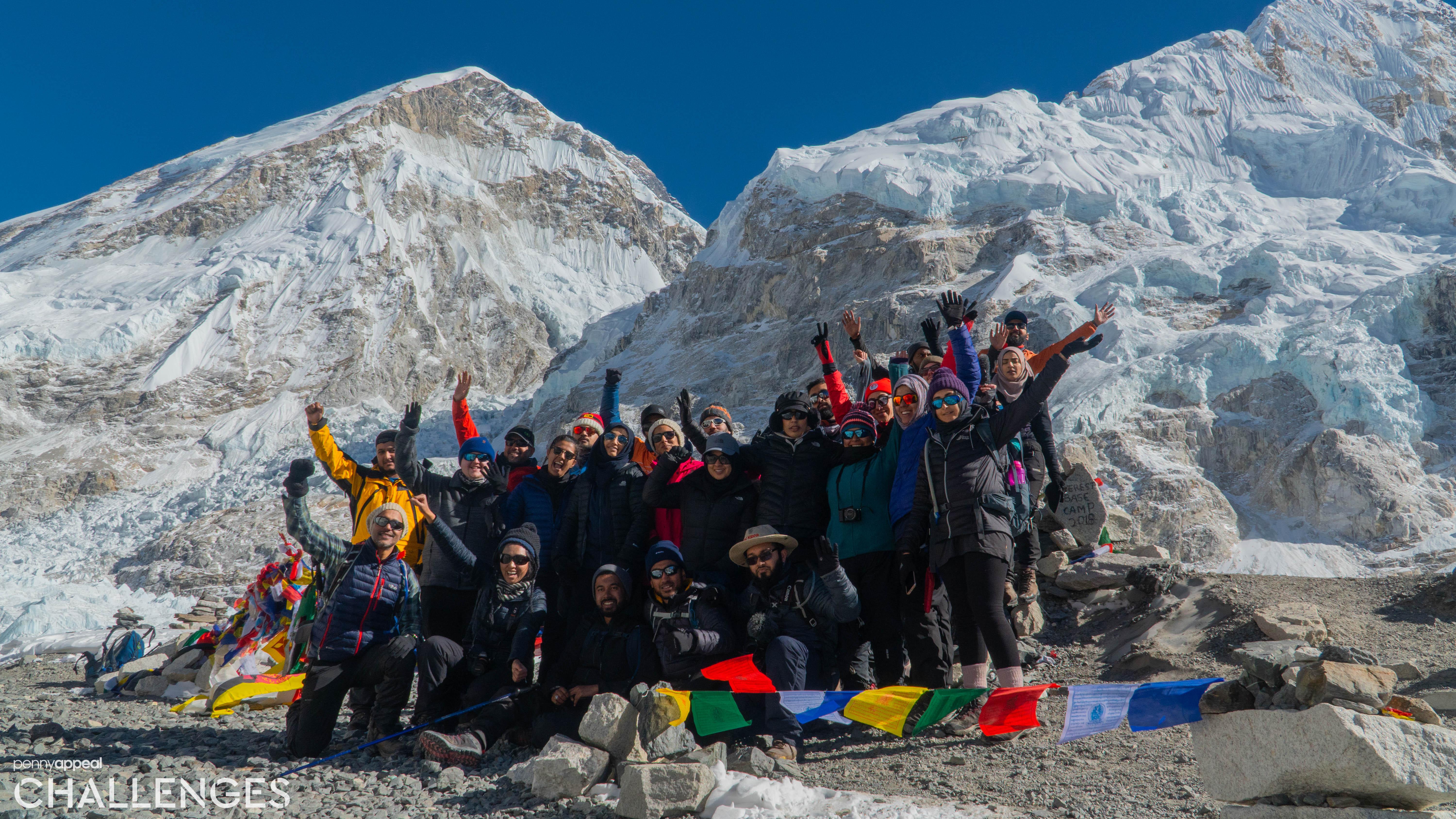 Conquer the Himalayas for charity
This iconic journey to the base camp of the world's highest mountain, Mount Everest, will be an incredible accomplishment for all mountaineers and adventurers. Trek through the beautiful Himalayan scenery and take in the breath-taking views of some of the most dramatic mountain landscapes this earth has to offer – all for a great cause.
Unlock your potential in the Himalayas and answer this call to adventure. On this awe-inspiring eleven-day trek, you will experience it all. It's a challenge like no other. You'll make memories and friends that will last forever. Push yourself to the limits and know that long after you've completed the challenge, you will be helping deliver life-saving essential aid to those who are suffering around the world.
By signing up to this life-changing challenge you will be asked to raise a minimum of £4,500, to support our EMERGENCY RESPONSE campaign to help protect and save thousands of families from the devastating effects of natural disasters and conflict. There's no upper limit to how much you can raise though, and we expect participants will go above and beyond to raise as much as they can.



This is the chance of a lifetime, sign up to the Everest Base Camp trek today and let your adventure begin!
Places are limited, so sign up today! Secure your booking with a registration fee of £499. You then need to raise a minimum of £4,500 before the trip. 80% of your sponsorship must be collected at least 3 months before the trek.
Get your fundraising off to a flying start by setting up your own JustGiving page to take online donations. Click the button below to start fundraising.

We'll provide dedicated support from the moment you sign up. Once we receive your booking confirmation, you will have access to all the information you need, from fundraising ideas to training regimes! You will also be accompanied by Penny Appeal staff during your seventeen-day trip so you'll always have someone on-hand to help you.
Accommodation, return flights, in-country travel, all meals during trekking days, water, a fully qualified UK Leader, a UK Doctor, local guides, porters and drivers, will all be included in your package for this trek.
The Everest Base Camp trek is an international event, welcoming people from all faiths, backgrounds and abilities. Everyone is welcome – you can travel with friends and family, but many will also come alone. However you want to do it, you will experience an exciting once-in-a-lifetime trip and go home having secured new friends for life.

Penny Appeal Provides Emergency Response Wherever There is a Crisis
THE PROPHET (SAW) SAID: "Whoever relieves the hardship of a fellow Muslim, Allah will relieve them from hardship on the Day of Judgement." SAHIH MUSLIM
Our Emergency Response appeal provides people around the world with aid when they are faced with famine, natural disasters or war. No matter the emergency, when disaster strikes, Penny Appeal are here to help.
Our Emergency Response teams are experts at quickly, efficiently and compassionately helping people survive war, famine and natural disasters. With the help of people just like you, our Emergency Response teams have protected over 1.7 million lives from danger in the last 10 years!
Our Emergency responders are currently helping vulnerable people in Palestine, Gaza, Indonesia, East Africa, Bangladesh, Yemen, Syria and Kashmir.
Palestine & Gaza – where people are living amidst terryifying conflict and struggling to get by.
Indonesia – Over 2000 people have lost their lives, after the coastal city of Palu was rocked by a 7.5 magnitude earthquake.
Syria - where refugees are battling to survive, in desperate need of humanitarian aid.
Yemen - where people are suffering from the world's worst famine in the last century.
Bangladesh - where Rohingya refugees have fled to after leaving Myanmar, and are in urgent need of support.
East Africa – in areas such as Somalia, South Sudan, Ethiopia and Kenya where millions of people have been affected by famine.
Kashmir – thousands of homes and livelihoods were destroyed and hundreds of people have been injured by a 5.8 magnitude earthquake.
You can do your part to help those in need of emergency aid by signing up for the Everest Basecamp Trek. Go the extra mile to raise funds for those in need and have a great time doing it!