Our Journey Up Mount Everest!
Fundraisers celebrate conquering the Himalayas and raising almost half a million pounds for Rohingya refugees
A group of 34 adventurers have returned back to the UK after conquering one of the most iconic mountains in the world; Mount Everest!
After trekking over 106 miles and battling through altitudes of over 17,000ft, the group of volunteer fundraisers have now reached another milestone - raising well over £240,000 for charity.
After reaching Everest base camp following 8 days of tumultuous hiking through severe and unpredictable weather conditions, the team endured another 4 difficult days of hiking back down again.
Despite experiencing extremely tired feet and aching muscles, the team pulled together to ensure that they conquered the challenge.
Read fundraiser Osman Ahmad's, reflections on the momentous achievement:
Osman Ahmad poses with the stunning Himalayan landscape showcased behind!
''A trip of a lifetime - we endured physical and mental challenges, freezing cold temperatures as well as very basic conditions on our journey to Everest Base Camp.
For most of us this has been a life changing experience and a massive achievement. Enduring the struggle together, our group bonded extremely well and most of us have formed lifelong relationships.
Our aim was to support the Rohingya refugees who are in need of urgent care and medical help and most of us went above and beyond our fundraising expectations thanks to family, friends and sponsors.
We in no way came close to experiencing life as the Rohingya people do… however, starving ourselves of basic needs did strike a chord with most of us. My personal goal on the actual trek was to fulfil my passion for hiking in the mountains and push my physical and mental boundaries. Being surrounded by great people made this trip absolutely epic and all for a good cause. Will definitely go back given another opportunity."
Osman took some epic photos along the way and you can search his and more of the participants using the #Everest4Rohingya tag on Instagram
Saira Mirza, 31, Sutton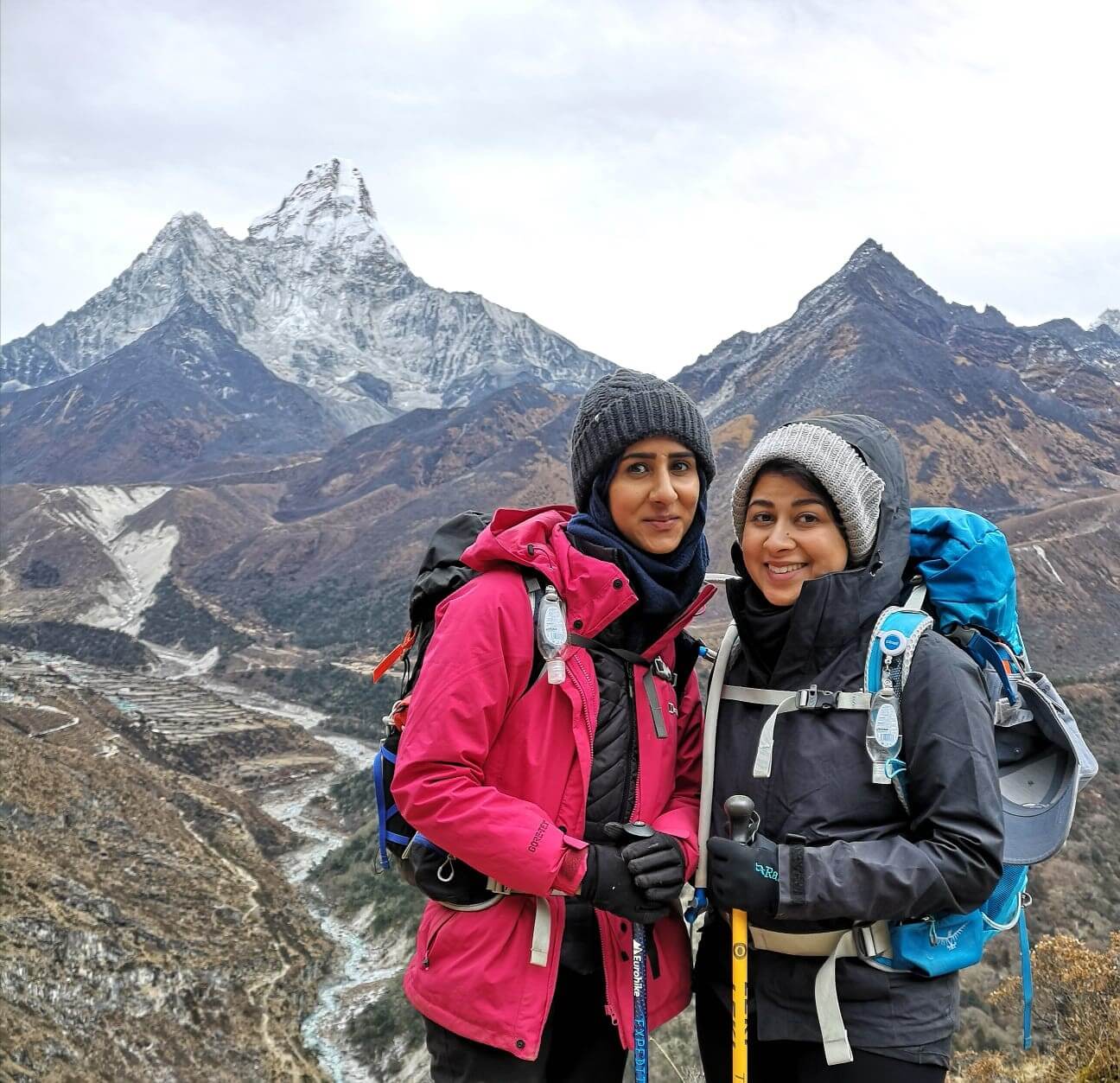 Saira Mirza with her Sister Maryam Zamir
Read Saira Mirza's reflection on her Everest journey:
'The trek started in Lukla after arriving at the most dangerous airport in the world and already at 2,845m, the air felt very different.
As we made our way to Base Camp, the altitude started to affect a lot of the team, with symptoms such as headaches, dizziness and vomiting.
We would walk on average about 8 hours-a-day, stopping 1 hour for lunch and staying in tea houses at night, with just the basic necessities. The cold was something I had never experienced before, with the lowest temperature reaching -32˚C.
The views were like something out of a postcard and often I found myself staring at my surroundings to take in the beauty of the Himalayas.
It took us 8 days to reach Everest Base Camp, with 2 days spent at the local villages to help us get used to the high altitude.
There were many times we didn't think we would be able to continue and by the day of Base Camp, 7 team members were not joining us due to altitude sickness.
The trek was long and tough but with the support and motivation of each other, our team leader and the amazing Sherpa guides, we made it. The trek back down from Base Camp to Lukla took 4 days and was still tough, due to the steepness of the terrain and our exhaustion.
I can only describe my experience trekking to Everest Base Camp as life-changing. Spending 12 days surrounded by the beauty of the Himalayas, with just the basic necessities, bonding with team mates over the challenge ahead, not seeing the daily grind of concrete building, cars, and technology, is something I can never forget.
There were many hardships including dealing with the altitude, the cold weather and the lack of hygiene, but we were all motivated to keep going, not only using the strength shown by Rohingya refugees as inspiration but also knowing we had the support and prayers of all our family and friends back home.'
The fundraisers included film-maker Martin Ball, who put together an extraordinary short highlights reel.
Here's Martin's reflection on the process of filming in extreme weather conditions: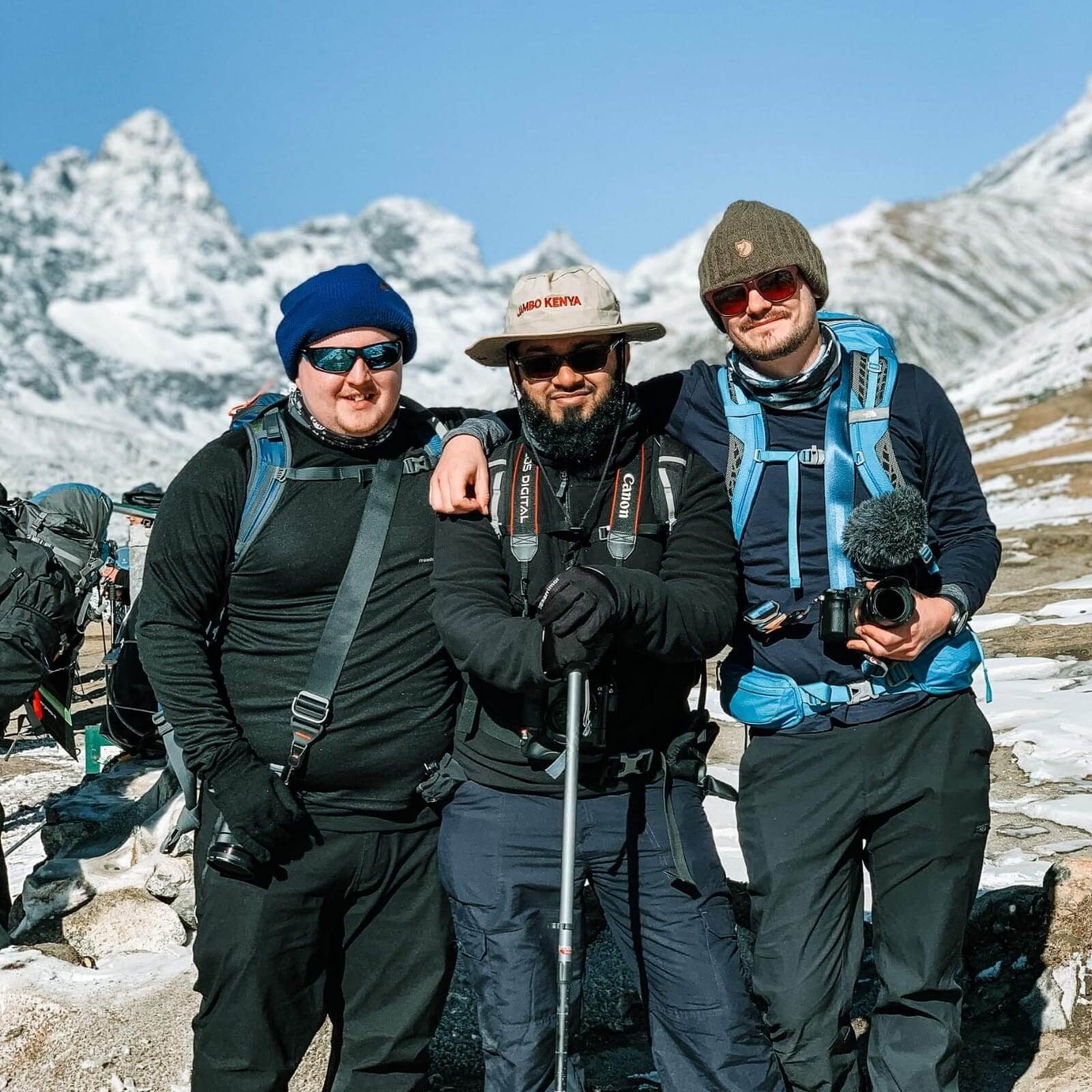 The awesome production team!
'Having the opportunity to document this amazing team's challenge to reach Everest Base Camp was an incredible experience as you can see in the video.
The group experienced a number of difficult moments during the trek but I was blown away by the strength and courage of everyone to keep going, I believe the determination to carry on ('Jam Jam' in Nepalese!) was inspired by the hardships of the Rohingyan refugees that they had raised over £240,000 for.
Awesome job #TeamOrange!'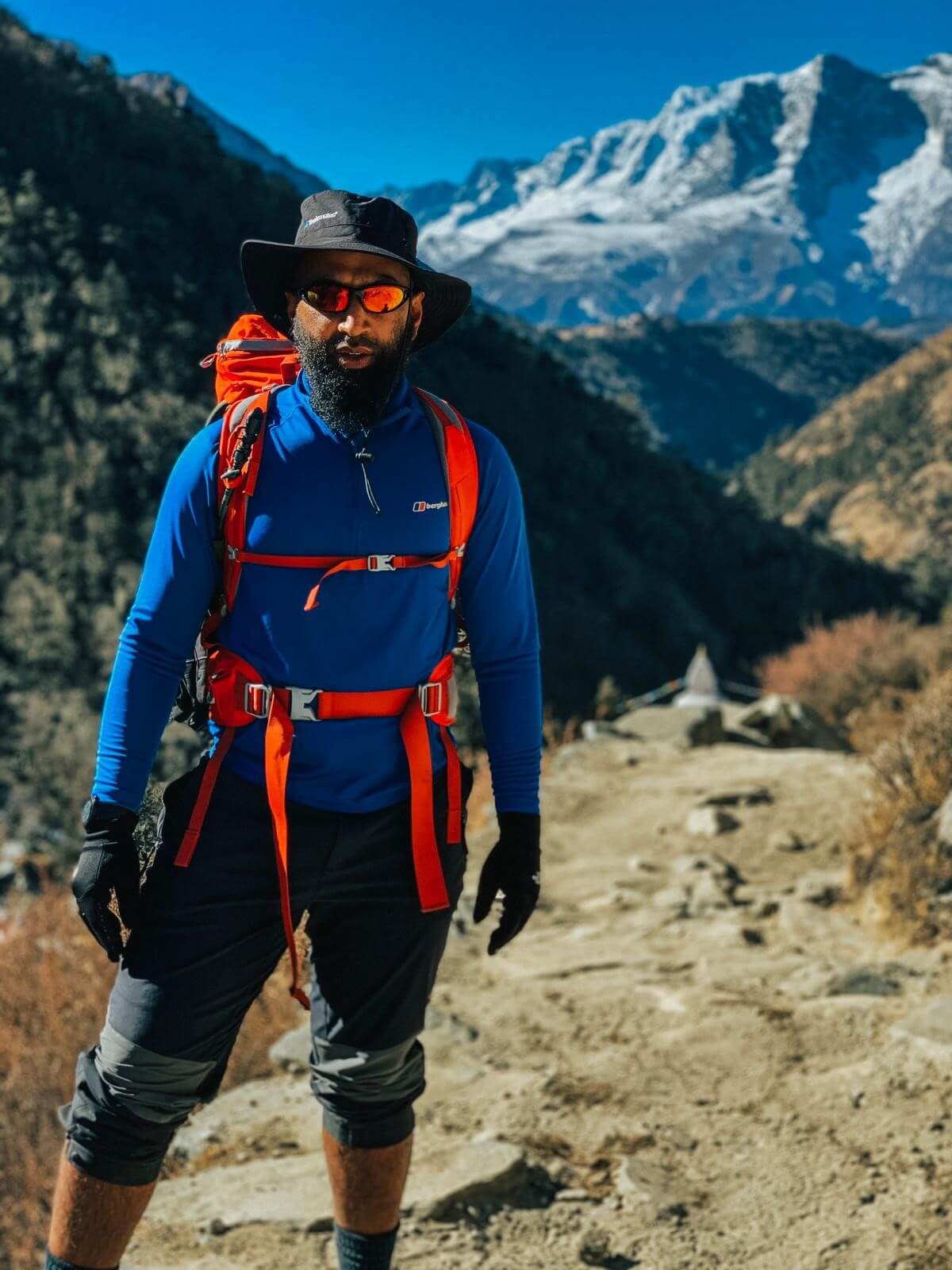 Haroon Mota, Penny Appeal's Head of Challenges
'We did it!!! What an incredible journey!!
We're extremely proud of the entire team; all 34 fundraisers who made huge sacrifices to end the year on high with us in the Himalayas.
It wasn't as easy at all and the conditions were extremely difficult. But completing this physical challenge was really satisfying, knowing that we had raised over £240,000 to help the Rohingya people who have been through so much - in fact, we felt very emotional knowing that our challenge was nowhere near the challenges Rohingya refugees face daily.
We hope you've been inspired by our journey and invite you to join us for a challenge someday. Visit www.pennyappeal.org/challenges to see what incredible amazing opportunities are available to you this year!'
Haroon Mota, Head of Challenges
Are you interested in a challenge? Sign up today.
Day 7 and 8: Everest Base Camp! We have arrived
After a year of preparation, numerous prayers and support, and a huge fundraising push - we arrived at Everest Base Camp!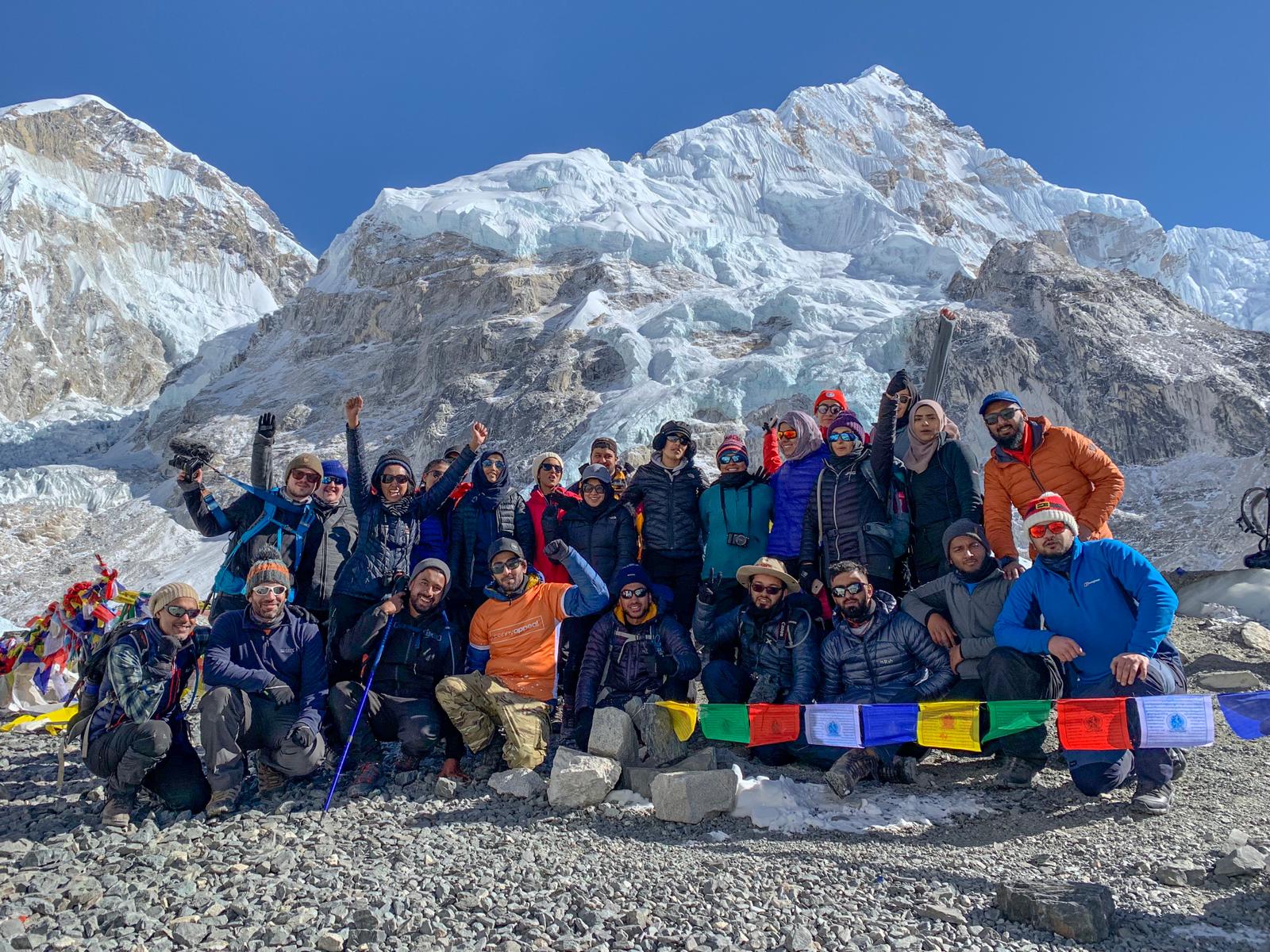 Day 7: Pheriche to Lobuche
On day 7, we headed north over to the village of Pheriche, and through the valley. We had no reception on our mobile phones due to severe weather conditions, but after a gruelling climb, passing fluttering prayer flags, iconic to the Himalayan landscape, we arrived into Lobuche.
Our lodge was 16,000 ft above sea level, we were surrounded by mountains and snow and had little sleep, it was so cold. Due to the severe weather conditions, two of our team members unfortunately were deemed unfit to continue to Everest Basecamp.
Day 7 reflection comes from Afsana Akhtar (27), London: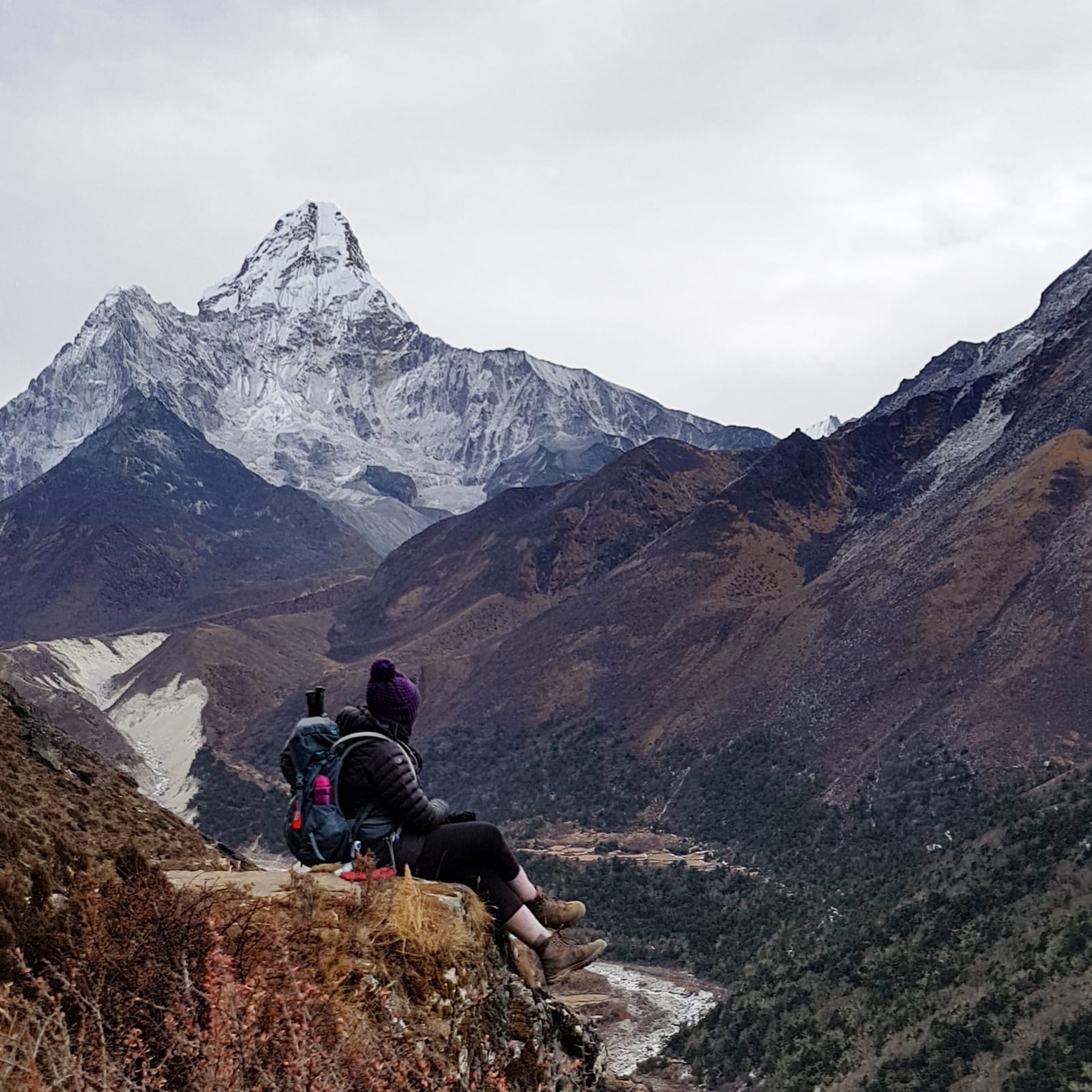 'Yesterday was probably the most challenging day so far, both mentally and physically. We ascended extremely high which means the temperatures were getting below freezing and oxygen levels were decreasing. I've never had to push myself both mentally and physically simultaneously as much as I had to during the last 2 hours of the 9 hour trek.
My body was cold, my pace was slow and the darkness didn't make it any easier. We finally reached our tea house to find that all the water pipes had frozen, there was no water and a mouse was spotted in our dorm - all normal for this region of the Himalayas, but Alhumdulillah we had hot food served, a fire in the middle of our communal area and an awesome group to keep the team morale up.
Despite the mental challenge, these experiences have put into perspective what the Rohingya refugees have to go through on a daily basis, if not worse.
Please click on the link in my bio to support my fundraising.'
Instagram: @afs.anaa
Day 8: EVEREST BASE CAMP
With barely a blink of sleep, we were up before the crack of dawn, a 4am breakfast and we headed out in the dark armed with head torches to light the way. The -15 degrees conditions froze water bottles, and the team pushed forward despite numerous falls, cuts and tears.
Stopping only for a very early lunch at Gorakshep, the highest tea house in the world - we left with high spirits and tired legs for the final leg of our journey. After a gruesome incline and decline, struggling through glaciers - we were greeted by the Khumbu ice falls, one of the most dangerous part of the Everest hike.
We pushed on and arrived at Everest Base Camp, and w cherished the moment. Tears of happiness and smiles of accomplishment to have survived the cold. We headed down and back to Gorakshep. Despite being severely exhausted and tired, many of us struggled to sleep due to the effects of the altitude.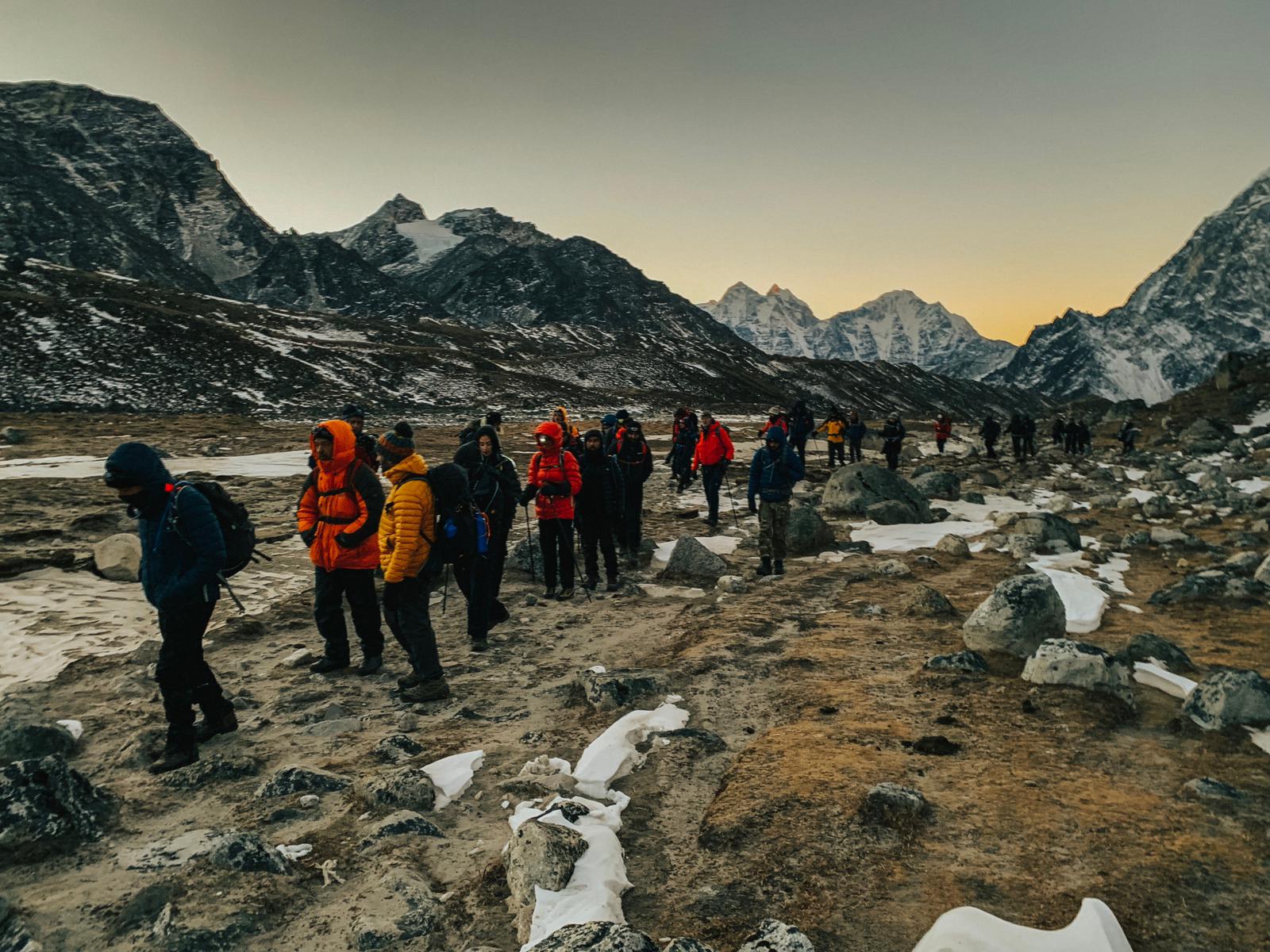 Day 8 reflection comes from Asma Zamir, Burton upon Trent
'I'm totally overwhelmed by the fact that I've just smashed my mountain trek to EBC! I'm now on my way back down and I'm oddly missing the higher altitude already! I've put so much of 'me' into this expedition; it's hard to believe that I came, I conquered and now I have to somehow readjust to reality and normal living once again, knowing that whilst I get used to life, the funds which we have raised will radically the change of lives of the Rohingya refugees.'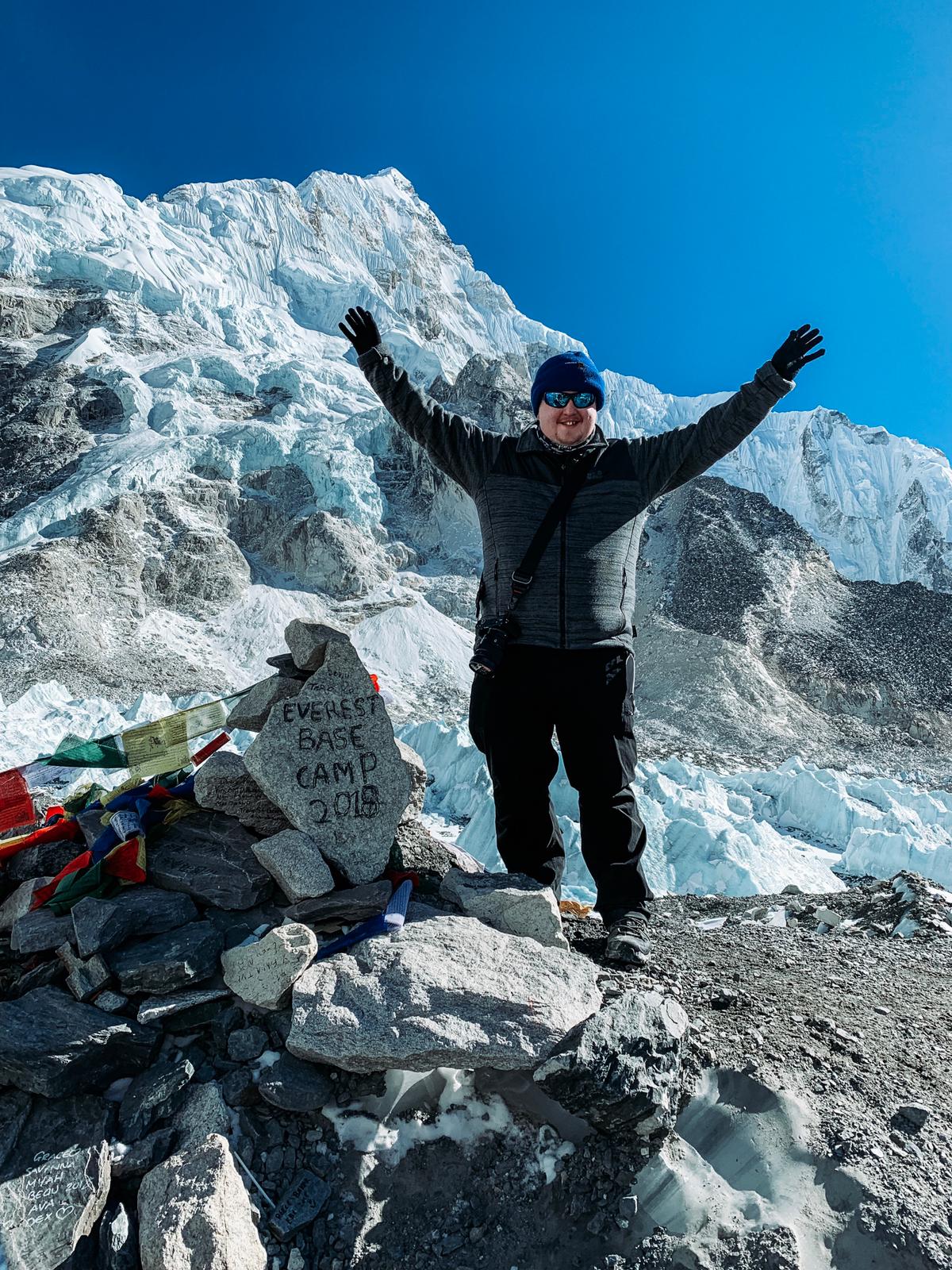 Mark Kitching (27), Barnsley:
'I made it! After 8 tough days trekking we finally made it to Everest Base Camp! Probably the hardest thing I've ever done, battling freezing cold temperatures and trekking at over 5000m is really hard. Thank you to everyone for the amazing support, it really kept me going when things got tough.'
The journey for the team will still continue. What goes up, must come down! Now the team will trek for another four days before arriving in Kathmandu.
Day 6: Acclimatisation and a snow storm!

After a 12 hour hike from Phortse Gaon to Dingboche yesterday evening, we had a day to acclimatise to the intense altitude. We trekked through Dingboche uphill, despite unexpected snow storms.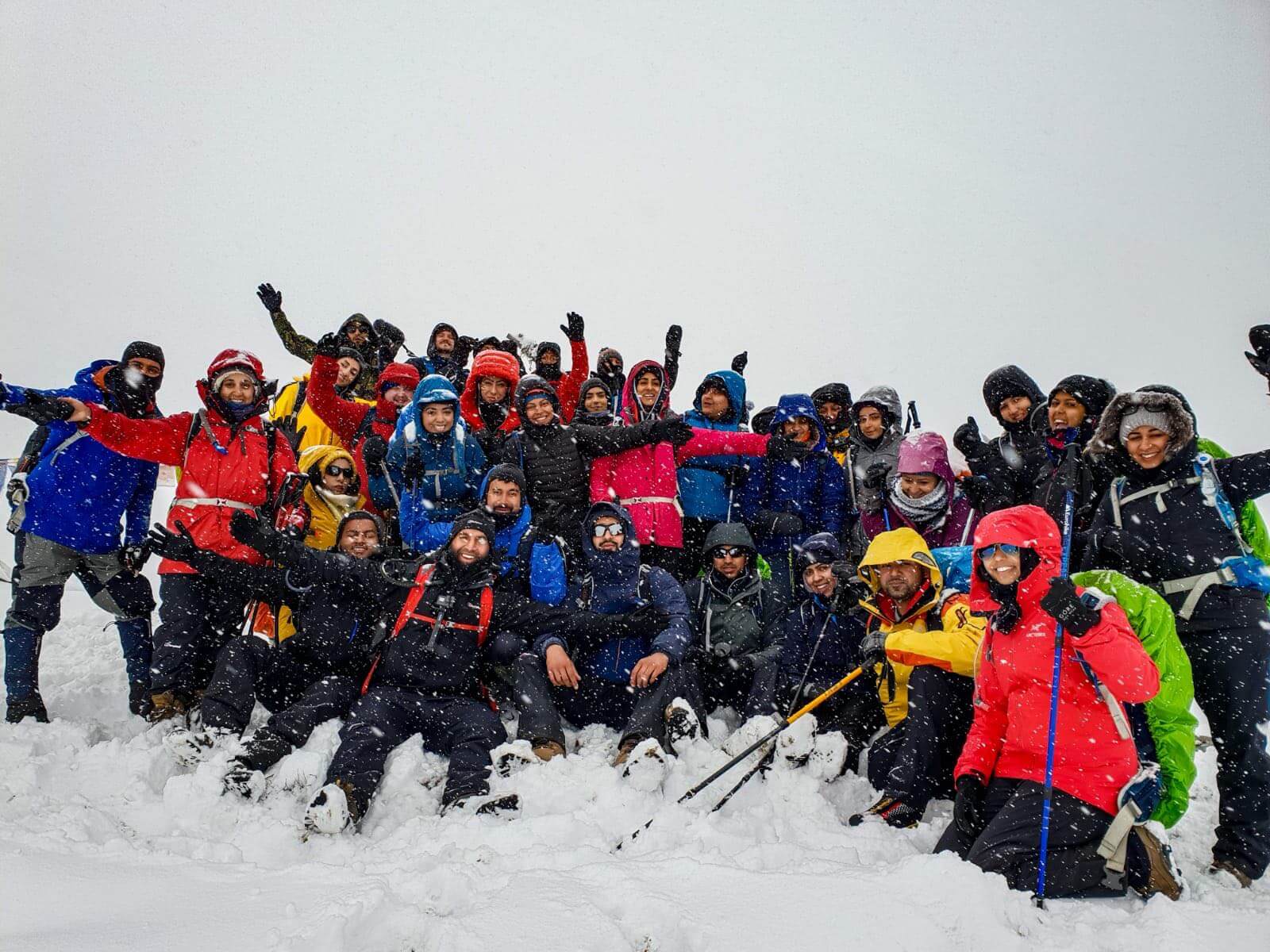 Snow blanketed the Himalayan landscapes in sparkling white, we had to cut some of our activities short. We hope the storm will pass soon, so we can continue our journey and arrive at our next destination. For now we are huddled around a fire, surrounded by snow and icicles. Yesterday was a deeply moving day as we had to say goodbye to one of our friends and fellow fundraisers Gadah Agel.
Today we would like to dedicate our blog to Gadah, as she has been one of the most dedicated and committed members of the team, raising over £15,000 alone!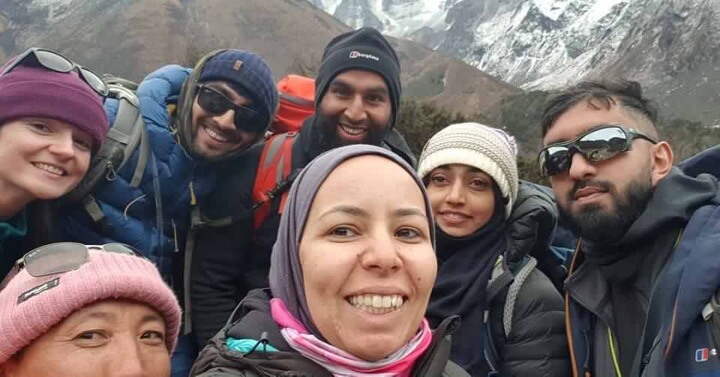 Gadah Agel has a special message and shared some insights into her trip:'So yesterday my trek to Everest Base Camp has sadly come to an end. I managed to reach an altitude of 4100m, then trekked to Pangboche before my body could no longer take it - my oxygen saturation levels dropped to a seriously low level and the altitude sickness was getting worse and unbearable.
I didn't want to stop, I wanted to carry on, and even when our trek doctor advised me to turn back at a certain point, I was stubborn and said I wanted to carry on, I can do this! And I did carry on, but a few hours later the symptoms became worse and I knew I had to turn around and head back down to avoid any severe effects to my health.
To say I am gutted, heartbroken, devastated is an understatement. I have been looking forward to trekking to Base Camp for 8 months and then through no fault of my own, my journey had to come to an end. But Alhamdulillah for everything. Grateful to have been able to make it this far. I have come down to 3820m where my symptoms are slightly better.
Tomorrow I will head back to Namche Bazaar which is at a lower altitude. The messages of support I have received over the past few days have been really lovely and encouraging.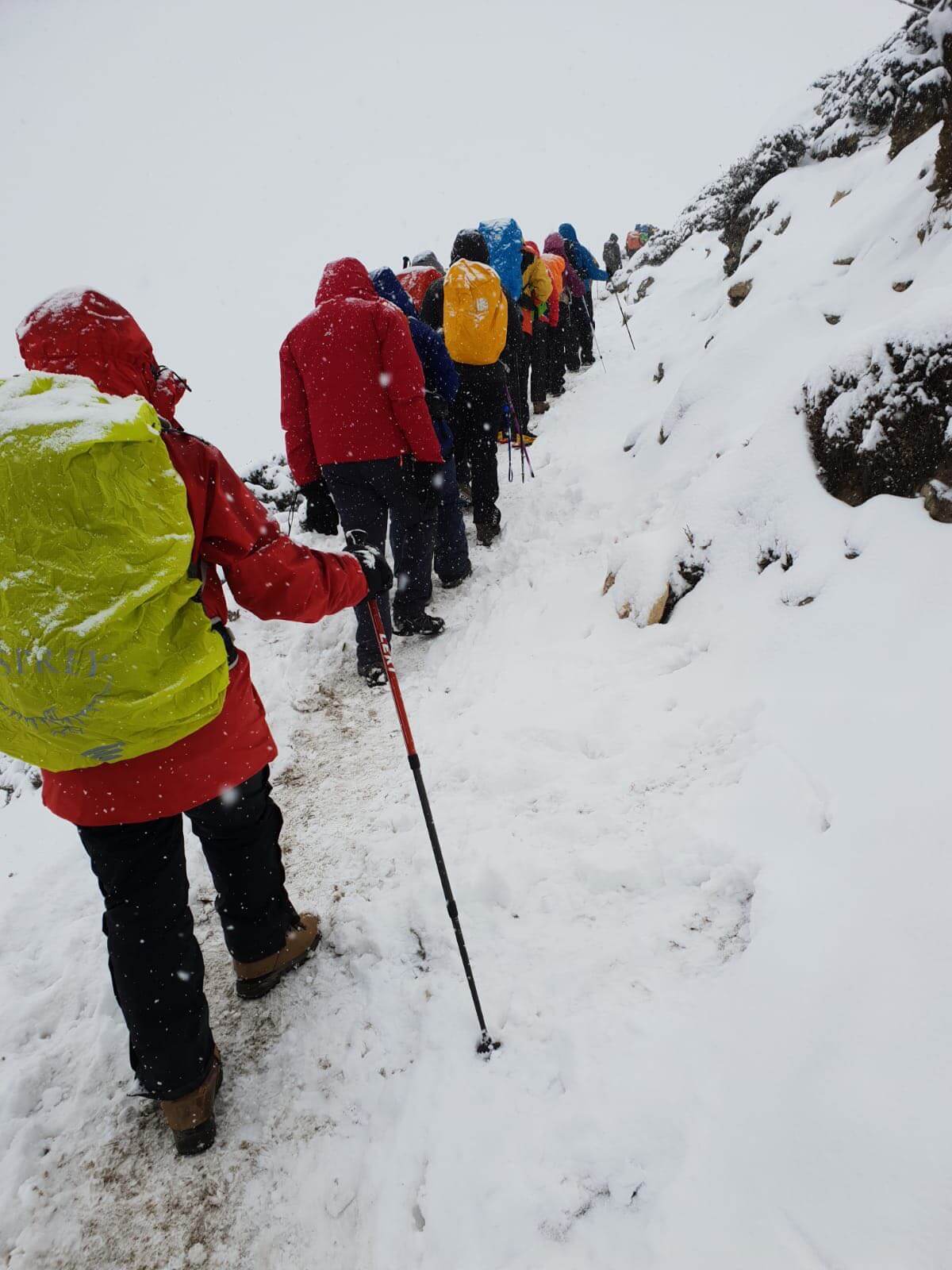 My team mates have been amazing and so supportive, over the past couple of days some have stayed with me and made sure I have been ok, and some will, once I arrive at the tea house, will give me a nice long hug and a 'well done' which means so much. Just these small acts of kindness go such a long way and for that, I am extremely grateful.
I pray the rest if the team make it to Base Camp and I ask you all to do the same please. These guys are amazing and the conditions are getting worse as they travel further towards Base Camp – but this is all for a good cause. Check out the group link and support the team if you can. Thank you!

https://www.justgiving.com/campaign/everest

Day 5: The Challenge Kicks Up a Notch
Phortse Gaon to Dingboche
This morning the team awoke at 5.30am and were greeted to freezing cold water - and a warm breakfast, thanks to our Sherpa host (who himself had climbed to the summit of Everest over 9 times)!
After prayers, we headed from Phortse Gaon to Dingboche, a journey that spanned over 12 hours.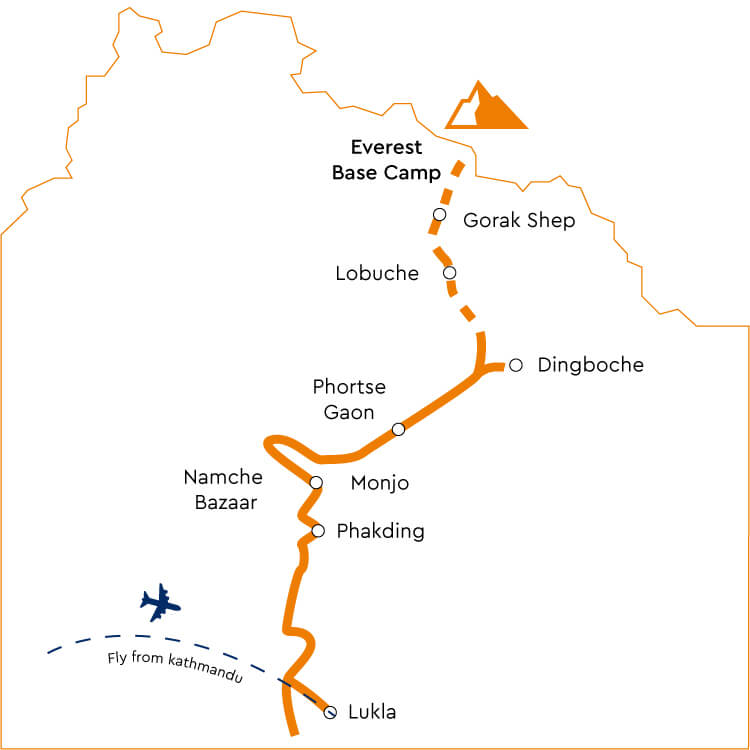 From sunrise to sunset, our team of 34 fundraisers and challenge takers journeyed through tight pathways, cutting into mountains and walking on the ledge of cliffs, all to arrive at our destination, reaching a summit of 14,468 ft!
Many of us are being tested by a drop in temperature, high altitude and a lack of running water; nevertheless we are determined to reach our destination and raise as much funds for the Rohingya people as possible.
Kamran Ahmed (24), London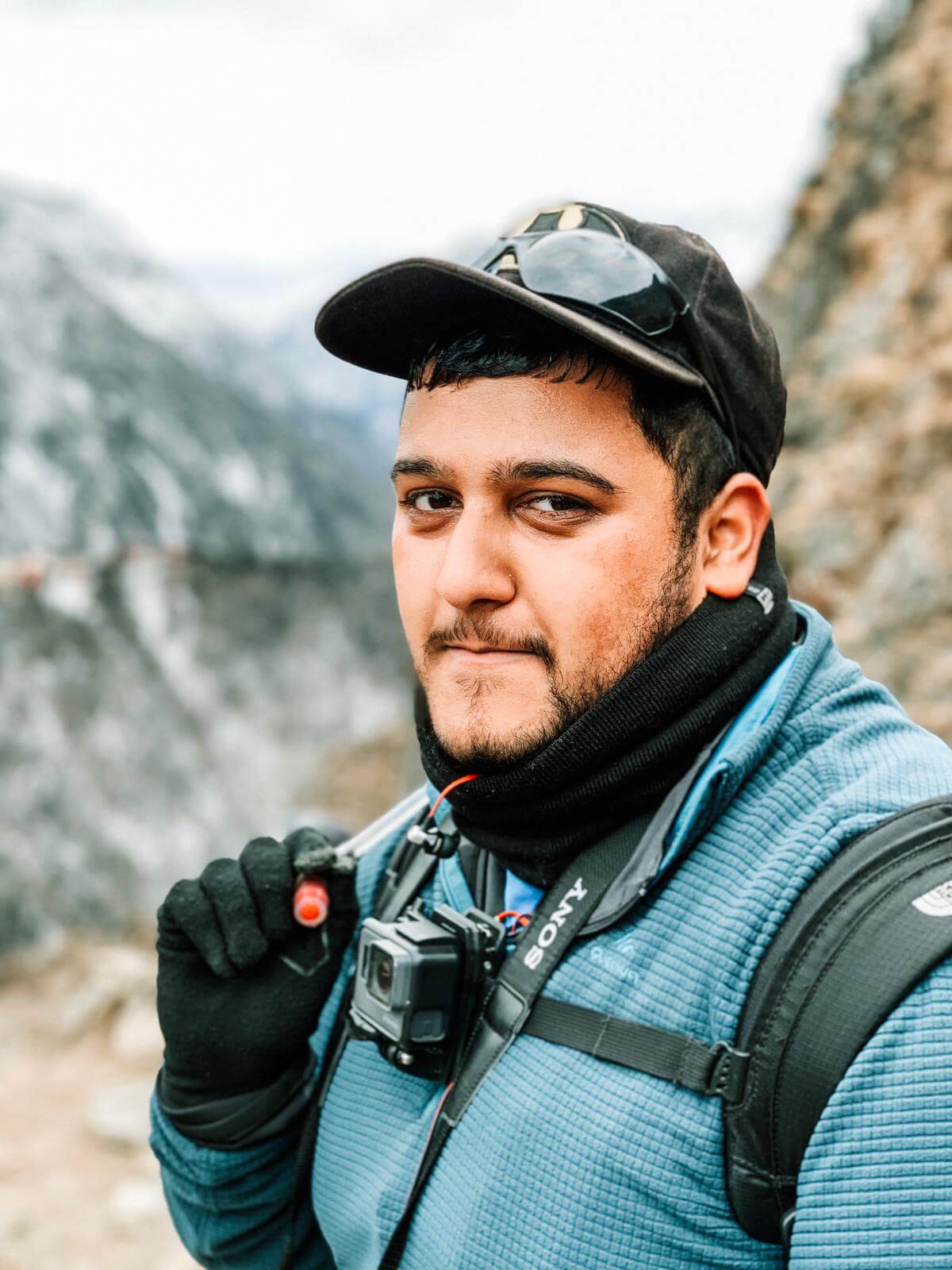 'Today has been one of the tougher days since we have started our journey to Basecamp, but I'm determined to make it to Basecamp come rain or shine, I've heard it's -30 degrees but for the cause, I'm motivated to make sure we can get there.'
You can sponsor Kamran here.
Ruqayyah Hussain (23), London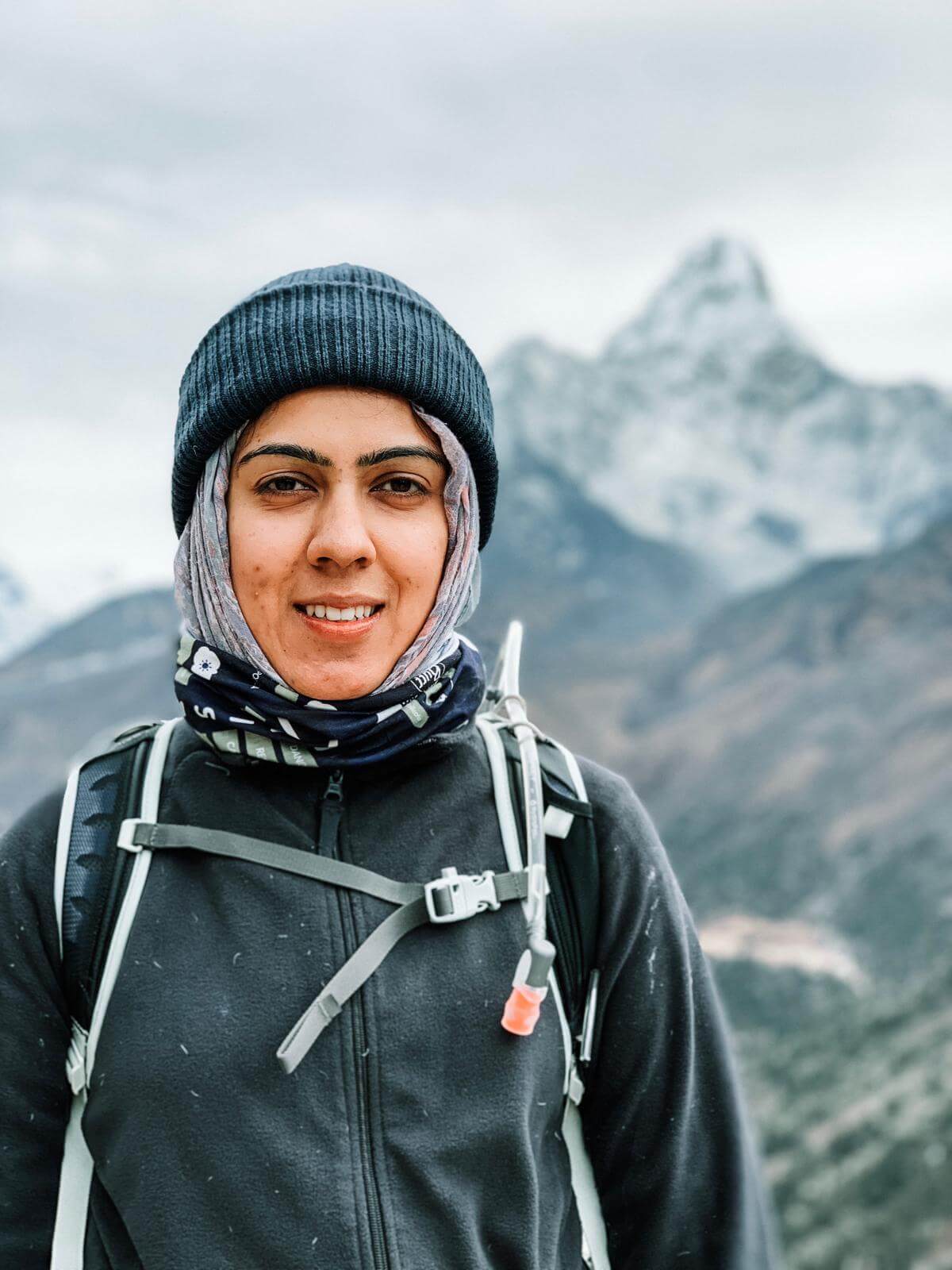 'When I see how far we've come from our training days, and now we are half way done with the trek - at such a height and altitude, it just shows with duas, support and a good cause anything is possible.'
You can sponsor Ruqayyah here.

Day 3 and 4: Journey of Spirit and Mind
Over the weekend, the team has been pushing ahead with a full 48 hours of hiking, surviving the cold and pushing ourselves to the limit.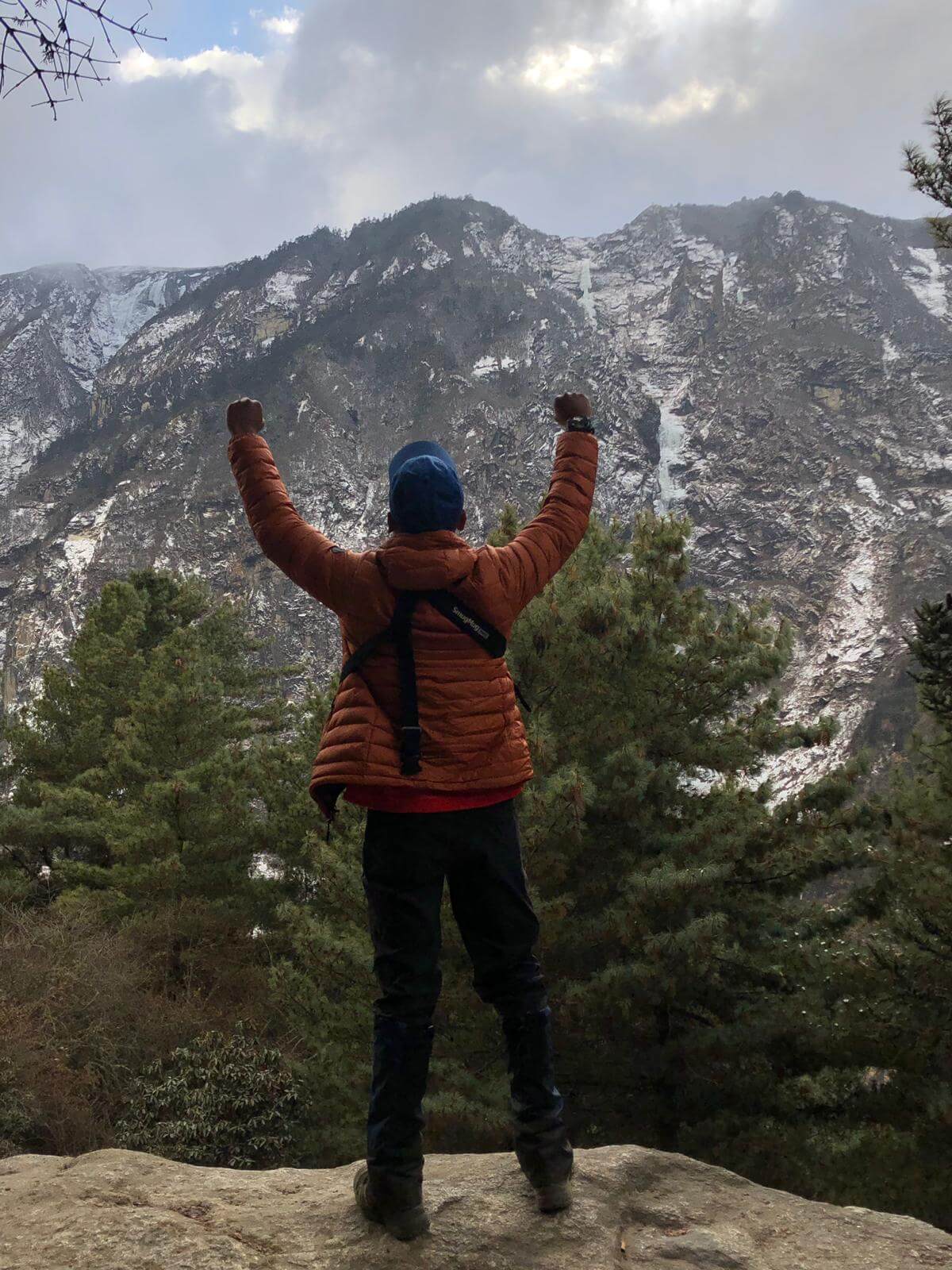 On Saturday, the team trekked through a high incline of 12795 ft above ground level exposed to a high altitude, a beating sun and immersed in the Himalayan mountains.
When we arrived in Sagarmatha National Park, our eyes for the first time saw the peak of Mount Everest, and the magical motivation kicked in.
Due to the high altitude and lack of oxygen, some members experienced sickness, fatigue and severe breathing issues.
Despite these obstacles, the team has powered on and is resilient as ever to conquer Everest Base Camp.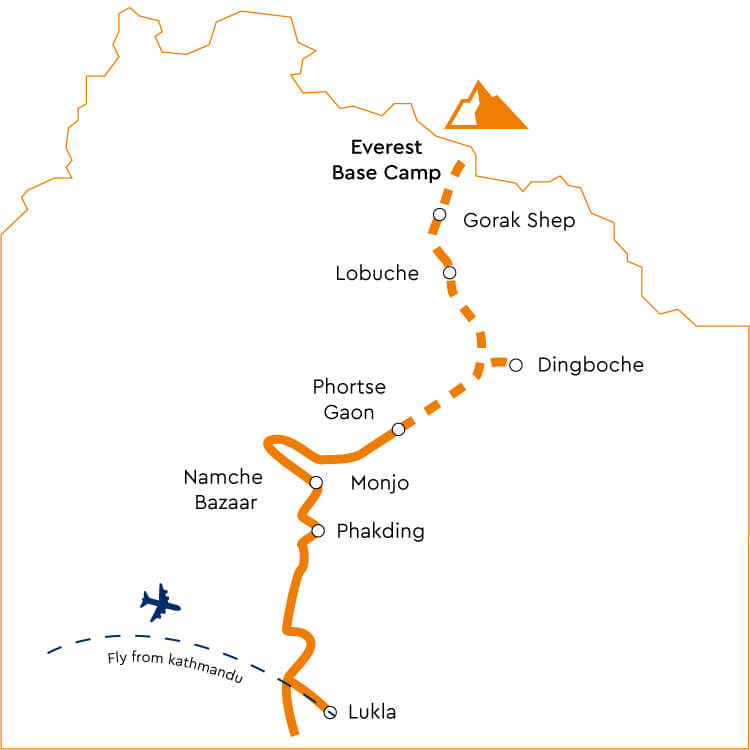 On Sunday, we hiked through the classic route to Everest. It was an awe inspiring trip through Sherpa Heritage and stunning landscapes.
A 7 hour hike and we got to witness the amazing peaks of the Himalayan mountains including Everest, Lhotse, Nuptse and the beautifully nature carved Ama Dablam.
The team arrived in high spirits and after a delicious meal, salah and games - the team retreated into their sleeping bags and survived the -9 temperatures.
The weekend's reflections come from dynamic duo - the Father and Daughter team, Shakeel Hussain (41) and Maryam Hussain (19), who have travelled from the gem of Yorkshire, Stockton on Tees.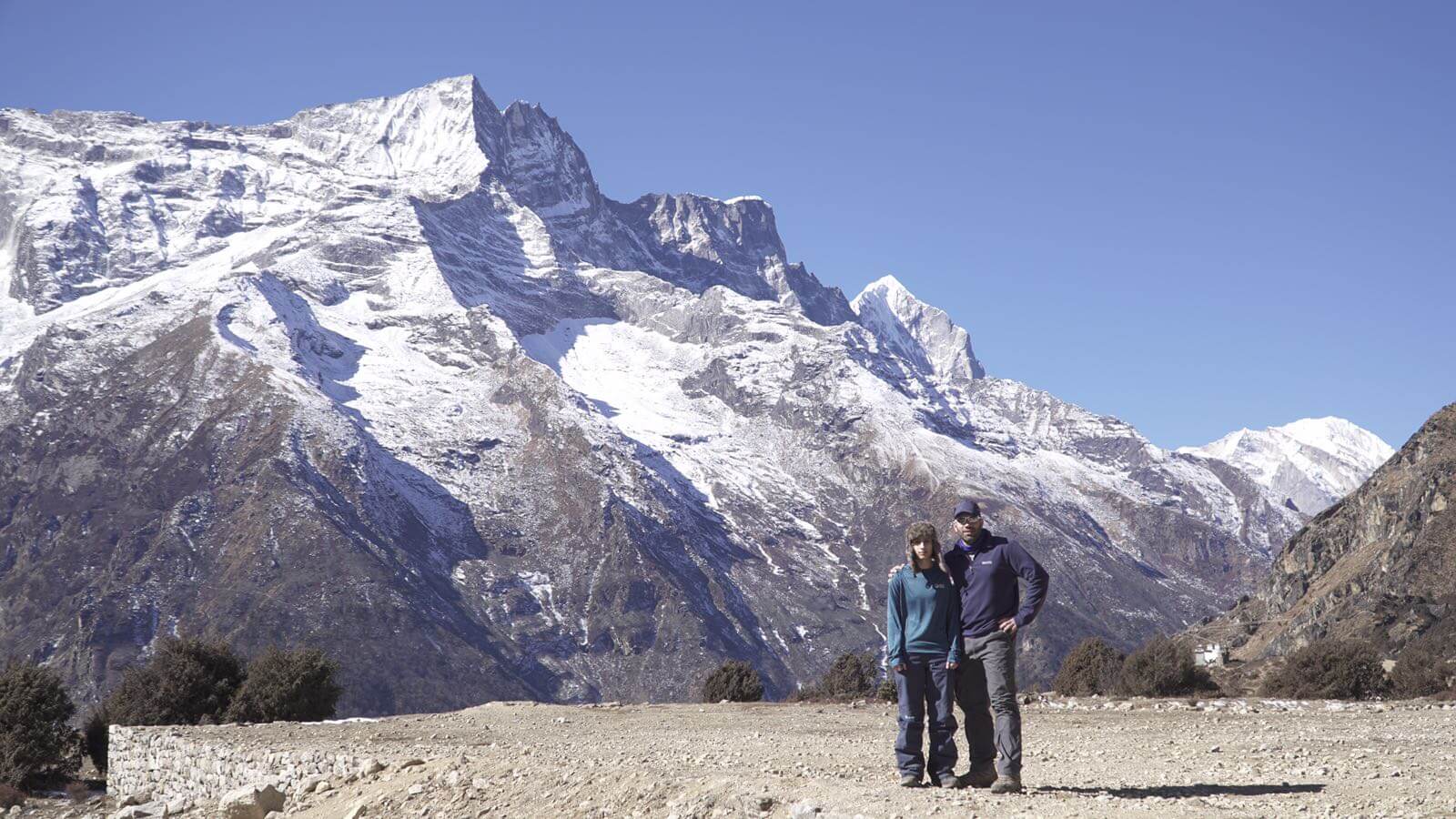 'Being the youngest participant has not been an issue or been daunting. The challenge is great, but this cause is just amazing - I've been humbled. I'm really grateful for everyone's support and would love for you to help us.' - Maryam Hussain
You can support Maryam's journey here.
'My daughter is the youngest and I'm one of the oldest, but we both feel fortunate in order to be of service and help our brothers and sisters in the Rohingya crisis.
Today was challenging and inclining so high is beginning to have its toll but we are hoping that we would be able to be more active and accustomed to the altitude. Keep us in your duas.' - Shakeel Hussain
You can support Shakeel's journey here.
Follow the journey with the #Everest4Rohingya on social media hashtag.

Day 2 - Trekking through the Himalayan range en route to Everest.
The trek becomes more difficult and the leg pains are kicking in, but the journey is definitely worth it. #Everest4Rohingya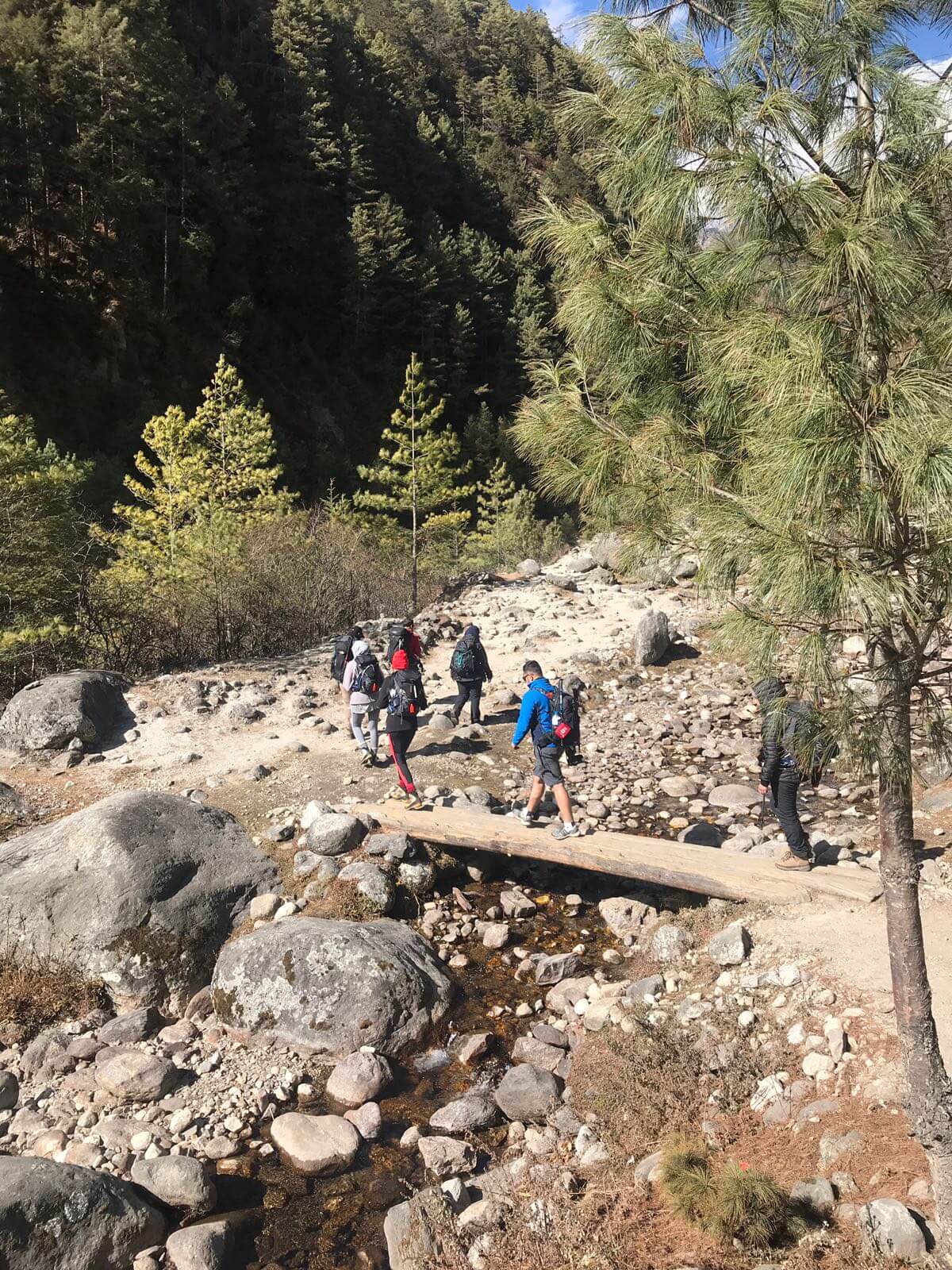 Today the team trekked from Phakding to Namche Bazaar. It was trek spanning over 8 hours through the Himalayan mountain reaching a strength - sapping, lung-bustinaltitude of 11,500ft. It was tiring, strenuous and at times painful but as a team, we all pulled together to arrive at our lodge.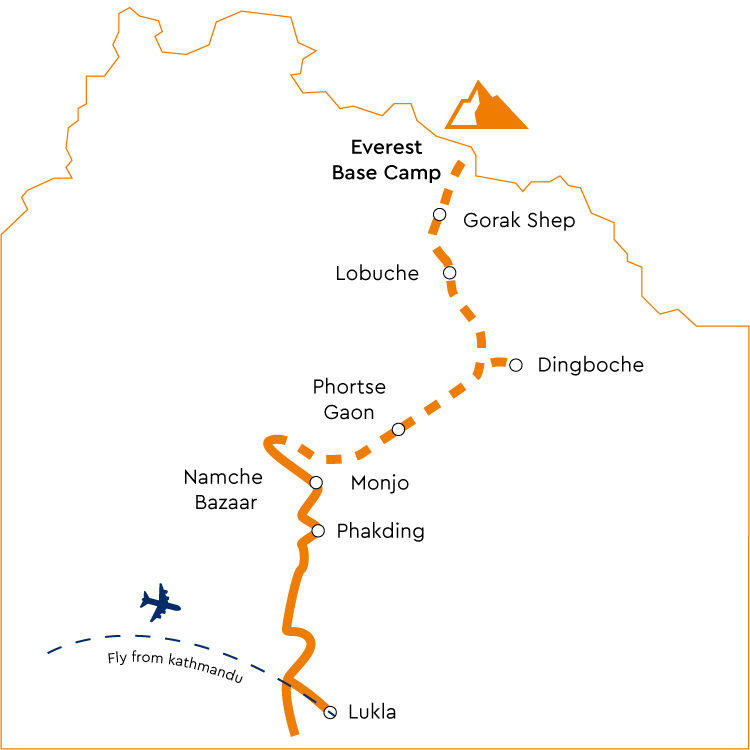 Namche is the main trading centrand hub for the Khumbu region with many Nepalese officials, a police checkpost and a bank. After our short break, we will be venturing into even more rural and mountainous regions of the Himalayas. It's been difficult few days; months of preparatiohave gone into this, but we are constantly reminding ourselves of the resilience of the displaced people of Rohingya. It is our means of motivation and support when the journey and trek become overbearing and tiresome. Please donate what you can.
Maryam Zamir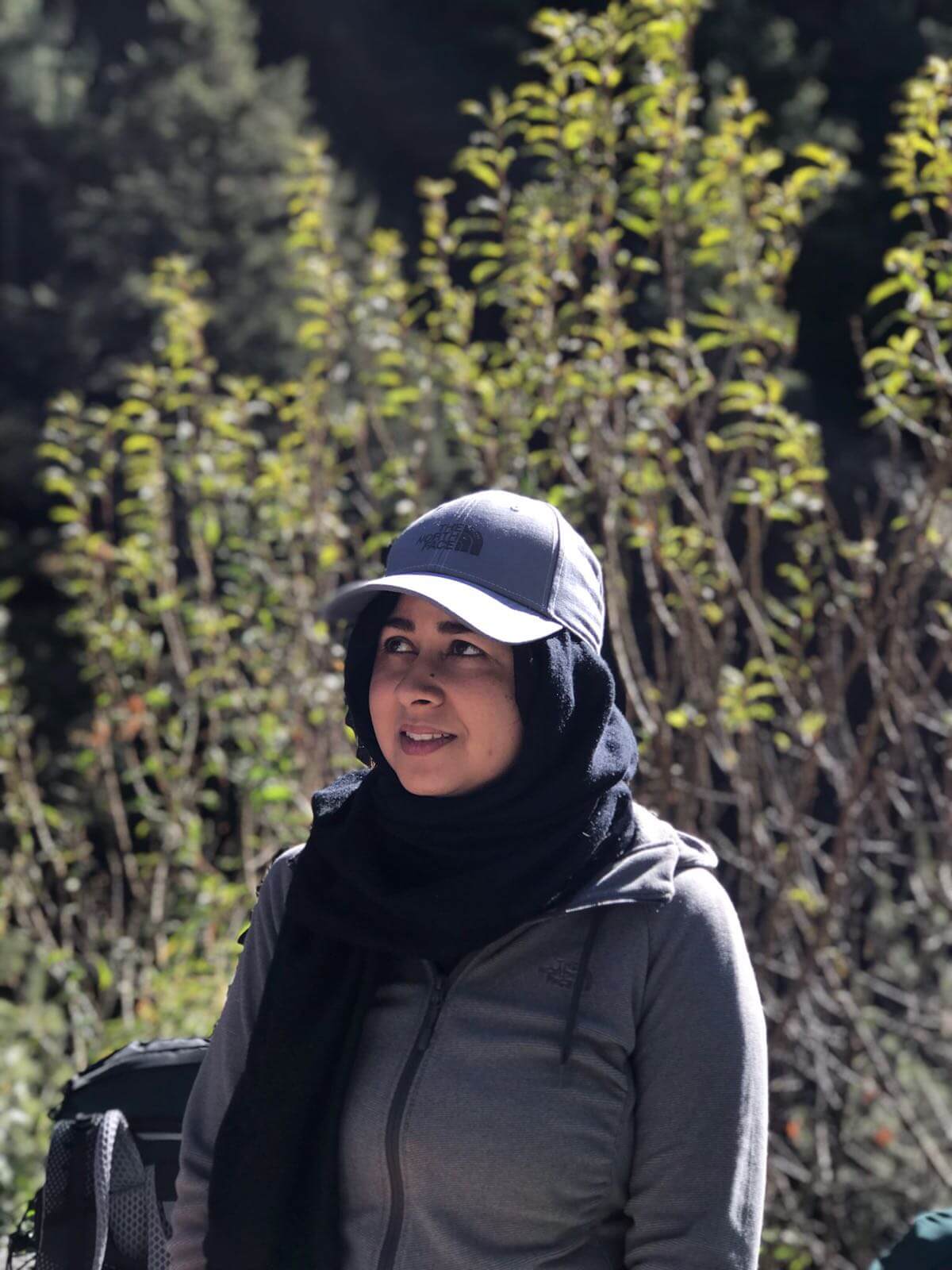 'So far the trek has been going well and after months of training I can see the fruits of our work. I know from this day on, the trek will become even more difficult, dangerous and colder. However, knowing that our struggle is only an ounce of what those that have been displaced by the Rohingya conflict are suffering, gives solace and motivation. Please donate to my JustGiving page.'
Maryam Zamir, Burton upon Trent
Shoaib Ahmed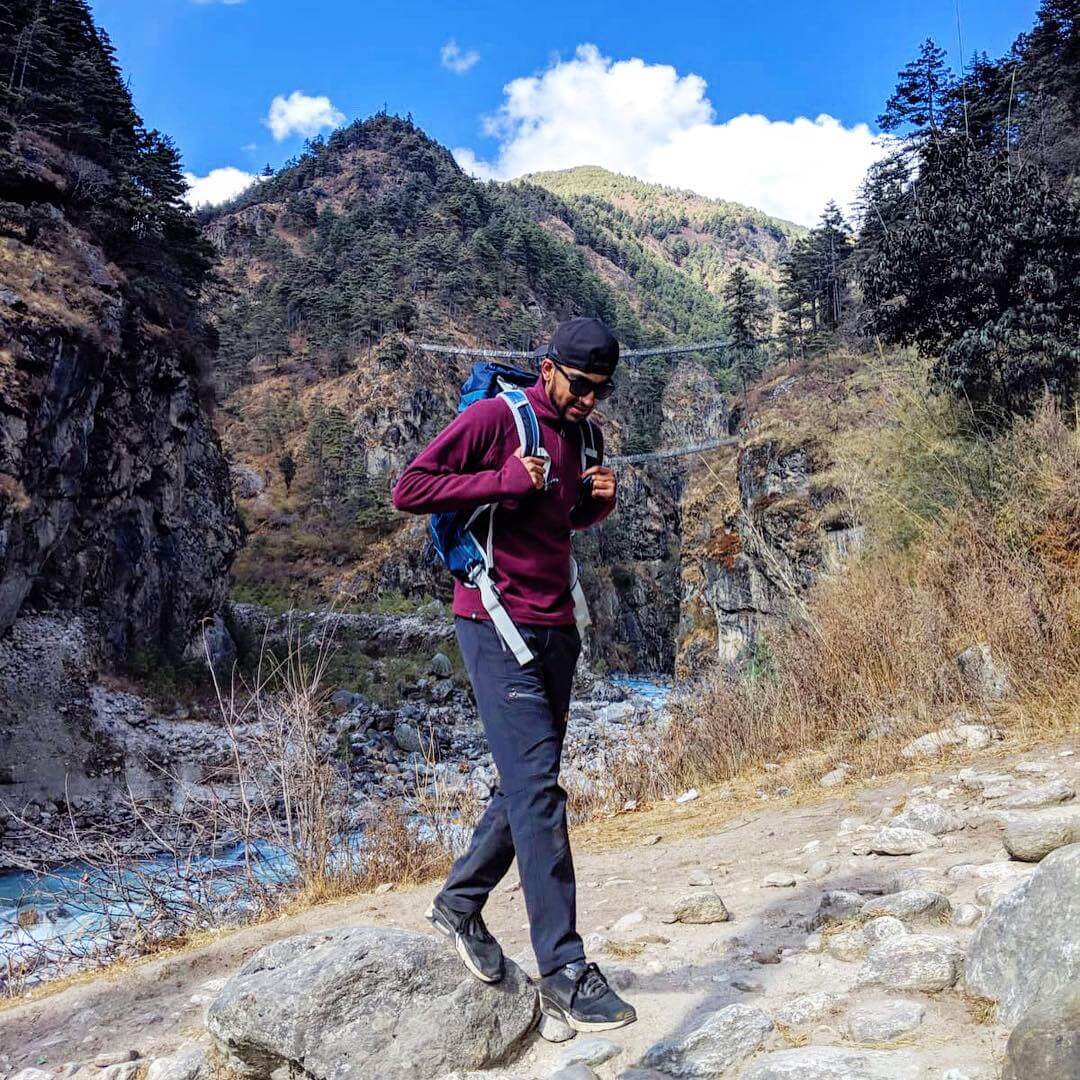 'As pretty as it is, today's trek has been a huge challenge as we ascended into high altitudes and ventured through steep slopes. Arriving at the next phase, I'm happy that I have the comfort of a place to rest, hot food and hot drinks. Reflecting on what is happening with the Rohingyan refugees, the pain and struggle we have gone through is incomparable.'

Shoaib Ahmed, Leicester


Day 1 - Flying high from Kathmandu to Lukla (AKA the world's most dangerous airport)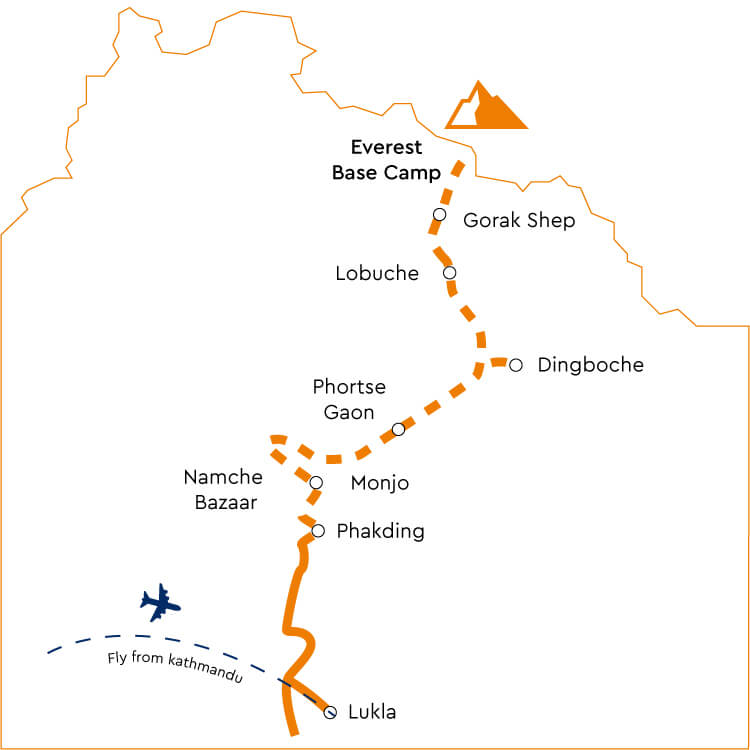 The team are ready for the trek's start at the Lukla Gate – otherwise known as the Gate to Everest!
We had to get up at 4am this morning, having had just a few hours' sleep, and caught the flight from Kathmandu to Lukla this morning.
Next, we had an easy day's trek of about 4hrs trekking to Phakding which is at 8530ft. It's exciting to get started at last, but it's also safe to say the team are looking forward to getting a good rest!
Here's how the day went from a couple of our amazing trekkers' perspectives…
Kanza Ahmed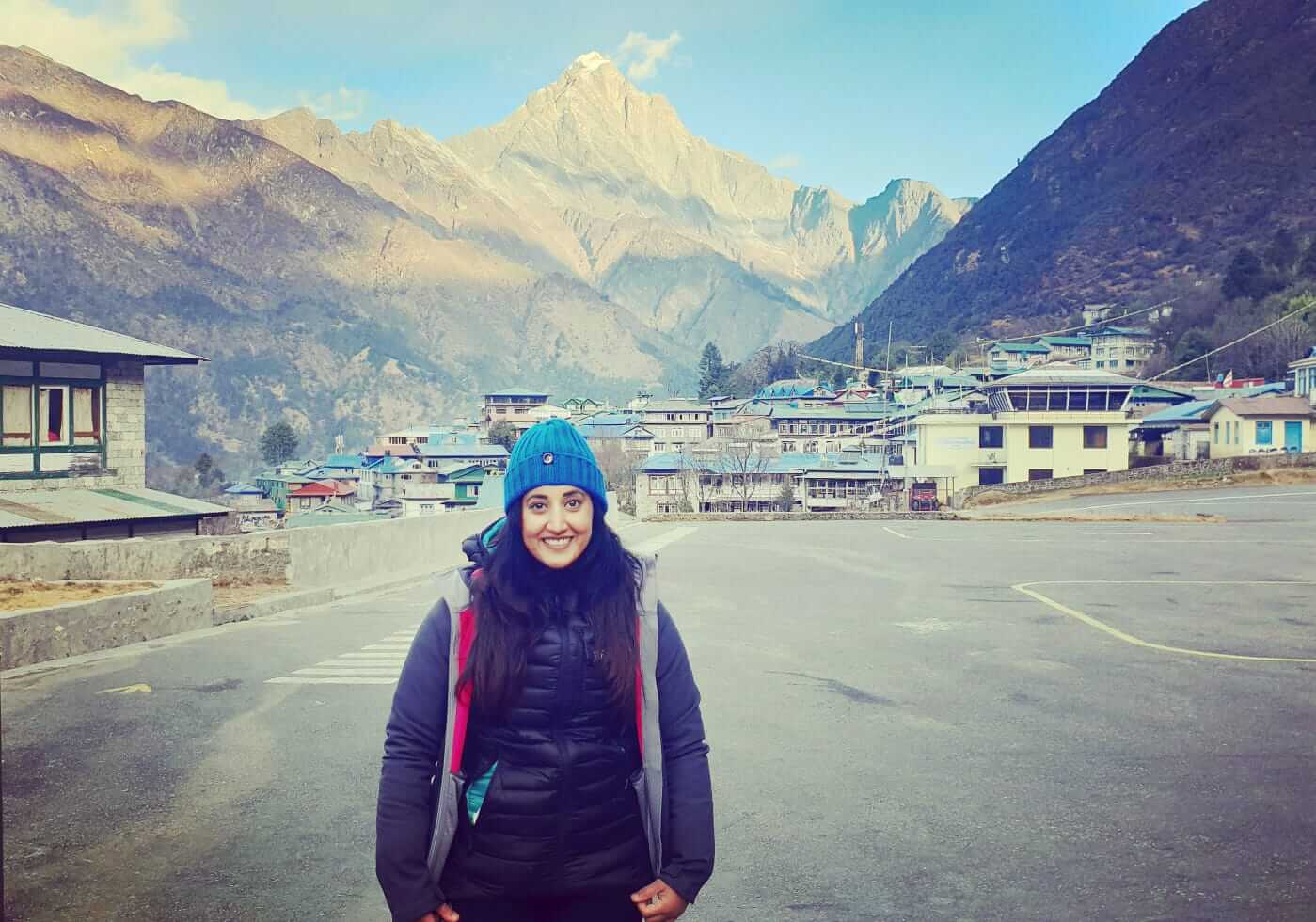 "I have to admit I was apprehensive about the flight from Kathmandu to Lukla... after all Lukla is known as the world's most dangerous airport! However once we were up in the air, the amazing views made me forget my worries. I was absolutely impressed with how the pilot landed the plane on an uphill sloped runway at Lukla! This is definitely quite an adventure... and the big trekking days are yet to come!"
Natalie Hassan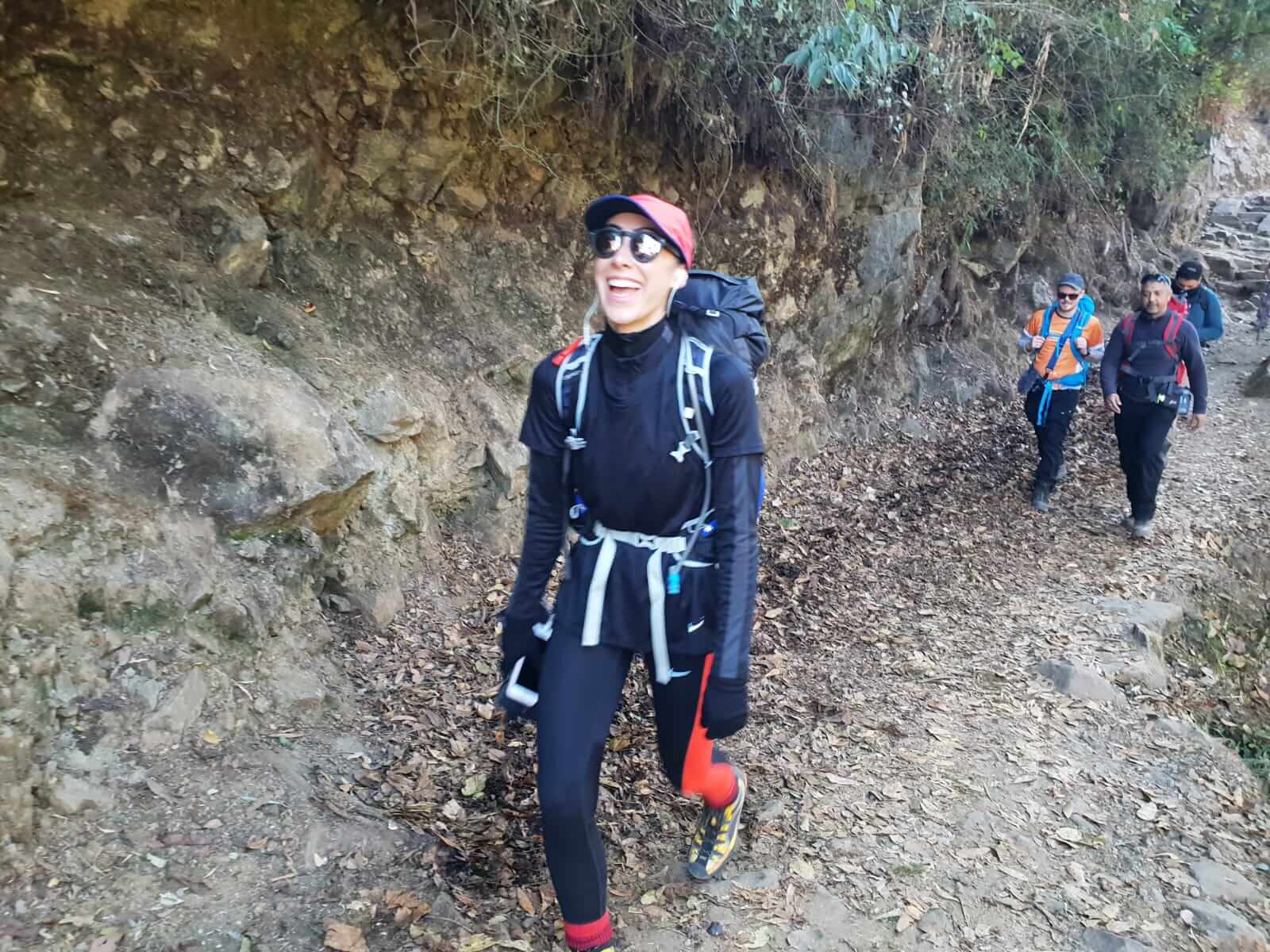 "When I got on the plane I had an overwhelming sense of achievement, because I knew I was about to land in one of the world's most dangerous airports. When we landed safely Alhamdulillah I realised I had already conquered one of my greatest fears. I now feel mentally prepared for the long journey ahead."

Our team of 34 brave volunteers are getting ready to start their 12 day trek up 18,000ft to the Everest Base Camp, starting on Tuesday 11th December! Why? To raise money to help Rohingya refugees, struggling to survive in cramped Bangladeshi refugee camps.
We've spent months doing preparation hikes and putting all our efforts into fundraising, all leading up to this moment.
Our team has a goal to raise £250,000 to help the Rohingya people… and earlier this week, we hit an amazing £225,000!
Everest is the highest mountain in the world, and to trek to the base camp is a massive challenge. We're all itching to see whether we can do it - and whether we can reach our goal to raise quarter of a million pounds to help the Rohingya people who have been through so much. We want to help people to thrive, not just survive.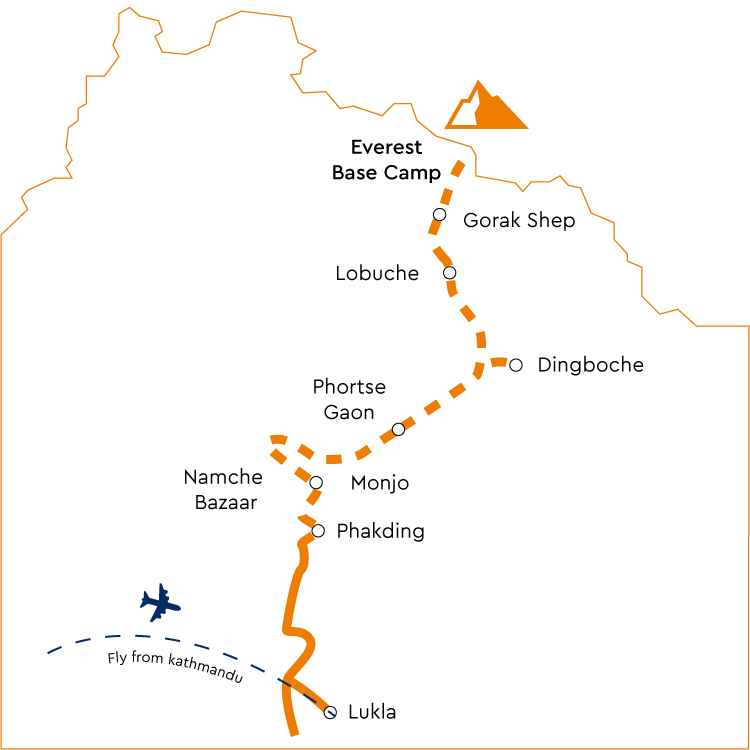 You can support our Everest fundraiser here. We'll also be updating this blog with the latest photos, reflections and videos from our team on the Everest trek!
Watch this space…
You can also follow the Everest journey on social media, by following our Team Orange Facebook, Twitter and Instagram pages, and clicking on the #Everest4Rohingya hashtag!