Supporting Penny Appeal isn't just about donating your money. It can be about donating your time, your effort and your imagination, and encouraging others to give for a great cause.
Challenge yourself and help those in need by doing a sponsored challenge! We have a number of regional, national, and even international challenges throughout the year so check out the table below to find out what's coming up.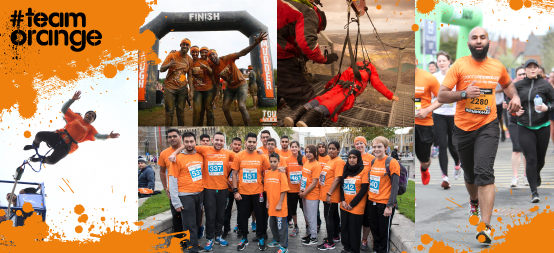 Date
Challenge
Entry Fee
Min Sponsorship
18th March

In aid of Rohingya Emergency

FREE
£100
21 April

In aid of Thirst Relief

£45

£350
22nd April

In aid of Thirst Relief

£50
£4000
29th April

In aid of Forgotten Children

£19
£70
6th May

in aid of Forgotten Children

£27

£70
13th May

In aid of Forgotten Children

£10

£70
December 2018

In aid of Rohingya Emergency

£399
£4500




Challenges Coming Soon...




8th April

Manchester Marathon





13th May
Leeds Half Marathon
£35
£100
20th May

Great Manchester 10K

£38
£100
8th July

Leeds 10K

£27
£75
14th July

Dare 2 Dive

£50

£500
4-12 August
Leicester 2 Brussels 2 Paris - RidersofShaam




11 August
Mudnificent 7
£20
£100
12 August

Nottingham 10K

£22
£100
25/26 August

Ben Nevis

£55
£300
8th September

Leicester 10K

£27
£75
9th September

Great North Run

£40
£500
12-16th September

London to Paris Cycle





TBC

Pedal for Scotland





30th September

Great Scottish Run





30th September

Robin Hood Half Marathon





7th October
Cardiff City Half Marathon


£100
14th October

Birmginham International Marathon



£300
14th October

Peterborough Half Marathon



£100
14th October

Great Birmignham Run



£100
14th October

Leicester Half Marathon



£100
14th October

Manchester Half Marathon



£100
TBC

Bradford City Runs





Set up your own challenge
If you fancy something different, or if you have a particular appeal you'd love to raise money for, why not organise your own challenge? Take on a sporting event, give up something you love or try something extreme! Download an information sheet to get some ideas.

You can also let us know what you've got planned by filling in our challenge form so we can support you, whether it's providing you with t-shirts and other resources, spreading the word or just offering help and advice.
Don't forget we're here to help you reach your fundraising goals, so just drop us a line to ask for our best tips!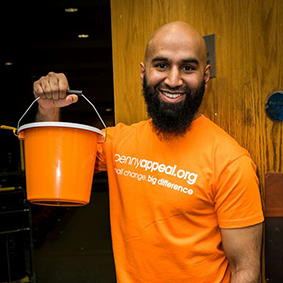 If you have any questions about our challenges, please send them to Haroon, our Challenges Events Manager (haroon.mota@pennyappeal.org)
Haroon's best moment with #TeamOrange so far was recruiting a team of over 27 fundraisers to Conquer Kilimanjaro, the highest free standing mountain in the world. They had raised over £160,000 to help build deep water wells in Africa. They don't call him the "Mota-Vator" for nothing!
Paying in your sponsorship
Once you've completed your challenge, please don't forget to pay in your money.
If you've set up a JustGiving page and selected Penny Appeal as your chosen charity, you don't need to do anything else – the money will be transferred to us directly. You can also pay via the webpage for your chosen appeal, or call us to make a credit or debit card payment, or to arrange to make a bank transfer.
If you've taken a collection bucket, please call us on 03000 11 11 11.
For any help or questions about challenges, please email haroon.mota@pennyappeal.org