Supporting Penny Appeal isn't just about donating your money. It can be about donating your time, your effort and your imagination, and encouraging others to give for a great cause.
Challenge yourself and help those in need by doing a sponsored challenge! We have a number of regional, national, and even international challenges throughout the year so check out the table below to find out what's coming up.
CLIK HERE TO JOIN OUR CHALLENGES MAILING LIST AND STAY UPDATED FOR FUTURE OPPORUNITIES
***WE ARE PLANNING OUR INTERNATIONAL CHALLENGES FOR 2019. CLICK HERE TO EXPRESS INTEREST FOR PALESTINE MARATHON (March 2019), PERU TREK (October 2019) & KILIMANJARO (December 2019). Contact Haroon 07714249215 haroon.mota@pennyappeal.org for queries.***

Do your own challenge
You can also register your own challenge by filling in our challenges form below so we can support you, whether it's providing you with t-shirts and other resources, spreading the word or just offering help and advice.
Don't forget we're here to help you reach your fundraising goals, so just drop us a line to ask for our best tips!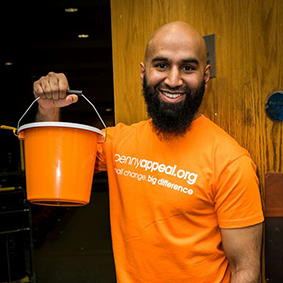 If you have any questions about our challenges, please send them to Haroon, our Challenges Events Manager (haroon.mota@pennyappeal.org 07714249215)
Haroon's best moment with #TeamOrange so far was recruiting a team of over 27 fundraisers to Conquer Kilimanjaro, the highest free standing mountain in the world. They raised over £160,000 to help build deep water wells in Africa. They don't call him the "Mota-Vator" for nothing!