Flash flooding as a result of heavy rains in May 2020 has devastated much of East Africa, with over 260 people tragically losing their lives.
Millions of pounds worth of property, crops, livestock and industry has also been destroyed in some of the worst flooding the region has seen in decades. Tens of thousands of vulnerable people have been displaced and are in immediate need of emergency shelter and food.
Penny Appeal have been responding on the ground in Uganda, Somalia, and Rwanda - thanks to you, we've been able to provide Food Packs and Hygiene Kits to 3,060 people! We have also started construction of the women and child friendly shelters for 150 people who have lost their homes to the flooding in Uganda.
Donate now, and help to rebuild lives long after the rains have washed away.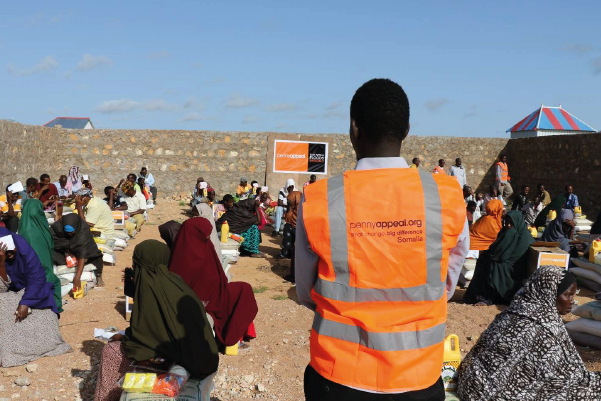 Flooding has washed away roads, bridges, an whole hospital in Uganda and even an entire small town in Somalia. The torrential rain across East Africa has compounded problems for governments already struggling to respond to COVID-19.
Penny Appeal have been on the ground with our amazing partners in Uganda, Somalia and Rwanda, helping vulnerable communities to rebuild their lives after the devastating flooding.
Rwanda: Helping Flood-Affected Youths with HIV and AIDs
97 people were killed in Rwanda by the extreme flooding, and many more people lost homes and livelihoods.
Penny Appeal have been working alongside our partners United Purpose and local Rwandan organisation WE-ACTx to provide Food Parcels, Hygiene Kits and PPE to 400 young people in flood-affected Kigali.
These young people are extremely vulnerable, and many of them are already living with HIV and AIDs, and these provisions of food and other essentials will help them get back on their feet after the floods.
Somalia: Supporting Internally Displaced People
Our Emergency Response in Somalia has been focused on the Beledweyne District in the Shebelle Valley. Poverty is widespread and deep, particularly for people living in Displacement Camps.
Working alongside our partner ADT (African Development Trust), we provided Food Parcels and Hygiene Kits to 660 flood-affected people living in the camps.
ADT have noted that thanks to the culture of sharing among neighbours within the Somali culture, it is likely that a further 720 people within the camps have also benefitted from the distributions, Alhamdulillah.
Uganda: Building Women and Child Friendly Shelters
In Uganda, the flooding has had a devastating impact, destroying countless crops and homes.
In partnership with ACRE, we have provided Food Parcels and Hygiene Kits to 2,000 people across the Kasese, Pakwach and Payimur Districts.
We are also building Women and Child Friendly Shelters for 150 people who have lost their homes in the flooding, as well as supporting 321 families with emergency cash.
We will be providing the emergency cash to a wide variety of flood and COVID-19 affected people, including professionals who have lost their jobs, single women-headed families affected by the floods and the lockdown and single women-headed families in urban areas, with no access to money or food.
Some people have lost homes, some people have lost their livelihoods, some have lost their family members, and some have lost all they ever had.
Re-build Lives. Donate Today.