Every day, thousands of homeless people and vulnerable families visit soup kitchens and food banks for support. They desperately need hot meals to help them stay healthy and well nourished, and supplies of nutritious ingredients so that their children don't have to go to bed hungry, again.
The reason people visit soup kitchens and receive support from food banks is because they have no other means of properly feeding themselves due to poverty or homelessness. There have always been high numbers of people attending soup kitchens but numbers are now at an all-time high due to COVID-19 and poverty spikes in the UK.
Penny Appeal at Home's many food security projects provide nutritious food to homeless and vulnerable families in the UK. For as little as £1, you could provide put food on the table for a hungry person in your community.
Donate now so that our UK neighbours get the aid they so desperately need.
Our Food Security Projects
Around 4.7 million people in the UK live in severely food insecure households.
You can help ensure food banks and soup kitchens are always there to feed the growing number of people who come to them in times of desperation, and it costs just £1 per meal.
Non-perishable Food Parcels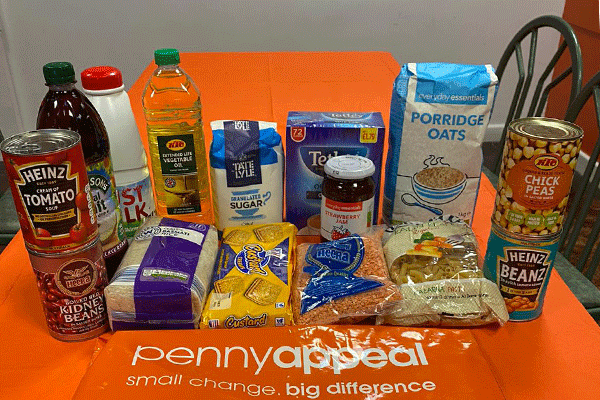 The food we provide in each of our non-perishable food parcels are carefully selected to meet the needs and preferences of families in the UK, including items such as long life milk, canned goods, pasta, soup, rice, biscuits, tea bags, sugar, juice, jam and porridge. One of our food parcels should be enough to feed a family for an entire month.
We pride ourselves on providing quality, nutritious food to the people we help. Make a food parcel donation today to help us end hunger in the UK!

Holiday Hunger
In 2020, our Holiday Hunger programme supported local families with no recourse to public funds in Greater Manchester by distributing hot meals and food packs.
Staff and volunteers put together 450 sandwich packs for children, which included sandwiches, crisps, energy bars and fruit, 300 meat packs, 150 cereal variety packs and 150 non-perishable food parcels, which included items such as long life milk, canned goods, pasta, rice, biscuits, tea bags, sugar, juice, jam and porridge. 450 hot meals of rice and chicken curry were also distributed to hungry low-income families during this time.
If you'd like to help our during the festive seasons, sign up to become a volunteer today or make a food pack donation for those in need.
Community Cafes
We run our Community Cafes on a regular basis throughout the year, proving hot meals and groceries to the people in our communities that need them most. On a weekly and monthly basis, Penny Appeal staff and Team Orange volunteers head to the Food Bank in locations like Coventry to lend a helping hand by distributing hot meals and food packs. Every penny that you generously donate is turned into hot, nutritious meals for the homeless and vulnerable here.
Please continue to make the food donations that make these Community Cafes possible. You can even sign up to become a Team Orange volunteer and join us in distributing food to the hungry!

Collection Boxes
Our non-perishable food collection boxes are a wonderful way for the community to give back to the hungry. Penny Appeal's Collection Boxes can be found at your local community hubs, such as schools, mosques, churches, libraries, community centres and more. Each box contains a list of non-perishable food items that are suitable for donation, so if you're looking to make a food donation at one of these boxes please check out which items we're looking for.
When boxes are collected the food donated will be taken to local food banks, where it will then be distributed to families and individuals in need of support.
Keep an eye out for those orange Collection Boxes, and donate some non-perishable foods that will go straight to the food bank!