Wakefield Business Awards - Adeem Younis
Adeem Younis, Entrepreneur of the Year
Adeem Younis, founder and Chairman of award-winning charity, Penny Appeal and all-round inspiration in the world of entrepreneurial success, took home another trophy last night at the Wakefield Business Awards 2018.
Winning several awards for business success last year, Adeem's creative vision has been recognised once again at this year's awards ceremonies, with Adeem winning the much sought-after Entrepreneur of the Year Award, sponsored by Leeds Becket University, a city where Mr Younis spent a great deal of time during his studies at university.
Despite running an international business with offices all over the world from Asia to the Americas, Adeem is proud of his roots in Wakefield. Starting with his first business enterprise based above a pizza shop in Wakefield's Westgate, he has remained in his home town with his latest venture Penny Appeal, a charity organisation that takes small change to make a big difference to some of the most vulnerable and impoverished people at home and abroad.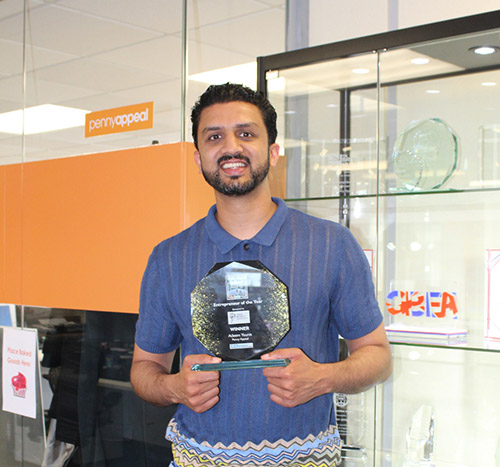 Adeem's Words
In response to winning the award, Mr Younis said: "It means everything to me to be recognised in my home town. This is a city that I believe in. A city that I believe is ready to enter the world stage for innovative business ideas. With Penny Appeal based in Wakefield, we employ over 200 members of staff, bringing work and millions of pounds into the city. I hope that I and all the amazing young entrepreneurs out there can put this brilliant city on the map for digital business success."
With Adeem's inspired vision and a whole host of amazing dedicated staff at the helm, we hope that we can continue our good work here in the UK and across the developing world, in the hopes of one day ending the poverty cycle, and providing everyone in need of our help a brighter future!