Trekker gains support of award-winning urban music sensation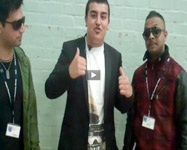 Muzzamil Khan, at 17 the youngest member of Penny Appeal's Team Everest, has been raising awareness of the group's charity trek to Everest Base Camp in December by enlisting the support of musicians Mumzy Stranger and Junai Kaden.

Muzzamil caught up with urban artist Mumzy Stranger while the singer was on tour in Bradford when he showed his for support our Rebuilding Pakistan Appeal.

"He is a very humble individual," commented Muzzamil, a student from Bradford. "Both he and Junai Kaden were very proud of the work that Penny Appeal is doing and they have urged every individual who watches this clip to donate generously to the Everest Base Camp Challenge."

Muzzamil Khan's Team Everest sponsorship page can be found at:
www.justgiving.com/muzzamilkhan