Top 5 Medjoul Dates Recipes
Delicious Medjoul dates recipes for you to try at home!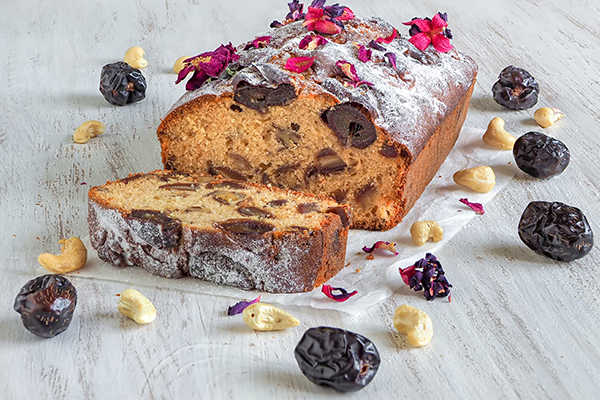 Medjoul dates from Palestine are the king of all dates. They're large and chewy, with a decadent caramel flavour that is guaranteed to make your mouth water and have you reaching into your Penny Appeal Palestinian dates gift box for just one more. Dates are a healthy snack for people of all ages, packed with natural sugars and fibre, and you might be thinking: "How could you possibly improve on the KING of dates??" Well, with a bit of baking of course!
Date recipes are a wonderful way to put these delicious crinkly treats to work in the kitchen, and we've made a list of our favourite Medjoul dates recipes for you to try at home. From Palestinian date cookies to a date and walnut loaf recipe, these Medjoul dates recipes will make you the star baker of your family - and no doubt have people wanting you to share your baking secrets!
Before you set off for the kitchen though, you'll need to make sure you have the most important ingredient on hand for these date recipes though – the dates! If you'd like to get your bake on while helping the Holy Land then you can order your baking dates from Penny Appeal right now. Our Palestinian dates gift box contains 900 grams of juicy Medjoul dates, coming right to your door from the fields of Jericho. You can order your Palestinian dates gift box online before you start baking, or grab a tin to set out alongside all the tasty treats you're about to make with our Medjoul dates recipes here!
Medjoul Dates Recipes
1 - Palestinian Date Cookies Recipe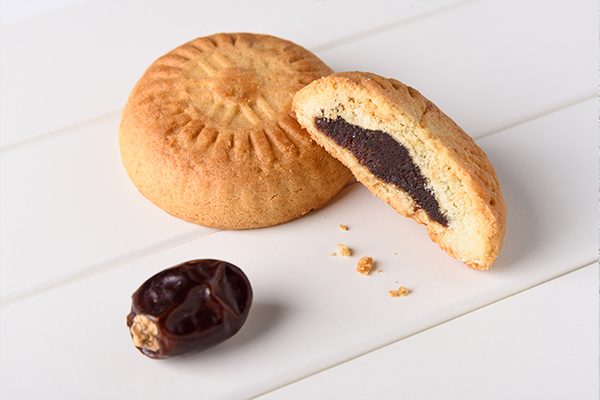 Ingredients: 1 1⁄4 cups flour - 1 1⁄4 cups whole wheat flour - 1 cup olive oil - 3⁄4 cup fine semolina- 1⁄2 cup water - 1 1⁄2 tbsp. orange blossom water - 1 tbsp. ground anise -2 tsp. plus 1 tbsp. sugar - 1 1⁄2 tsp. active dry yeast - 1 1⁄2 tsp. nigella seeds - 1 tsp. kosher salt - 1⁄2 tsp. ground mahlab - 1⁄2 tsp. toasted sesame seeds - 8 oz. medjoul dates - 1 1⁄2 tsp. unsalted butter - 1⁄2 tsp. ground cinnamon - 1⁄4 tsp. ground cardamom - 1⁄8 tsp. freshly grated nutmeg - 1⁄8 tsp. ground cloves
These Palestinian date cookies, or Ka'ak bil Ma'amoul, are a treat the whole family can enjoy. Your date filled cookie rings will be the hit at any iftar or party this year!
First mix flours, oil, semolina, waters, anise, 2 tsp. sugar, yeast, nigella, salt, mahlab and sesame seeds until dough forms. Knead dough until it's is smooth, 2–3 minutes. Cover with plastic wrap and set aside in a warm area until it rises, 2 hours.
Soak dates in boiling water for about 10 minutes until they're soft. Mix in sugar, butter, cinnamon, cardamom, nutmeg and cloves before mashing into a paste.
Heat oven to 200°C. Divide half the dough into small balls and roll the rest into thin ring. Flatten the dough balls and place rings on top, pinching to seal together. Fill with date paste and arrange Palestinian date cookies on a greased baking sheet. Bake for 20 minutes until golden and crispy.
2 – Date and Walnut Loaf Recipe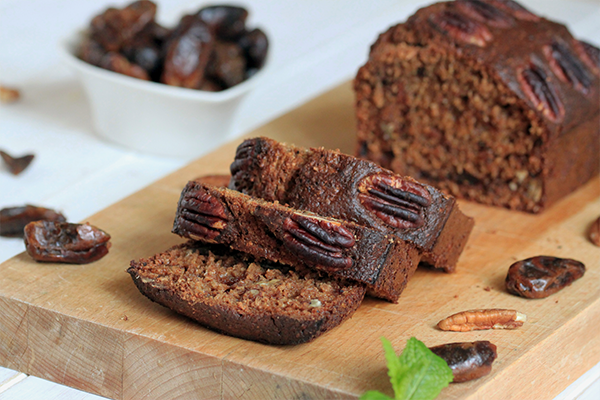 Ingredients: 250g dates - 125g sugar - 1 tsp. bicarbonate of soda - 55g cubed butter - 170ml boiling water - 1 egg - 55g chopped walnuts - 250g self-rising flour - 1 tsp. vanilla extract
This date and walnut loaf recipe is the perfect desert, and we know you're excited to give it a try!
To kick off you date and walnut loaf recipe, pre-heat the oven to 160°C to warm. Chop the dates up and mix together with sugar, bicarbonate of soda and butter in a mixing bowl. Pour the boiling water over mixture before allowing to cool.
Once your date mixture is cool, beat an egg and mix into the bowl with walnuts, flour and vanilla extract until the batter is smooth. Grease a loaf tin and pour your date and walnut loaf batter in and bake for 70 minutes or until golden brown.
3 – Banana Date Cake Recipe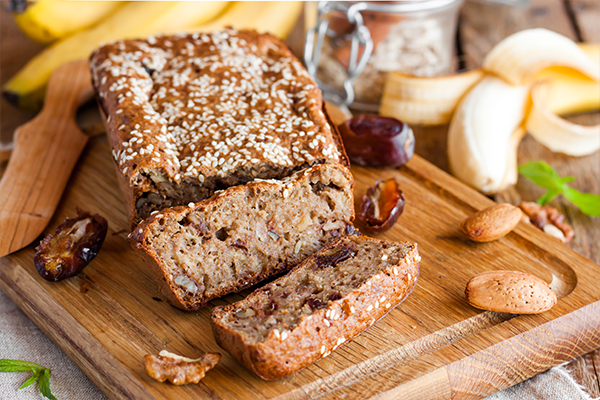 Ingredients: 2 cups self-rising flour - 1 tsp. bicarbonate of soda - 1 tsp. ground nutmeg - 125g dates, chopped - 1/2 cup sugar - 1 cup milk - 2 eggs - 1 cup mashed banana
If this is your first time putting dates and bananas together with this banana date cake recipe then you are in for a real treat! This delicious desert will make everyone around the table wanting seconds.
To start, preheat the oven to 180°C. Mix together flour, bicarbonate of soda and nutmeg in a large mixing bowl, before stirring in chopped dates and sugar. In a separate bowl mix the milk, eggs and banana. Mix the banana mixture together with the date mixture in one bowl and pour into a greased cake tin. Bake for 45-50 minutes and allow 5 minutes for the cake to cool before enjoying all your hard work on this banana date cake recipe!
4 – Date Squares Recipe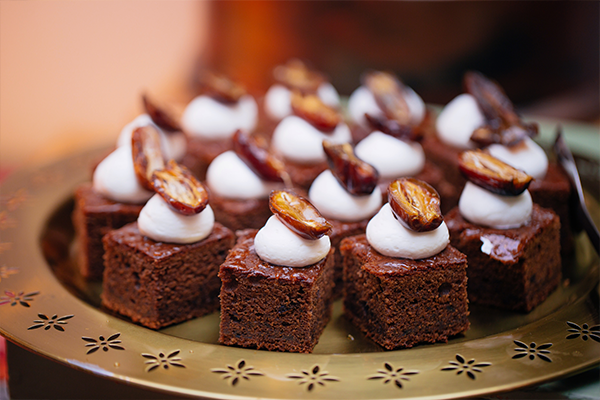 Ingredients: 1/2 cup dried dates - 1/2 cup sugar - 1/2 cup cold water - 1/2 tsp lemon juice - 3/4 cup oats - 3/4 cup all-purpose flour - 1/2 cup brown sugar - 6 tbsp. butter - 1/2 tsp baking soda - 1 tbsp. hot water
This is one of those date recipes that is super easy to make but packs a burst of flavour in every bite!
Start by preheating the oven to 176°C and greasing a baking pan for your date squares. To make the filling for your date squares, mix the dates, sugar and cold water into a saucepan and bring to a boil. Add in the lemon juice and remove from the heat to let cool.
Now combine the oats, flour and brown sugar together in a bowl, before adding in your butter and mixing until crumbly. Stir in baking soda and hot water, and mix until fully combined. Pour half of this mixture into your baking pan, and then evenly layer on your date filling. Top with the rest of your flour mixture before popping it in the oven for 20 minutes. Allow to cool before cutting into squares and serving!
5 – Cinnamon Date Ball Recipe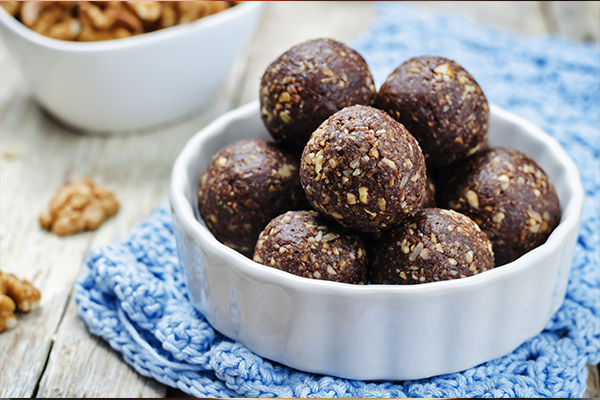 Ingredients: 12- 14 Medjoul dates - 2 cups pecans - sea salt - ¼ cup cinnamon
Cinnamon is the perfect ingredient to bake with dates because it complements the natural sweetness of Medjoul dates and really brings out the flavour. This cinnamon date ball recipe will be a huge hit in your household – guaranteed!
This recipe is a no bake one, which makes things a little easier for those of you who are just testing the baking waters. To start things off, cop up your dates and soak them in hot water for around 10 minutes to soften them. Once soft to the touch, mix together with pecans with a blender or hand mixer.
This should make a sticky, dough like mixture that is easy to scoop. Roll out balls and then roll them cinnamon to coat them before refrigerating for 5-10 minutes. Once they've set, you've got a bite-sized Medjoul treat!