A Special Thursday Feeding with Metro Bank!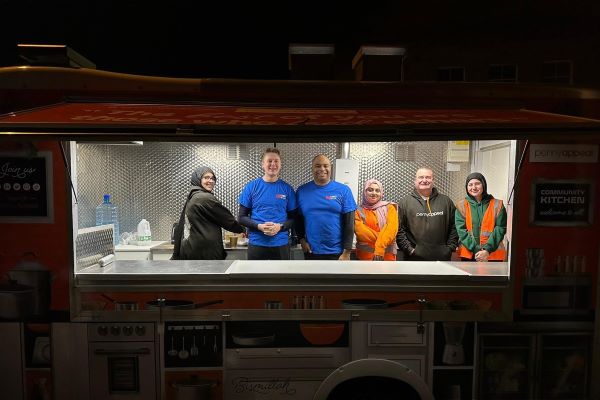 In the heart of Bradford, a city renowned for its culture, diversity and resilience, Penny Appeal are feeding the homeless and vulnerable, one hot meal at a time. This week our dedicated, orange volunteers were joined in the Penny Appeal food truck by Metro Bank, Bradford! Together with the generous donations of some incredible local businesses, we're teaming up with Metro Bank for a full winter season of festive giving.
Bradford is currently ranked as the 5th most income deprived local authority in England, a shocking statistic given the outstanding potential this city holds. The cost-of-living crisis in the UK is affecting families up and down the country and times become especially tough during the winter months. Food inflation, rising electricity bills and cold weather make life difficult for many of us, and having to choose between heating our homes and eating a balanced meal is a decision which no one should have to make. As the nights turn darker and the days turn colder, a hot meal isn't always an option for those living with homelessness or below the poverty line. We understand some of the issues faced by our friends and neighbours in Bradford, and we know that a small gesture can make a BIG difference. Our smiley volunteers are here for the people of Bradford this winter, all winter!
We here at Penny Appeal share a common dedication to creating positive change in the city of Bradford and beyond. As a community bank, Metro told us of their desire to play a part in our amazing Thursday Feeding initiative, and that they did! Store Manager Denis and Customer Sales Rep Joshua definitely weren't afraid to get their hands dirty and jumped right in to cooking, serving meals, and getting to know our wonderful regulars. We were delighted to see some new faces and we welcomed them with hot drinks, rice and Halva, and of course a BIG smile.
Initiatives like this just go to show the importance of community driven projects and hopefully this is the first of many with Metro Bank. We'll be back next Thursday dishing up hot meals, drinks and a whole lot of community spirit. Together, we can use small change to make a BIG difference. After all, it is the season of giving!